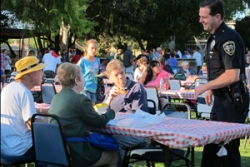 The Culver City Police Department, Fire Department, city leaders and community members took a stance against crime during the second annual Culver City National Night Out at Lindberg Park.
It is estimated that 700-1,000 residents made it out for the community crime-prevention effort, which included free music and food. The evening was also an opportunity for the community to interact with members of the police department, as well as other city departments and organizations including representatives from the California Highway Patrol.
"It is huge because partnerships in general are very important to the success of our police department and the city as a whole," Culver City Police Department Lt. Jason Sims said. "That includes community groups, local businesses and partnerships with and the support from our leadership and our surrounding law enforcement partners as well."
There are plans for future National Night Out events to be hosted in other locations throughout the city in the upcoming years, although those areas have not yet been determined.
National Night Out was born out of a 1984 effort to promote the community's involvement in crime-prevention activities, as well as increasing community-police-based partnerships, a sense of camaraderie within neighborhoods. Initially titled America's Night Out Against Crime, the effort has grown and it is estimated that National Night Out now involves more than 37.8 million people and 16,124 communities from all 50 states and including U.S. territories, Canadian cities and military bases worldwide.
"One thing I personally think that we all enjoyed about last night was the down to earth, community-feel of the event," Lt. Sims said. "It was in the neighborhood and the residents were all there. Many of the volunteers were from the surrounding neighborhood and it was a very nice community event. We are hoping to grow the event as we continue to do it and next year we hope for more folks to show up."