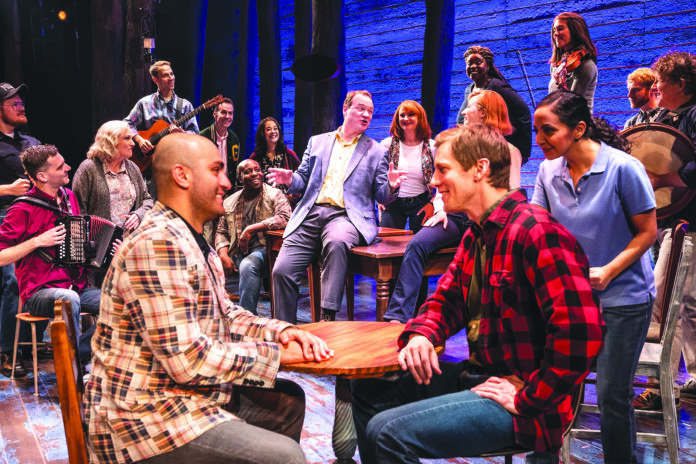 On September 11, 2001 the world stopped, and those of us who lived through that world-changing day can certainly remember exactly where we were when we first heard the news. But what about the thousands of people onboard flights at that time whose planned travel was abruptly halted when all planes were forced to land immediately?
Critically acclaimed and widely celebrated, the Broadway musical 'Come From Away' with book, music and lyrics by Irene Sankoff and David Hein, centers on the true story of the small town of Gander on the Canadian rock of Newfoundland that welcomed the world to its airport when the skies above the USA were closed on 9/11. With seamless scene transitions and amazing lighting shifts, we are introduced to some of the 7,000 stranded passengers on 38 planes and the residents of the small town that welcomed them into their hearts and homes. And even though cultures clashed and nerves ran high, in less than two days uneasiness turned into trust, music soared into the night, and gratitude grew into enduring friendships.
Some of the people telling their stories include Marika Aubrey as Beverley, a proud female pilot from an American Airlines flight; the town's ASPCA manager Bonnie (Sharone Sayegh) who made it her business to get into the cargo holds on all the planes to evacuate and care for all the animals (including dogs, cats and chimpanzees); an Orthodox Rabbi who set up a kosher kitchen to feed not only himself but Muslims and vegetarians; a gay couple both named Kevin (Nick Duckart and Jeremy Woodard) who learn more about themselves by interacting with strangers in a local bar; Nick (Chamblee Ferguson) and Diane (Christine Toy Johnson) who meet in Gander from opposite sides of the world and share their blossoming love during "Stop the World"; Beulah (Julie Johnson) the Treasurer of the ladies' auxiliary for the Royal Canadian Legion in Gander who served all the 9/11 guests at the Legion hall during their stay; Hannah (Danielle K. Thomas) a passenger worried that her firefighter son probably rushed into the towers to try to save people at the expense of his own life; and so many others too numerous to mention in this review. Kudos to the entire 12-member cast for portraying more than one character so convincingly during this ultimately uplifting and hopeful-for-humanity musical, offering a microcosm of the world facing turmoil together.
The 'Come From Away' touring company now at Center Theatre Group / Ahmanson Theatre for a limited engagement through June 12 is brilliantly directed by Christopher Ashley, with music supervision by Ian Eisendrath and musical staging by Kelly Devine. I urge you to NOT miss seeing it. Tickets start at $40, available through CenterTheatreGroup.org, Audience Services at (213) 972-4400 or in person at the Center Theatre Group Box Offices (at the Ahmanson Theatre) at The Music Center, 135 N. Grand Avenue in Downtown L.A. 90012. Performances run Tuesday through Friday at 8 p.m., Saturday at 2 p.m. and 8 p.m., and Sunday at 1 p.m. and 6:30 p.m. Masks, proof of vaccination or negative PRC Covid-19 test, and photo ID are required for admittance.
Lin Manuel Miranda's first acclaimed celebration of family and community, the hit Broadway musical 'In The Heights', is being presented by La Mirada Theatre for the Performing Arts and McCoy Rigby Entertainment through June 26. It tells the universal story of a vibrant community in New York's Washington Heights neighborhood – a place where the coffee from the corner bodega is light and sweet, the windows are always open, and the breeze carries the rhythm of three generations of music.  It's a community on the brink of change, full of hopes, dreams, and pressures, where the biggest struggles can be deciding which traditions you take with you, and which ones you leave behind. 
With musical direction by Brent Crayon conducting a 10-piece orchestra, co-directed & choreographed by Marissa Herrera, and directed by Benjamin Perez, 'In The Heights' features 26 incredible triple-threat performers who will enchant you during every ensemble number as they fill the entire stage with Latin-flavored movement and abundant joie de vivre. Players of note include Rubén J. Carbajal as Usnavi, Daisy Marie Lopez as Nina Rosario, Hosea Mundi as Benny, Claudia Mulet as Vanessa, Jacquelin Lorraine Schofield as Abuela Claudia, Crissy Guerrero as Camila Rosario, Benjamin Perez as Kevin Rosario, Lindsey Dantes as Carla, and Shadia Fairuz as Daniela, each of whom inhabit their character from the depths of their soul. And on the technical team, kudos to the multi-story Scenic Design by Music and Theater Co., and Lighting Design by Donny Jackson which often allows the second floor of the buildings to disappear into the Projection Design by Jon Infante.
'In The Heights' performances run through Sunday, June 26 on Thursdays at 7:30 pm; Fridays at 8 pm; Saturdays at 2 pm & 8 pm and Sundays at 1:30 pm & 6:30 pm at La Mirada Theatre for the Performing Arts, 14900 La Mirada Blvd in La Mirada. Tickets range from $17 – $84 and can be purchased at La Mirada Theatre's website, www.lamiradatheatre.com or by calling the Box Office at (562) 944-9801 or (714) 994-6310. Children under 3 will not be admitted into the theatre. Parking is free. Please note that masks are not required and vaccination status will not be checked at the venue.  
And dance fans, The Broad Stage is presenting the venue debut of Mark Morris Dance Group (MMDG) with the MMDG Music Ensemble in 'Mozart Dances', on Thursday, June 9 at 7:30pm, Friday, June 10 at 7:30pm, Saturday, June 11 at 7:30pm and Sunday, June 12 at 2:00pm. The production includes three exquisite Mozart piano works set to Morris's buoyant, exhilarating choreography, all performed live on The Broad Stage's mainstage. Tickets starting at $60 are available at thebroadstage.org or by calling 310.434.3200, or visiting the box office at 1310 11thSt. Santa Monica CA 90401, beginning two hours prior to performance. Free onsite parking. Masks, proof of vaccination or negative PRC Covid-19 test, and photo ID are required for admittance.