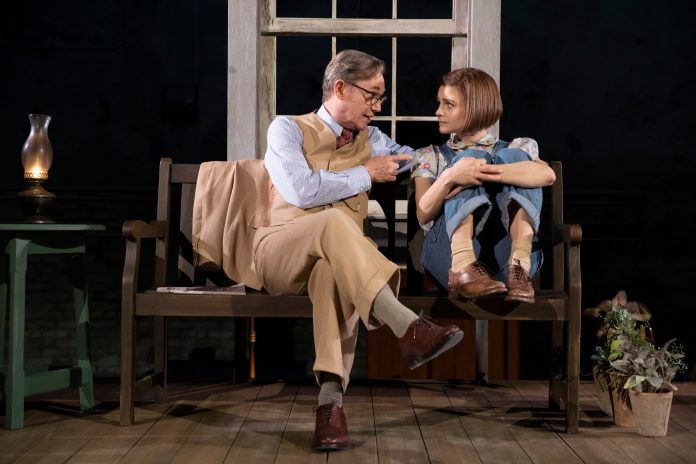 The Los Angeles premiere of Academy Award® winner Aaron Sorkin's new play, TO KILL A MOCKINGBIRD, directed by Tony® winner Bartlett Sher, was well worth the wait given the overall perfection of the cast, direction, and impeccable staging now at the Hollywood Pantages Theatre. Set in Alabama in 1934, Harper Lee's enduring story of racial injustice and childhood innocence centers on one of the most venerated characters in American literature, small-town lawyer Atticus Finch, whose decision to take on a controversial case affects not only his family but the entire town around him.
Featured in the cast, all of whom give tour-de-force performances, are Richard Thomas as Atticus Finch, Melanie Moore as Scout Finch, Jacqueline Williams as Calpurnia, Justin Mark as Jem Finch, Yaegel T. Welch as Tom Robinson, Steven Lee Johnson as Dill Harris, and Mary Badham (Oscar®-nominated for the role of "Scout" in the feature film) as Mrs. Dubose. They are joined by Joey Collins as the villainous Bob Ewell, Richard Poe as Judge Taylor, Luke Smith as Horace Gilmer, Arianna Gayle Stucki as Mayella Ewell, David Christopher Wells as Sheriff Heck Tate, Jeff Still as Link Deas, Liv Rooth as Miss Stephanie and Dill's mother, and Travis Johns as Boo Radley. Ten talented ensemble members portray various members of the community and assist in moving set pieces into place.
Fans of the hit movie starring Gregory Peck at Atticus Finch, please put aside your doubts as to whether or not Richard Thomas, perhaps best remembered as John-Boy in TV's The Waltons, could ever do justice to the role. Trust me, he can and will hold you in the palm of his hand throughout the 3-hour production, so much so that you could hear a pin drop during his emotional second act courtroom defense of Tom Robinson. Also of note during that scene is Arianna Gayle Stucki as the tormented Mayella who squirms in her chair, knowing full well evidence being presented against Robinson is based on her lies about what really happened. But perhaps to most astounding courtroom performance is that of Yaegel T. Welch as Tom Robinson, his witness stand interrogation bound to stir anger at the town and his accuser, as well as heartbreaking sympathy for a good man accused simply due to the color of his skin.
Special praise must be given to the three younger actors, especially the incredible Melanie Moore as Scout Finch who carries the background of the story and heart of the play in her hands to perfection. Justin Mark as her brother Jem Finch beautifully shares his journey to adulthood, while Steven Lee Johnson as Dill Harris (from the Broadway cast) sheds new light on the broken and lonely boy whose summer spent around the Finch family guided him to a new understanding of how to go back to his "real life" without lacking the self-confidence needed to stand up for himself.
Outstanding tech credits include Miriam Buether who nominated for the 2019 Tony Award for Best Scenic Design of a Play for this production. How she did not win is beyond me, given the extraordinary moveable set pieces that so beautifully move into place perfectly creating each location. Multi award-wining costume designer Ann Roth and lighting designer Jennifer Tipton (also nominated for the 2019 Tony Award for this production), are also to be commended for their talents. But final praise must be given to director Bartlett Sher, also nominated for the 2019 Tony Award for directing this production, for his brilliant vision on bringing this Sorkin masterpiece to the stage.
The national tour of TO KILL A MOCKINGBIRD, produced by Barry Diller, continues through Nov. 27 at the Hollywood Pantages Theatre, 6233 Hollywood Blvd, Los Angeles 90028. Tickets are on sale by phone at (800) 982-2787, at www.BroadwayInHollywood.com and www.Ticketmaster.com, or in person at The Hollywood Pantages Theatre Box Office. The tour will also play from Dec. 27, 2022 to Jan. 8, 2023 at Segerstrom Center for the Arts, 600 Town Center Drive, Costa Mesa 92626. Tickets are available at www.SCFTA,org or by phone (714) 556-2787. Parental Advisory: Appropriate for Children ages 12 and up. Children under 5 will not be admitted to either of the theaters, and all patrons must have a ticket, regardless of age. Masks are strongly recommended. And trust me, it would be a crime to miss this incredible production!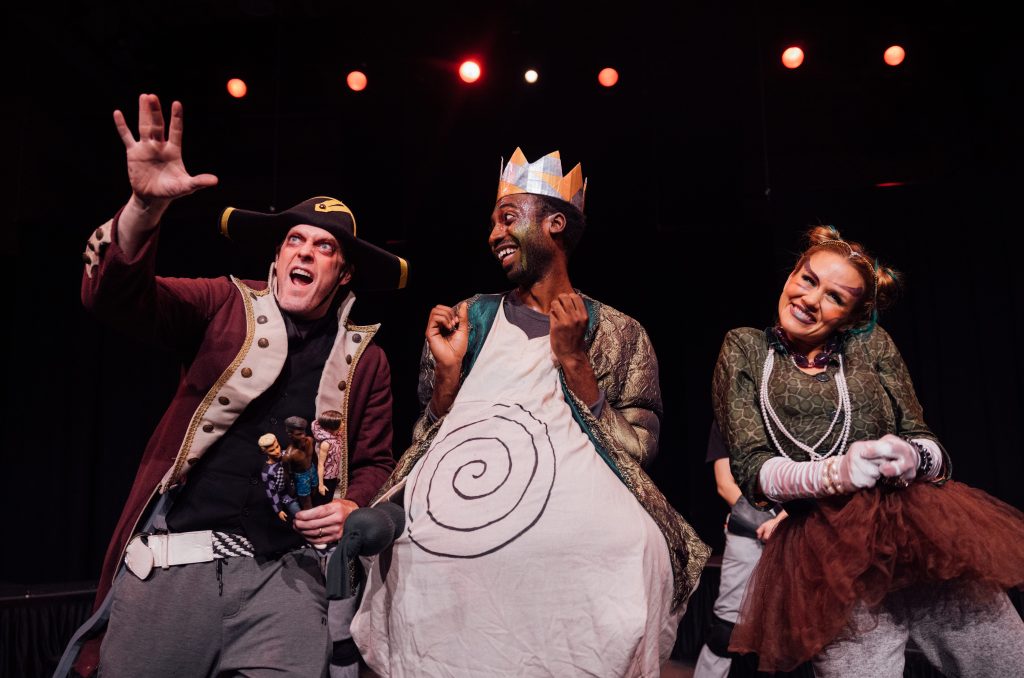 In 1896, the bohemian, absinthe-drinking, rebellious writer Alfred Jarry debuted his revolutionary play UBU THE KING with a single performance in Paris, which shocked audiences and resulted in repeated interruptions throughout the performance, culminating in a riot. Thus, its violent reception cemented Alfred Jarry's legacy as a provocative and controversial author. Eighty-six years later, in 1982, a ragtag bunch of punk rock actors performed a midnight production of the same surreal, scatological masterpiece at a theater tucked away on a grimy stretch of Santa Monica Blvd. It was a huge hit, and the rest is Actors' Gang history. 
Now in 2022, The Actors' Gang at 9070 Venice Blvd in Culver City, 90232, is celebrating its 40th anniversary by presenting a revival of this obscenely funny, deeply offensive, and utterly deranged play. But this isn't some dusty nostalgia piece. The translation by Cyril Connolly and Simon Watson Taylor is directed by the Gang's Artistic Director Tim Robbins with a lively company of actors, most of whom weren't even born when the Gang first produced Ubu. Robbins has effectively reawakened the anarchic spirit that makes chaotic and rough-around-the-edges live theater a captivating staple of his company. "I couldn't think of a better way to celebrate our 40th than to return to the play that started it all for The Actors' Gang," said Robbins. "Considering the scatological nature of our public discourse and the absurdity of life in general in these post-pandemic times, I felt that a return to rude, punk rock theater made a lot of sense."
And that it does, led by the brilliant actors guiding the energetic ensemble into such mind-boggling chaos: the always entertaining and totally-out-there Bob Turton as Captain MacNure whose troop of three assorted Barbie dolls always follows his orders without question to comedic delight, and Char Harvey as the rotund, gas-filled Pa Ubu who gets convinced his place as the King of Poland will be assured as long as he follows MacNure's advice to "You Be You" along with that of his attention-seeking wife, Ma Ubu (the effervescent Dora Kiss). Of course, this means they must gather followers to overthrow the current King Wenceslas (Scott Harris) and his Queen Rosamond (Guebri Van Over), both of whom react emotionally with dueling somersaults! And every single ensemble member portrays the wild assortment of followers doing their bidding with the dedication of Shakespearean actors – even the fartists! Original music is performed live by its creator, Dave Robbins, adding to all the outrageous antics on the stage below him. So be ready to do the same by consuming a few drinks and being ready to play your part by following the instructions paraded across the stage by the lovely Placardia Lisa Cole, who also provides an ongoing body count!
Late night weekend performances continue through Dec. 3; doors open at 8 p.m. for pre-show drinks, with the show at 9 p.m. followed by an outdoor post-show party at 10:30pm. Tickets are available by phone at 310-838-4264 or at www.TheActorsGang.com. You must be 18 or older to attend and masks are optional. Street parking or in the Trader Joe's lot across Culver Boulevard from the Gang is available. This outrageous satire full of obscene humor and inappropriate behavior is just perfect for the Commedia dell'arte style antics of our hometown theater company, making ABU THE KING absurdist theatre at its comedic best!