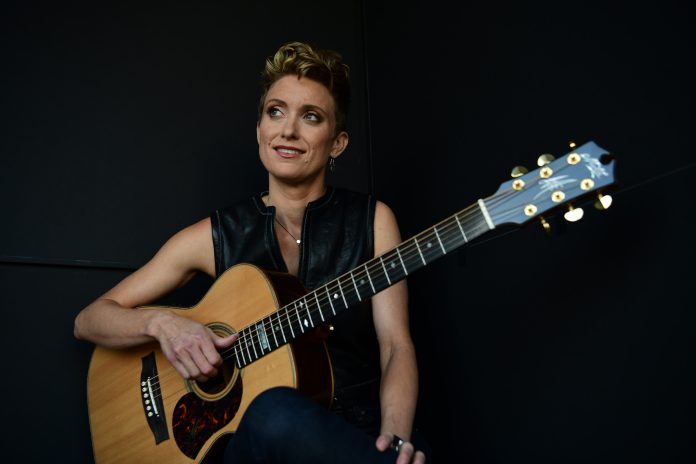 Award-winning singer, songwriter and guitarist Christie Lenée returns to Boulevard Music twice this week for the first time since the pandemic began, as the storied venue and store continues to reintroduce live music to its patrons. Lenée will be hosting a guitar workshop on Wednesday and then a gig on Friday, and the CCN spoke to her about all of it.
When did you start playing and performing?
I'm grateful to have been raised in a creative community and performing since the age of 4. My older sister was in the Entertainment Revue based in Tampa, FL, and I used to go to all of the rehearsals. When I asked the director Cynthia Stevens if I could audition, she was nice enough to say yes. I surprised her by showing up to the audition already knowing all of the dances and songs, then she enthusiastically let me in as the youngest member. I'll forever thank Cynthia for the opportunity. She taught me so much about performance and entertainment.
At 6 years old I started playing piano, then fell in love with the guitar at age 11. After studying classical and jazz guitar intensively at a performing arts high school, while also thrilled with the art of literature, life emerged into songwriting and performance and the rest is history.
Describe your sound…
Some have described my music as "Joni Mitchell meets Dave Matthews and Michael Hedges." Some have also made comparisons to Melissa Etheridge with the frequent use of the 12 string and upbeat acoustic rock tunes. If I had to describe it, I'd say it's empowering acoustic folk/pop with new age, instrumental and classical roots. 
What are your career highlights so far?
First Place at the International Fingerstyle Guitar Championship in 2017; Voted "Acoustic Guitarist of the Year" by England's Music Radar in 2019; Named "One of the Best Acoustic Guitarists in the World Right Now" by Guitar World in 2020; Voraciously praised by Guitar Player Magazine, Acoustic Guitar Magazine, and Guitar World Magazine; Shared stages with Tommy Emmanuel, Tim Reynolds (Dave Matthews Band), Amy Ray (Indigo Girls), Christopher Cross, Antigone Rising, Andy McKee, Kaki King and Melissa Etheridge to name a few; Endorsements from guitar companies like Martin, Luna, Irvin, and Veillette, alongside a signature string set via Savarez Strings; Toured Internationally in Europe, Australia, North and South America, and many countries all over Asia; Released six albums, with STAY being named one of three finalists for "Best CD of 2016" (Indie Acoustic Project Awards); Featured performances at the Grammy Museum (Los Angeles); Recorded Duets with Tommy Emmanuel, Phil Keaggy, Tim Reynolds, and Laurence Juber (guitarist of Paul McCartney and Wings); Recorded instrumentals with Will Ackerman, founder of Windham Hill Records; New Album Coming Alive was co-produced by Matthew Odmark from the band Jars of Clay, featuring iconic musicians such as Keith Carlock (drummer for Steely Dan, Sting, Toto, John Mayer) and Grammy Award Winning Bassist Adam Nitti (Kenny Loggins, Carrie Underwood, Susan Tedeschi).
Do you have any recorded music available?
All albums are available for streaming via Spotify and Apple Music, in addition to hard copy on my website, christielenee.com
Have you performed at Boulevard before? Any memories?
Last time I played at Boulevard Music was extremely memorable. One of my favorite guitarists Janet Robin sat in on two songs, and Scott Goldman, Artistic Director at the Grammy Museum was there. The show was highly energetic and many people (including me) left Boulevard with happy hearts and musical satisfaction. 
What can we expect from the set this time?
I'll be performing many songs from the new album Coming Alive, in addition to some solo guitar instrumentals. Both feet will be fully equipped with foot percussion (a foot stomp kick on one foot, tambourine on the other foot), in addition to running guitar effects and a vocal harmonizer to get 2 and 3 part harmonies live. Loops will happen in special moments throughout the night so the guitar can let loose and go wild in the higher register.
What can you tell us about the guitar workshop too?
I'm excited to teach "Creative Fingerstyle Guitar with Open Tunings / Composition and Songwriting" to musical friends in L.A. This class will focus on creative techniques in composition for guitar. It will introduce a variety of open tunings, fingerstyle patterns, approaches to writing memorable melodies along with various approaches to song forms. Attendees will be provided with a collection of guitar tunings, some of which will be explored through shapes, fingerstyle patterns and creative motifs to spark new ideas. We will also spend some time on essential guitar techniques that allow relaxation and minimal effort to allow longevity in the hands. It should be fun!
What else do you have coming up?
I'm on a mission to get my new album, Coming Alive out there in the world. This album is important to me since many songs are about people coming together again after the many changes that took place during Covid Lockdown. Somehow in that sense, this album feels community oriented. I put my whole heart and soul into it and I want the songs to be heard worldwide.
In addition to live shows, more new music videos are in the works. Additionally, we'll be drip feeding exclusive videos recorded live in the studio with drummer Keith Carlock and Bassist Adam Nitti. Stay tuned on the internet for a lot of exciting content on the horizon!
Christie Lenée performs at 8 p.m. on Friday, Oct. 21 at Boulevard Music. The guitar workshop takes place at 7 p.m. on Wednesday, Oct. 19. More info on the show at boulevardmusic.com. More info on the artist at christielenee.com.
Elsewhere this week
Culver City's music venues have a full calendar of entertainment over the next four weeks. For the Cinema Bar, that includes the Hot Club of Los Angeles (every Monday), Matthew Fields (every Tuesday), Open Mic Night every Wednesday, the Dime Box Band, Dan Janusch, the Healers, Bruce Ray White, Tom Gramlich, and more. For more information, go to thecinemabar.com.
Live music has also returned to the Culver Hotel and this week they will host Sylvia & the Rhythm Boys, Ben Flocks, Scotty Bramer Solo, Teddy Bang Trio, and more. Go to culverhotel.com for more info.