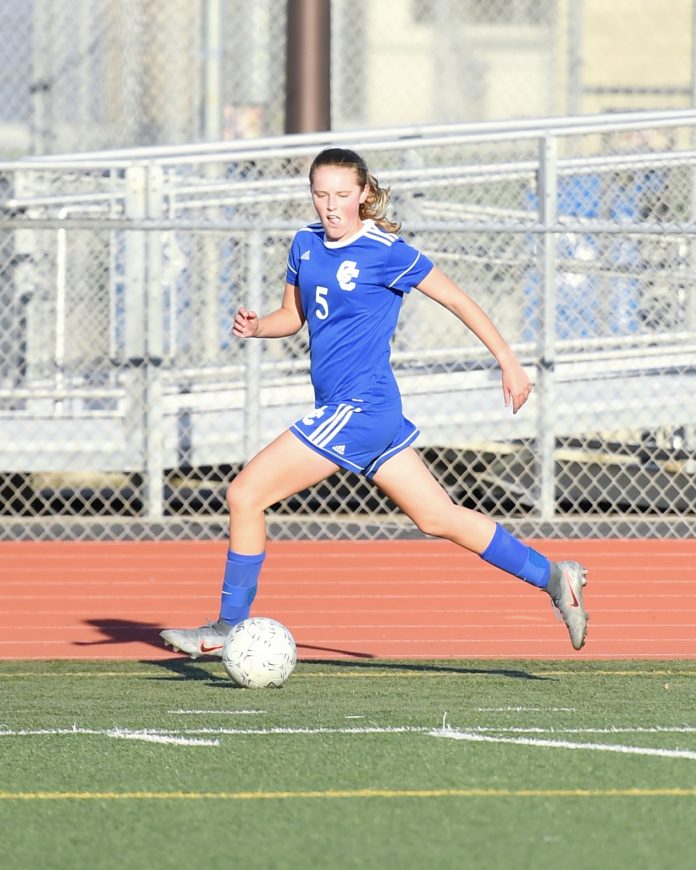 Two weeks ago, Culver City High School conducted their annual year ending athletic banquet. Unfortunately for these outstanding athletes, the event was held online (Zoom) due to the coronavirus pandemic.  Regardless, the student athletes were still able to hear their names called and be recognized as being some of the best students on the field, on the court and in the classroom.
Although many athletes were honored the top honors went to Female Athlete of the Year, Sierra Chabola and Male Athlete of the Year, Chris Miller. Both student-athletes excelled in their sports and in the classroom. Both students will be attending a four-year college in the fall.
When you mention girl student/athlete at Culver City this academic year, Sierra Chabola jumps straight to the top of the list. Chabola, a senior accomplished something that is unheard of.  She played three sports for four years at Culver City high school while also maintaining high standards in the classroom. In the fall, she played tennis. In the winter, she played soccer and, in the spring, she was on the lacrosse field. She excelled in all three sports.
"It feels really good," said Chabola about getting the award during a phone interview this week.  "It's a confirmation that all of my hard work over the last four years has really paid off. It was great that all of my hard work was seen by everybody else so getting that award was really nice."
She started playing soccer when she was three years old, and in the 8th grade, she played basketball. "Basketball and soccer were played during the same season so I decided to play soccer when I got to high school."
Because her father Casey Chabola is the boys' lacrosse coach at Culver High, and her grandfather Jerry Chabola is the former Culver City High School athletic director and lacrosse coach, lacrosse was a natural fit for Sierra. "I grew up around the sport and my older sister played, so that's why I decided to play lacrosse."
She decided to also play tennis when it was time for the middle school students to pick the sports that they were going to play in high school.  "I decided that tennis looked like it would be fun so I decided to try it because it was in the fall," said Sierra. "I use to walk by the tennis courts and I thought that would be fun to try. I picked it up right away and I played three years on the varsity team."
Playing three sports and maintaining a high-grade point average is not easy. "My freshman year was really hard," said Sierra.  "It took a while to adjust but once I started to get into the rhythm it was nice. You learn to adjust. Maintaining success in the classroom will allow you to be successful in sports."
In the fall, Sierra will make adjustments at San Diego State.  "I chose San Diego State over Oregon because I like the vibes there and it was closer to home and the weather is nice."
Sierra had some very good coaches to help her along the way. Phil Rothenberg in tennis, Pete Bartlett in soccer and Emily Rogers in soccer put her in the position to be able to be an elite high school athlete.
The boys' athlete of the year, Chris Miller was spectacular on the football field. The 6'1", 180 pound senior caught 80 passes for 1490 yards and 23 touchdowns. He also caught 19 passes in one game against Palos Verdes which is nothing short of remarkable. 
"It's a great feeling," said Miler about receiving the award. "It gives you a sense of accomplishment. It was kind of a shock to be in this position because of the way my career started and the way it grew. It is definitely a humbling moment."
Miller stared playing football when he five years old. "I grew up in a football family. Football has always been a part of my life. Every sense I could run I was playing football. I just like the things I can do on the football field like making great catches."
Miller also played defensive back in close games. "It made me feel great that my coaches had confidence in me to trust me on that side of the ball. My offense definitely helped me on defense. It's really not that much different than being a receiver. At the end of the day the defensive back has to make the play on the ball when it's in the air. It was a fun experience playing defense."
Miller played three years on the varsity team.  "When I was younger I tried to learn from my peers and soak in as much knowledge that I could.  Being around a lot of great players impacted me a lot."
He started growing at the beginning of his junior year and that's when he realized he could be a very good football player.
To be a great receiver you have to have an outstanding quarterback to get you the ball. Miller had the total package in Zevi Eckhaus. "He was everything I could ask for in a quarterback," said Miller. "I have a great relationship with him on and off the field. He has the same drive that I have as a football player and when I saw that it motivated me to be the best receiver for my quarterback. It was a blessing to have a guy like that as my quarterback."
Miller will be playing football at Sacramento State in the fall and his biggest fans are his family. "They are real proud of me," said Miller. "It feels great to be surrounded by a supportive family. They have been by my side the whole way."
Miller is also grateful to be able to play for coaches at Culver City that he called father figures. "I got wisdom from the older coaches and the younger coaches really knew how to connect with you. My coaches were great for four years. Coach (Jahmal) Wright and coach (Michael) Hooper and all the other coaches did a great job. They created a great environment. I was blessed to have great coaches."
Miller wants younger kids to know that you have to focus on school and pay attention to detail on and off the field. "If you put God, family, school and sports in that order you can be successful."