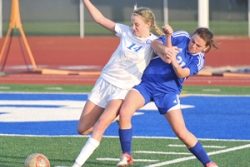 Four of Culver City's winter sports teams recorded victories against Hawthorne last Tuesday.  Girls' soccer, girls' basketball, boys' soccer and boys' basketball proved to be too much for the Cougars on Tuesday. Now the Centaurs are hoping to repeat their winning ways against Beverly Hills beginning at 6 p.m.
Culver City will play three home games against Beverly Hills starting with the girls' basketball team and the boys' soccer team facing off against the Normans at 6 and at 7:30 p.m. respectively. The boys' basketball team will battle the first place Normans in the Del Goodyear Gym. The girls' soccer team will travel to Beverly Hills tonight for a 6 p.m. game.
Only one of the Centaurs four teams are guaranteed a playoff berth, so if the other three teams expect to make the playoffs a win over Beverly Hills is a must.
The girls' soccer team is 11-7-2 and 5-4 in the Ocean League and is currently in third place and expects to be in the playoffs next week. After a 0-3 start in league play they are starting to come together as a team.
"I am really proud of our girls," head coach Scott Mair said last week. "We have really been playing well the past few weeks. We had some problems at the beginning of league play but everything has come together now. If we keep playing hard and playing at a high level we should make the playoffs. Injuries will play an important part in the playoffs. That's why you need to play a lot of girls during the regular season so when you are in the playoffs everyone is ready to go."
Defensive fullback Samantha Simon hopes her team continues to keep the ball rolling in a positive direction.
"We are playing a lot better than we did at the beginning of league play," said Simon. "I think we will keep it going as long as we stay confident and do what we are supposed to do."
Although all of the girls have played well, coach Mair pointed to the play of Amanda (AJ) Jaramillo, Megan Gerez, and co-captain Tatiana Estrada as players who have elevated their game to the next level.
The boys' soccer team is 7-10-2 overall and 3-5-1 in league play.  If they beat Beverly Hills today they still have an outside chance to make it to the playoffs.  They are currently in fourth place in league play.
The boys' basketball team will need a miracle to make it to the playoffs.  They are 9-16 overall 2-7 in league play.  If they upset first place Beverly Hills tonight they may get an at-large bid.  If they lose their season will probably be over.
The one team that is in the playoffs is the girls' basketball team. The Lady Centaurs are 16-9 overall and 9-0 in the Ocean League and if they beat Beverly Hills today they will be unbeaten in the Ocean League for the fourth straight year.
The winning streak almost ended against El Segundo last week but Culver City beat the Eagles in the last minute of the game.
"It was a really good game," assistant coach Tom Nakayama said. "El Segundo was sky high for the game. It reminds me how everyone pointed to UCLA in the (John) Wooden days when they were top. Now we have that target on our backs in the Ocean League.  We need to just keep playing hard."
The girls' head basketball coach is still not satisfied and believes that the team can play better.
"I want our team to play tough," Julian Anderson said. "They need to play with a chip on the shoulder. They need to get mean. We need to keep playing at a higher level and don't play down to the competition."
Anderson is happy with the play of point guard Lindsey Tanita and shooting guard Megan Yoon.
"Lindsey is doing a great job and she is extremely important to our team.  She is our coach on the floor," Anderson said. "Megan has really stepped up her game especially after all of the injuries we have had."