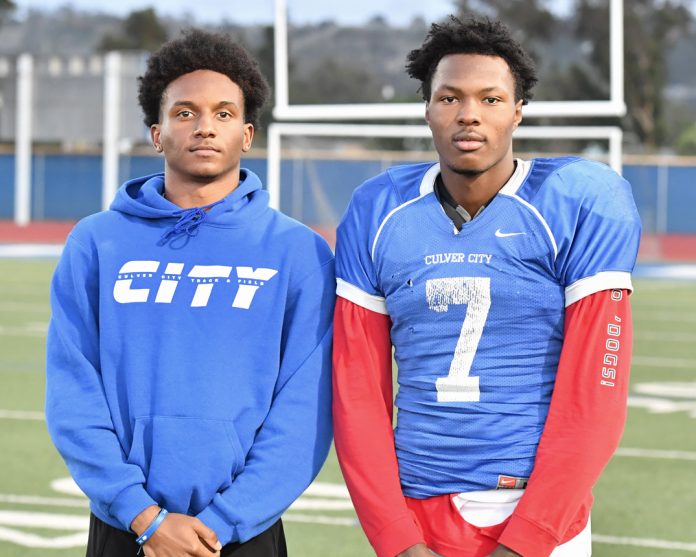 With a new league, there will be new challenges for the Culver City varsity, junior varsity and freshmen football teams. The Bay League figures to be slightly more competitive than the Ocean League that the team played in for many years. Mira Costa, Peninsula, Palos Verdes, Redondo Union and Santa Monica are now their opponents.
The good news for the varsity team is their team is loaded with a bevy of talented seniors. "We have been blessed to have a lot of seniors this year," said Culver City head football coach Jahmal Wright who is starting his 11th season as the head coach and 20th season overall, nine as an assistant coach. "It's a pretty deep senior class with a lot of experience."
Having experience at every position is a coach's dream, and if everyone stays healthy, Wright's dream may turn into a league championship in the abbreviated 2021 season. Because of the pandemic, schools are playing only five league games instead of 10.
Although the Centaurs are experienced at almost every position, they have one thing a lot of schools do not have: a quarterback that has played four years at the varsity level. 
Zevi Eckhaus started two games during his freshman year when senior Jonathan Martin was injured. He also started two playoff games that same year. "That's pretty unique," said Wright.
The players Eckhaus will be throwing the ball to are exceptionally talented. Led by seniors Emari Pait and Legend Waring. 'The Legend of Pait' hopes to write their own history book at Culver City this year. "We have a good mixture of seniors, juniors and sophomores. It's a talented group that has experience and we have some new talented players as well," said Wright.
The offensive line is ready to protect Eckhaus and open holes for the running backs. "We are excited about the offensive line," said Wright. "We have multiple starters returning. Seniors Adrian Simon, Dylan Nichols and Lucas Brand are back, and we also have Mason Merriwether who started all 13 games for us as a freshman last year. We have a lot of experience and a lot of size on the offensive line." 
A lot of the offensive lineman will also be playing on the defensive line this year. "We also have some new players that we will be breaking in," said Wright. "With players like Simon and Merriwether helping our new players, the defensive line should be solid."
The linebackers are returning a strong group of athletic players. "Our returning outside linebacker starters are Antonio Moten and Nicholas Funes and in the inside, we have a lot of different players that will play that position led by Aaron Salas and Quniten Brunson and senior Cole Ward," said Wright.   "They are not the only guys, but they are the main returnees. We have depth at that position."
The defensive backfield will be anchored by Pait, who has committed to Fresno State and was an All-CIF and All-League player last year. Also, in the defensive backfield will be Quinten Chapman and Jagger Williams. "Williams is a very talented player who had to wait his turn in the rotation but now he is ready to go," said Wright. "We have a lot of speed and athleticism on the back end."
The running back position is in good hands with senior Ayinde Bankole taking over full time duties. "Ayinde is a very explosive runner and a senior leader and sophomore Deshunn Powell along with some other very good running backs will keep the opponents defenses off balanced," said Wright.
The Centaurs will scrimmage Encino Crespi High on Saturday, and their first game is Friday, March 19, at Mira Costa in Manhattan Beach at 7 p.m.