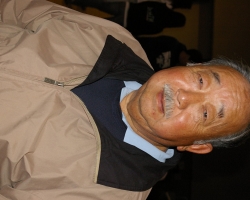 Sharing eminent company with the Wizard of Westwood, Jack Nakanishi, the Coach of Culver, was inducted into the Southern California Interscholastic Basketball Coaches Association Hall of Fame during halftime ceremonies of the recent Girls CIF Basketball Championship game at the Anaheim Convention Center.
Former acclaimed UCLA coach John Wooden, Pete Newell (U.C. Berkeley/S.F. Warriors/Lakers) and Bill Sharman (Lakers, USC) are also members of the area hall of fame. 
"Jack deserved the honor. He has served this community in numerous ways and shaped the lives of our student athletes with his outstanding work for parks and recreation, the Japanese leagues and the Culver High girls basketball teams," said Culver City High School athletic director Jerry Chabola.
Nakanishi retired last season after mentoring the varsity squad the past decade. He was former superintendent of the Culver City Parks and Recreation Dept.