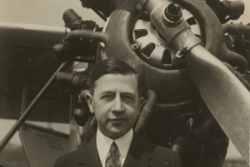 This is a week to celebrate two men who changed history!  Monday we celebrated Martin Luther King Day. And today marks the actual birthday of our city founder Harry Culver.  Culver was born Jan. 22, 1880, in Milford, Nebraska to Ada and Jacob Culver, who raised their four sons and a daughter on the family farm.  Although Jacob Culver's military background contributed to his children's disciplined lives, Harry also became a very creative, young man.  He worked taking in laundry in college, and he and his father even partnered in their own bottled water business.  According to his daughter, Pat Culver Battle, that experience served as a valuable life lesson— to keep the controlling interest of any business venture!
A circuitous route, which included time at the Manila Times, brought Harry Culver to this area where his Nebraska real estate training was enhanced by working for I.N. Van Nuys.  Culver envisioned  "a balanced city" that was destined to carry his name.
A 1926 publication, called "Saturday Night," recognized that Culver "had the vision, all right, plus energy, ability, and grim determination, all of which personal attributes he sold to the owners of the acreage—which, later, became Culver City…" It goes on, referring to the difficult times, the state of the nation, and how "That was a period in his career which called for all the pluck, grit and persuasive powers of the transplanted Nebraska boy who had earned his way through college by taking any honest job which presented itself."
In that publication, the author suggests relative to Culver, "The number of stunts he pulled off in his various selling campaigns, and their variety, would astound any New Englander, but to the western man they are only amusing evidences of a fertile and resourceful brain."
Many have attested to the creative ways in which Culver attracted people to his town—the "free lunch," bus rides to the new city site, the marathon, and prettiest baby contest, just for starters.  Patricia Culver Battle, Culver's only child, always maintained that her father simply "knew what people wanted." Culver, himself is quoted in the afore-mentioned article  "What seems to attract people…is something moving."
Culver personally loved the movies, and married actress Lillian Roberts, who was under contract with Thomas Ince. This was after he convinced Ince to build the first movie studio in his city, (Ince/Triangle Studios, Goldwyn, Metro-Goldwyn Mayer, MGM-UA, Lorimar, Columbia, now Sony Pictures Studios). The movie studios served as a part of the city's planned economic base.
A little Harry Culver Trivia from his daughter's fond memories:
Culver's early success allowed for a move to Cheviot Hills, into a mansion designed by a young architect, Wallace Neff.
Culver's "favorite foods were Apple Pie, Souffle, and Beige Bacon Crisp"
Culver liked his plates warm and his butter cold.
Harry H. Culver required eight hours sleep a night, so Mrs. Culver would take care of the guests if he had to retire to bed.