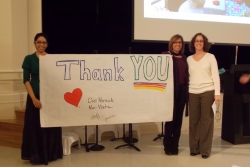 For more than 10 years, Echo Horizon School families have participated in a special holiday program they like to call Project Celebration.
During the first two weeks of December, Echo Horizon collects brand new toys, games and books from its community members and then donates them right before Christmas in hopes of providing some holiday cheer to the less fortunate families served by Didi Hirsch Mental Health Services organization.
On Dec. 18, Lisa Schumacher, Director of Child and Family Services at the Didi Hirsch Mar Vista Center, along with her colleagues visited Echo Horizon School to express appreciation to the students for their efforts in helping these families during the holiday season.
Schumacher shared that the reason they request for the items to be unwrapped is because they place all donated items in a large stock room and then allow the individual therapists and counselors to hand-picked items they think are fitting and appropriate for the families with whom they work.
The Didi Hirsch visitors left with 12 large black garbage bags full of brand new toys, games and books.
Echo Horizon School project coordinator Tami Rubin said, "Being able to work with our students on a project that helps children outside of our community have a happier holiday is a privilege that brings me and the students great joy."