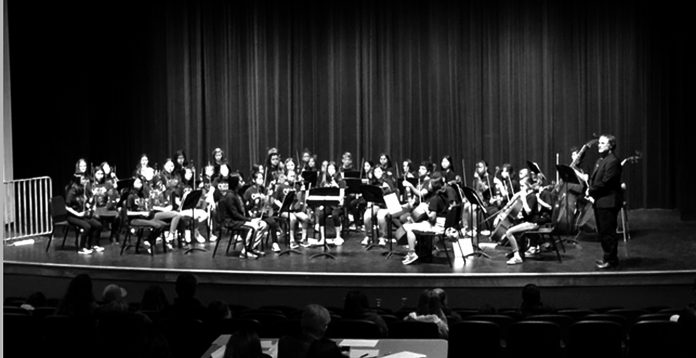 By Evalon Witt
As in years gone by, the students came home with trophies and assessments of excellence, school officials said. Under the direction of Paul Witt, the Culver City Middle School Symphonic Winds took first place with an Excellent rating. The Symphonic Strings also took first place with an Excellent rating, as well as the overall award for Best Middle School Orchestra.
The CCMS Voicestra took second place with an Excellent rating thanks to the direction of Danielle Koplinka-Loehr.
"It was a fun-filled day, starting at the crack-of-dawn when four buses pulled up to the middle school parking lot to take the 130 young musicians to the competition sites, and then on to Knott's Berry Farm for a day of rides and rewarding play," school officials said.
"And perhaps the biggest thrill, an awards presentation at six o'clock in the famed Charles Schultz Amphitheatre. Many groups from all over the southland competed, and the ceremony to present the trophies was to a packed house of highly charged and invested fellow performers."
The Culver City music program has been building over the years, thanks to the dedication of Koplinka-Loehr and Witt, officials said. However, this program could not thrive without the very generous support of the Culver City Middle School, the Culver City Music School Parent Teacher Association, the Panther Partners, and the Culver City Education Foundation.
A special word of thanks goes to the Fineshriber Family Foundation for their very generous financial support over the years making possible the purchase of instruments so that each student can have an opportunity to learn and love music.
A big thank you is in order to the wonderful parents who support and encourage their children to take on the special challenge of learning to sing or play an instrument.
Lastly, we are grateful to the chaperones who gave up their Saturday to be a part of making this event a success and a safe place for all our wonderful students.