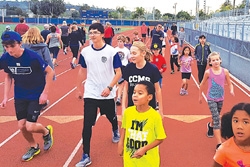 Their laid-back persona and silly commentary among 25 impressionable children during opening stretches at the Screenland 5K Sunday afternoon training sessions lead the casual observer to believe members of the Culver City High School cross country team are just like you and me.
Far from it.
The co-ed team has the highest grade point average of any Centaur athletic squad, and ranks among the top 10 teams in the state in GPA and national testing scores.
They're still goofy as ever at the free Screenland 5K workshops, and the kids respond.
Jaden Kimura, Eden Winslow, Matthew Kojima, Matthew Wong, Max Jordan, Mason Acevedo, Faheen Chunara and Arman Rostamian lead the youngsters with stretching, calisthenics, walking and running exercises in the hour-long sessions mixed in with fun and games to sustain interest.
"We love coming out to work with the kids. They enjoy being on the track with us," said Chunara.
The Centaur runners are preparing the youngsters for the Screenland 5K, Feb. 26, with Olympic bronze medalist Rod Dixon, a four-time Olympian. Dixon, who won the World Cross Country Championships and the New York City Marathon, brings his KiDSMARATHON program to Culver City to experience the joy of exercise and nutrition, and develop positive life-long habits.
"The Culver City High School students were connected right away with the children. They understand the program and they draw on their skills and memory from their cross country coach," said Dixon, a Screenland 5K committee member.
Tom Fritzius is the longstanding coach of the Centaur cross country team. Steven Heyl assists.
Follow the yellow brick road through legendary movie and TV studios, the Centennial Trail and a rainbow in the Screenland 5K on Academy Awards Sunday in the Heart of Screenland. To register, www.Screenland5K.com