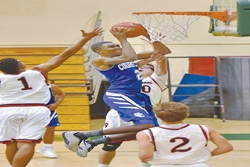 The Culver City boys' basketball season started in the wrong direction when the Centaurs were beaten soundly by Los Angeles Brentwood 68-38 on the opening day of the Mira Costa Tournament last Monday at Mira Costa.  It was the Centaurs first game of the year and they expect to bounce back in the pre-season before Ocean League play starts in January.
Culver City will play five more tournament games before they play their first home game on Dec. 21, against North Torrance at 7:30 p.m.  Right now the Centaurs are led by senior center Devon Osborne.  It will probably take about a month for Osborne to round into basketball shape because for the past six months he was a wide receiver on the league champion football team.  The 6-8, two-sport athlete caught 18 passes for 237 yards and seven touchdowns.
The Culver City girls' basketball team is currently 3-1 with wins over Crenshaw, St. Bernard and View Park.  Their one loss was to Thousand Oaks and their next home game is scheduled for Dec. 7, at 6 p.m. against Marymount in the St. Monica Tournament.
The Centaur girls' basketball program is one of the best in the West Los Angeles area.  They have won the Ocean title five years in a row, four of those years they were 10-0 in league play and last year they finished with a 9-1 league record.  They won the CIF Championship in 2013-14.
This season they will have to find a way to continue their high level of play without the services of Culver City's girls Athlete of the Year Kailey Tooke who is now playing at West Los Angeles.  Last season Tooke scored 46 points in a CIF playoff game.