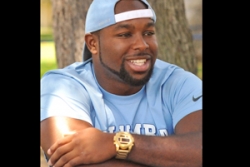 Some people say nice guys finish last.  Those people never met Marquel Carter.  Carter, the former Culver City High School quarterback is a perfect example that hard work on and off the court and field pays off.  He graduated in May from Columbia University after playing football for four years and earning a degree in psychology.
Carter was born in Hampton, Virginia and moved to Culver City when he was five years old.  He attended El Marino Language School, Culver City Middle School and Culver City High School.  He graduated from Culver City High School with a 3.8 grade point average in 2010.
From an early age Carter knew that he loved playing sports.
"I always wanted to play sports," said Carter last week at Culver City High School. "I started playing basketball when I was three years old. I started playing flag football when I was six at Lindberg Park in Culver City."
Culver City Athletic Director Tom Salter and football coach Jahmal Wright knew Carter was special the moment he stepped on campus.
"Marquel was very valuable to our program," said Wright.  "He embodied everything we preach at Culver City. We want our players to be accountable, fight through adversity and set high goals and achieve those goals. That's exactly what Carter did.  He never complained and he never missed a practice."
Salter, Wright, Aki Wilson, Cornell Myles and Greg Goodyear played an important part in developing Carter as an athlete and his mother had the perfect game plan for his academic success.
"Coach Myles was special," said Carter.  "He was always ready to play.  He was ready to play every day of the week.  He brought that same energy every time we saw him.  One of the main things I learned from coach Myles was to always be prepared and energetic.  His passion for the game of football was special."
Another person who was instrumental in developing Carter on the football field was former Centaur quarterback Darius Banks, who threw for more than 9,000 yards in his Culver City career.
"I learned a lot from him," said Carter. " He was the best high school quarterback I have ever seen and he is a very good friend of mine. He taught me a lot about the quarterback position."
Although football was Carter's main sport he also played basketball and ran track.  As a freshman on the high school football team he suited up for the first varsity game but did not play.  As a sophomore he was a backup quarterback, played receiver and saw a lot time on the special teams.  Yet, it is his junior year that is considered the beginning of something special, as Carter became the starting quarterback for the whole season, leading the Centaurs to 8-2 in the regular season and to a second-round, CIF-playoffs appearance. He also passed for more than 2,000 yards his junior year.
Carter accounted for 50 touchdowns his senior year while leading the Centaurs to a regular season record of 9-1.  He passed for 30 touchdowns and ran for 20 but his team loss in the first round of the playoffs.  Carter ended his high school football career as the Most Valuable Player in the Ocean League.
Academically Carter's mother Tika Tinnon gave him the motivation and El Marino Language School gave him the foundation to excel in the classroom.
"My mother had the biggest influence on me academically," said Carter.  "She graduated from Hampton University in four years and she has her master's degree and she is working on her PhD."
Carter's academic success put him in position to receive scholarships from several top rated colleges.  He narrowed his choices down to California and Columbia and he chose Columbia.
"I decided on Columbia because I wanted to be a part of a program that was starting a winning tradition," Carter said. "The previous years the football program was down so I thought I could make a difference."
The biggest difference was not the football team it was the life style and the weather that he encountered on the east coast.
"I am a California kid at heart so I was not happy about going through winters in New York," Carter said.  "I was never a homebody so I was not afraid of change."
At Columbia Carter used his talents playing the quarterback, linebacker and safety positions. Now that he is back home in Culver City, Carter seeks to keep his options open.
"Right now I want to keep playing football in the NFL, CFL or overseas," said Carter.  "If I don't make it in professional football I have no problem getting into the business world.  If the opportunity presents itself I would also like to go into broadcasting."
If that does not work out for Carter, he can always be a Japanese translator.
"I started learning Japanese in kindergarten and I continued that language through my junior year in college, " said Carter.  "Now I want to learn Spanish."
Carter plans to give back to the community that gave him such a solid foundation.
"I feel like I have been fortunate to get wisdom and help from so many people in Culver City," said Carter.   "Now I want to help kids achieve academic and athletic success just like I did."