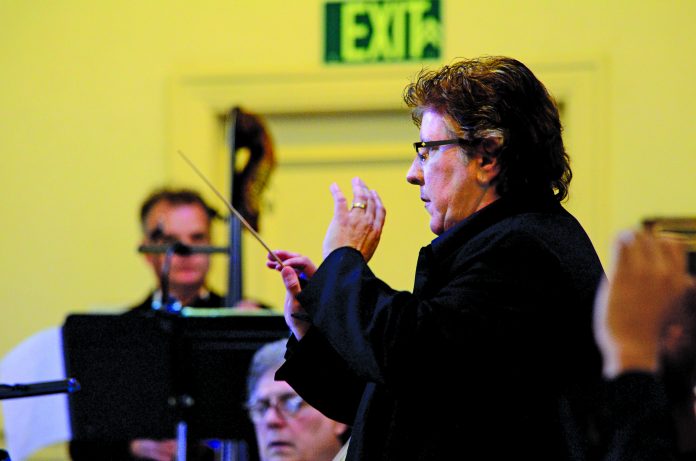 Today's MidDay at Grace concert welcomes back renowned musician Arlette Cárdenes, who conducted the Culver City Chamber Orchestra in MidDay's Beethoven 250th Anniversary celebration, Mary Lou Basaraba, MidDay organizer said this week.
The orchestra performed the Beethoven Symphony No. 8., as part of the 2010 program at The Broad Stage Theater in Santa Monica. 
One of the highlights of the concert is the performance of Andres Cárdenes, who is recognized globally as a musical phenomenon. He is a Grammy nominated violinist who parlays his myriad of talents into "one of the classical music's most versatile careers."
Alan Chapman, KUSC radio host and classical music personality, hosted the concert.
Chapman, as an intro to the concert, recalls his favorite Beethoven story, which includes Johan Wolfgang von Goethe, a noted German poet, novelist, scientist and statesman.
"Beethoven and Goethe were spending a few days in Vienna, they walked down the street one day and a crowd of aristocrats approached from the other direction," Chapman says. "Goethe politely stepped aside and bowed as they passed, Beethoven acted as if they weren't there and waded through the center of the group. Goethe later asked, 'how could you treat the nobles like that?' Beethoven said, 'there are countless nobles. There are only two of us.'"
Chapman said the significance an important insight into Beethoven's character. As a "humanist," which connects with all of the themes he could have selected as his only opera, he chose "Fedelio." The opera was originally entitled, "Leonore."
This opera is a story of justice, about a woman who rescues her husband from political imprisonment.
As with all virtual MidDay at Grace virtual concerts, donations benefit the Grace's Diner, which feeds families and individuals in need. The diner is serving up to 1,200 meals a week, Basaraba said. 
CC Chamber Orchestra
Founded in 1997 by siblings Andrés (a world-renowned violinist) and Arlette Cárdenes (who has a bachelors and masters in cello performance), the Culver City Chamber Orchestra was a means for the Cárdenes family to pay tribute to Culver City, the city they call home.
"When I returned from graduate school, I found that our arts program in the schools had been suspended," Arlette recalled. "It gave me the resolution to start this orchestra, as a way to give back to Culver City for the programs my siblings and I had when we ere in the Culver City schools."
"We are funded primarily through grants, small businesses and individuals," Cárdenes said in a previous interview. "As our economy is stretched out so much that today, funding is considerably more challenging."
Funding for the chamber orchestra is a 501.3 non-profit organization.
While the financial future of the orchestra remains hopeful, the vision of the Cárdenes family is as focused as ever.
"I have always envisioned our orchestra to be the best possible orchestra on the Westside," Arlette Cárdenes said in a previous story. "I still have plans to be pursue other avenues of funding. I especially want to focus on children's outreach, because as I was given such a great education and opportunities to perform, it is notably harder due to our current cutbacks in the schools.
"In addition, we are hoping to work with other groups, such as choirs, dancers and especially with exceptionally talented young musicians," she added.
To learn more about CCCO, call 310-397-2490; email at cccoac@verizon.net or go to https://www.ccchamberorchestra.org/ 
The maling address is P.O. Box 2504, Culver City, CA 90231.