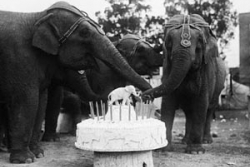 Since when did it become mandatory when throwing a kid's birthday party to provide a bounce house, rock climbing wall, trackless train, live pony, magician, face-painter or costumed superhero and a professional photographer to capture the extravagant silliness? And don't forget the catered barbequed hamburgers and hotdogs, slurpee and popcorn machines and chocolate ice-cream fountain with the servers festively costumed as fairies and elves. Sometime over the past 25 years, while my back was turned, birthday parties evolved into extraordinary, elaborate occasions.
When I was a smart-alecky delinquent, my parties consisted of having a few friends over, receiving a small number of cheap, poorly wrapped gifts, playing pin-the-tail-on-the-donkey (can we even say donkey anymore), and blowing candles out on the cake. My mom then herded all my giggling grubby buddies from the house and told us to go outside and play. The entire forgettable episode consumed less than two hours max. In order to keep up with the Joneses, today parents must provide a miniature Disneyland in the back yard, including Mickey, Minnie and Goofy. Wow, was I born way too early! I feel cheated and bitter. The most thrilling incident I remember from one of my birthdays was Susan Gillmore falling in a pile of dog's poop in the back yard and getting her white dress stained. For the next 11 years everyone who had attended the bash mercilessly teased her until she graduated from high school and moved out of state. For the record Susan, if you happen to read this, I'm sorry.
Okay, we all realize that many of today's well-intentioned parents are completely out of control. So when your  little rug-rat returns home from the latest carnival at Tammy's house and breathlessly reports about all the super cool stuff they did, your mind instantly focuses on how much time you have to prepare for your little Timmy's birthday. You never truly liked Tammy's mother anyway did ya? She's too pretentious and pompous. You'll show her. Three months, twenty-six days to put together the granddaddy of all eight-year-old celebrations–B-Day. Your shindig (does anyone ever use that word anymore) has to be far superior to Tammy's. Since tiny red-headed, freckle-faced Tammy had a petting zoo, by golly you'll provide Jumbo the white elephant rides for Timmy's special day (make sure there's a cleanup clause in the elephant rental agreement)! Meanwhile, Timmy is describing in great detail the Chinese acrobats' grand finale from a few hours ago. And so the frenzied descent into demented, cutthroat birthday competitiveness begins.
Of course the predicament is a never-ending progression of one-upmanship. Often the original intent and purpose of throwing a party gets sidetracked by the apprehensive parents' unchecked desire to create the most unforgettable experience possible. Well done, you've succeeded in raising the bar of throwing a birthday party even higher for the next unsuspecting family. In an attempt to remain neutral and spare myself some anguish, I will ask the question instead of providing the obvious answer. Who do you suspect is usually the driving force behind the crazed desire to outdo the most recent birthday extravaganza—the husband or the wife.
And what happens to charming little Timmy and cute-as-a-button Tammy? Well, they are gleefully on the receiving end of the two most fantastic birthday bashes of the year. Plus, Tommy and Tanya, the twins across the street, are having a double birthday celebration, and I understand it's going to be the experience of the decade. And next year these spoiled darlings will have another birthday and expect their loving parents to provide an even more spectacular commemoration of the day they came bouncing into this world. So everybody's a winner (I refuse to use one of my despised phrases–win-win, even though it applies here). The proud parents are able to hold their heads high at the next PTA meeting, and the conniving, cunning children can continue to manipulate them throughout their childhood to ensure the unfettered continuation of these glorious neighborhood jamborees.