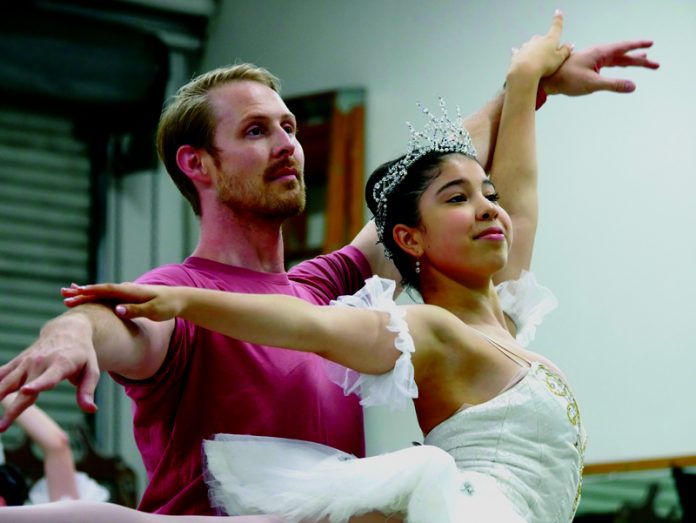 With a twirl and a jump, a young dancer glides across the brightly lit stage. Sweat drips down a face that has been meticulously painted as the dancer flawlessly transitions to her next set of moves. A single mistake can result in disaster. But there is no pressure here. These are the moments that students of the Westside School of Ballet live for.
On most nights, the light of the sun is gone long before the lights at the Westside School of Ballet turn off for the night. Students as young as 4 work tirelessly to perfect their skills in one of the most refined arts in western civilization, spending countless hours dedicated to their craft.
This time of year is particularly busy for the school, with the preparation of their yearly opus, The Nutcracker. The holiday classic about a toy soldier given to a little girl that turns out to be alive is widely regarded as the largest production of the year by the school and its students.
Based on the romanticist E.T.A. Hoffmann's "The Nutcracker and the Mouse King" and the Marius Petipa classic, this is the complete, traditional ballet. From the Victorian-style party scene to the glittering Sugar Plum Fairy, this performance features more than 100 dancers, 225 costumes, and four lavishly designed scenes refreshed over the years with new backdrops and accouterments.
The Westside production preserves its most beloved traditional characters and scenes—the tree that grows, a firing cannon, and falling snow over a stunning corps de ballet of ballerinas.
This performance will happen from Nov. 30 to Dec. 8 at the Broad Stage, 1310 11th St, Santa Monica.
Maya Zeevi is no stranger to this grand performance. This upcoming showing — in which she will play solo/main roles of Snow Queen, Dewdrop, and center Spanish — will be her fourth Nutcracker performance overall, and Zeevi herself has been ingrained in this lifestyle.
Zeevi, 16, has been at the Westside Ballet since she was just four years old. Zeevi's parents emigrated to the United States from Israel and eventually settled down in Culver City. While her parents went to work, Zeevi went to a friend's house to be looked after, and that's where she discovered a passion for ballet.
"[The friend] would take her kids to ballet, and I would just tag along, and I have been doing it ever since," Zeevi recalled.
On the other hand, Isabella Cotrone, 14, who also lives in Culver City, comes from a lineage of dancers. Both of her parents are professionals, and being surrounded and immersed in this lifestyle gave the young Cotrone her passion early, but not as early as one might guess.
"[My parents] put me in ballet when I was 2, and I didn't like it at first," Cotrone said. "I really did not like wearing tights or putting my hair in a bun, and I just said 'no.'"
After quitting for a short time, Cotrone was drawn back in by a friend who went to a ballet class, and this time it stuck.
While Zeevi joined the studio early, Cotrone didn't decide to get really serious about ballet until later on, joining Westside Ballet when she was 12. Instead of going to Culver High, Cotrone opted to try a homeschooling program instead, allowing her to maximize her practice time.
"It was a really cool change, and I really enjoyed it," Cotrone said. "I feel like I am a lot stronger now, and I feel that I am much more prepared for [intensive] courses. I am dancing all day, all the time, so it's not new to me when I have to go somewhere for five weeks and do that."
This past October, Cotrone was invited to participate in a Don Quixote workshop at American Ballet Theater's Jacqueline Kennedy Onassis School in New York. After being selected through an audition, she was invited to train with the Royal Ballet School in London and at the San Francisco Ballet School at their intensive summer programs.
In previous summers, Cotrone has trained at the Pacific Northwest Ballet School in Seattle and at The Rock School in Philadelphia.
Similarly, Zeevi also made a significant and unique academic decision in the name of ballet, graduating from Culver City High School in just two years.
"My brother finished high school in two years and went to college, and he really liked it, so that was something I was really interested in doing," Zeevi explained.
She now takes classes at Santa Monica College with the intent to transfer to a four-year school. Zeevi hopes to stay in-state, mentioning UCLA as the first school off the top of her head. However, Zeevi is currently leaning toward a more traditional career.
"I think ballet will always be in my life; I don't think I could ever stop dancing, but I don't know if I could see myself doing ballet as my career," Zeevi admitted. "Obviously, I don't know what my future holds, I could try and go professional in the future, but right now I don't see myself pursuing a professional career."
Conversely, with her goals set in place, Cotrone's path is far more focused. She has no doubts that she wants to follow in her parent's footsteps as a professional dancer, and uses her flexible homeschool schedule to train full-time.
To that end, Cotrone has also participated in a variety of ballet competitions outside of the school in recent years. She was awarded third place in the 2019 Ballet Beyond Borders competition in the classical category, and was awarded third place for her Contemporary performance at the Youth American Grand Prix competition in 2017 in Las Vegas, where she was also recognized as one of their top 24 ballet dancers.
"It's a lot different," Cotrone commented when thinking about the differences between competitive and performance ballet. "When you're doing competitions, everyone is trying to win, so everyone is out for themselves. But when you're performing, everyone is a family and supportive of each other. When you're doing a performance, it's nerve-racking, but you aren't thinking about getting first place."
For Zeevi, even if a professional career is not the final reward, she knows that ballet has helped her grow and mature in other facets.
"I definitely would not be the person I am today without it," Zeevi said. "The discipline it takes to have to come to ballet for a set number of hours, then have to do schoolwork. It definitely takes discipline and determination."
Zeevi trains every weekday from 4 to 7 p.m., and takes an extra class on Fridays until 8. On the weekends, she will train for most of the day, especially as the Nutcracker season rolls in every year.
"Being able to do your homework and do well on tests and go do ballet, it's definitely overwhelming at times," Zeevi lamented. "Ballet season picks up as school picks up, so it requires so much growth to be able to reassess every year and figure out what you need to improve on to make this year work."
In spite of that, Zeevi, Cotrone, and many others have remained diligent in their training. Whether you have aspirations to go to the Royal Ballet School in London as Cotrone does, or just love to dance like Zeevi, it is passion and the love for ballet that drives them to keep developing their craft.
"It's the most satisfying feeling to know that you did everything that you could to make today a good day," Zeevi reflected.
For more information, visit www.westsideballet.com