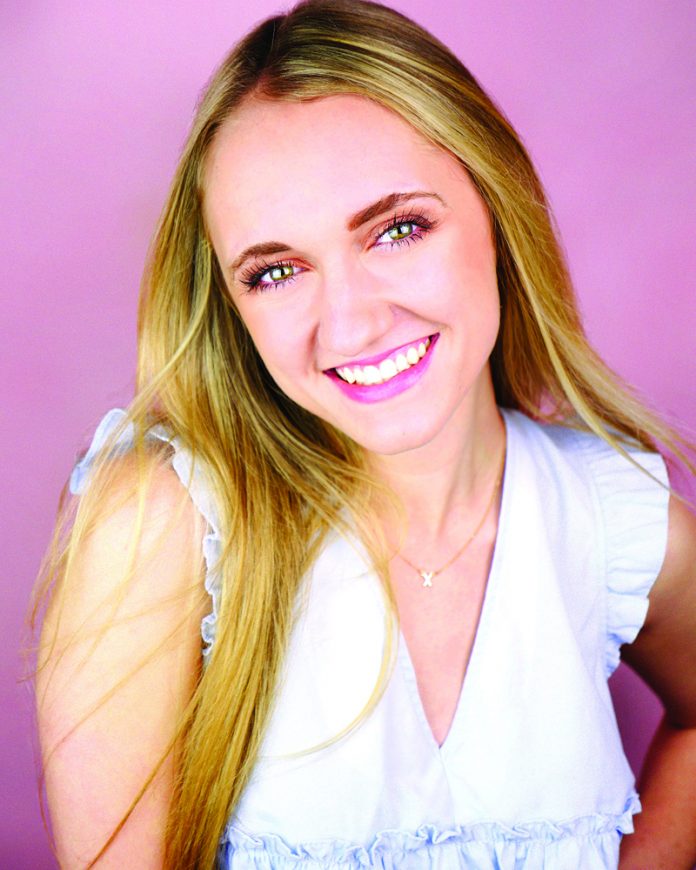 2020 was to be the highlight of Claire Esme Skelley's early adult life. A week ago, on May 20, she was set to graduate with her class at New York University Steinhardt, earning a bachelor's degree in Music in Vocal Performance. A day before graduation on May 19, Skelley was to give an individual program. And nine days earlier, on May 10, she and fellow performance graduates were slated to present a musical theater showcase in front of agents and casting directors.
May is nearly over and none of those milestone moments were realized as planned, due to COVID-19.
Instead, Skelley's graduation took place in a virtual world — with 2,800 miles of separation between her and Yankee Stadium, where she was to receive her diploma. Her individual program planned for May 19 at Madison Square Garden is gone with the wind, and her Broadway performance before theatre execs is but an empty memory.
"The most heart-breaking part of this pandemic has been missing out on my college graduation and senior activities," Skelley, 22, told the News last week. "I've been dreading the end of college and it came much quicker than I ever expected. Missing those three key events was disappointing beyond words."
The young Culver City woman says the final months of her senior year (with classes in dance and voice lessons) was completed via remote learning.
"For weeks, I was waking up at 6:20 a.m. to stretch, warm-up, learn combinations live from my teachers, then film, edit and send it to them," she says. "Video lag and bad Wi-Fi connection made live singing very difficult, and singing along to a piano track just isn't the same as live accompaniment. Only so much remote learning can be done for a major that is all about performing live."
Claire saw her first Broadway show at age 5, when her parents took the family to New York City.
"Sitting in the audience of a Broadway show, I remember I turned to my mom and said, 'I want to do that,'" she recalls. "When we got home, she immediately signed me up for a production of 'Popeye' in El Segundo. I've been performing ever since."
NYU has been her dream college since age 8. As a senior at Culver City High School, she applied for "Early Decision" to NYU Steinhardt School of Culture, Education and Human Development, which meant if accepted, she could immediately enroll at the university. 
"The day I found out I got into NYU was the greatest day of my life," she says. "I knew all the hard work had paid off."
With a lifelong goal of performing in Broadway musicals, Skelley entered NYU in the fall of 2016 and realized immediately that the experience would be magical.
"My first day at NYU, I was matched with my current voice teacher, Dr. Scott Murphree," Skelley says. "The two of us are a match made in vocal heaven. He understands me and my voice to a T and I knew that from the second I met him."
She was cast in many shows during her four years at NYU, including 'Into The Woods,' 'Sister Act,' 'Amour,' 'Little Women,' 'CryBaby,' 'City of Angels' at NYU's largest professional theater, and 'Urinetown,' her favorite musical, in which she played the dream role of Little Sally. This performance was also special because writer Greg Kotis was in attendance.
Skelley says her university experience has met and likely exceeded her expectations.
"My voice has grown immensely from my training at NYU, and so have my acting and dancing abilities," Claire says. "I am so happy I chose a school that gave me such a well-rounded music education. I studied music theory, auditory skills, music and musical theater history, song analysis, scene study, audition skills, and so much more. The professors I learned from and the directors I worked with all steered me in the right direction and I am so happy to have met and worked with all of them."
Claire, a mezzo soprano, is the oldest of three children in the Skelley family. Born in West Los Angeles in 1998, she seemingly came into the world on a musical note. At just four months, she says her mother Lisa swears that she heard her daughter trying to harmonize with her uncle. Dad Jack taught Claire how to sing before she could talk. 
"I tried to teach her a few times how to (harmonize) and one time it finally clicked (at age 8)," dad Jack Skelley says. "I think the song was 'Happy Together' by the Turtles (a mid-'60s pop-rock band). She heard what the harmony was and how to differentiate from the melody. She had such a natural talent and I was amazed that she could pick it up from such a young age." 
Skelley family home movies are comprised predominantly of musical highlights. From videos of Claire singing with Dad, to her 5th grade talent show at El Marino Language School, and the countless performances at Grace Lutheran Church in Culver City.
"Claire came to my attention when she was just six years old," Mary Lou Basaraba, Grace Church music director says. "Her family was part of the Grace Church family and Claire was a shining light even then. By age 8, Claire showed talent and ability to lead the song Liturgy at Grace Church and she became the youngest regular Cantor ever presented in the formal Sunday church services."
Claire also credits her days at CCHS's Academy of Visual and Performing Arts for helping develop her work ethic and artistic diversity.
She has high praise for CCHS music mentors, including Dr. Tony Spano and Jill Novick, as well as Grace Church's Basaraba.
 "I can't thank Mary Lou enough for (the) amazing opportunities to expand my musical resume," Skelley says. "She is a fantastic voice teacher and director."
Basaraba says her protégé has a bright future.
"Claire has blossomed into a beautiful, competent young Broadway vocal artist," Basaraba says. "She is ready for the next step in her life in New York."
Claire's mother says her daughter's accomplishments have been gratifying.
"Moving across the country at age 18 isn't something a lot of kids can do," Lisa Skelley says. "I couldn't be prouder of Claire making her way in the world as a performer." 
Skelley says her time at the university has been life changing.
"I have made the best friends and had the most amazing experiences, on and off the stage," she says. "My last four years at NYU have been the best four years of my life."