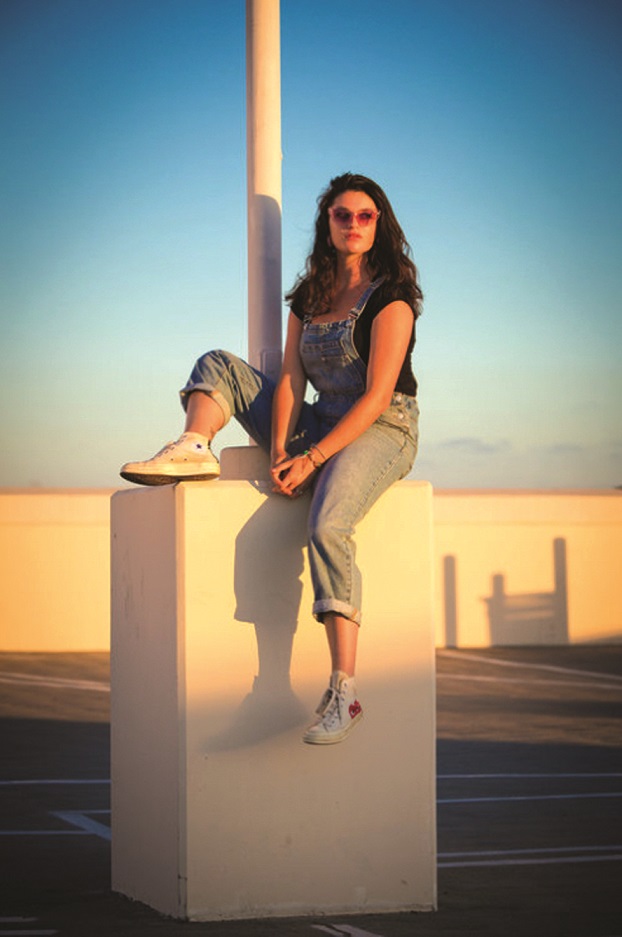 On the surface, Eliza Spear might not be someone who would expect to end up as an artist. Her musical influence didn't come directly from her parents — her dad is a business and marriage coach and her mom runs her own business helping older people with technology — yet the roots are still there. You just have to dig a little bit deeper to find them.
The spear was born and raised in Culver City and she "walked the streets" from her time at El Marino Elementary School all the way to Culver High School.
While Spear's parents don't have a deep musical history, her paternal grandparents do. They worked on an Emmy nominated children's musical TV show in the 1960s. Spear remembers her grandmother in particular, who inspired her early to love music.
"When I was little and my grandmother would come over, she would always play the piano, and she is this musical whiz. I always thought to myself 'how can I be like her,'" Spear recalled.
"So, I started taking piano and voice lessons."
She became enthralled with the art of performing, taking after her theatre-loving brother, setting herself up for the life ahead.
"I would throw full-on, costume changed living room concerts with the TV remote in hand, and that was my favorite hobby, and I would do it as many days as I could," Spear remembered.
While Spear spent a lot of time simply living her life, music always stuck with her.
"My mom and I would always blast the car radio and sing too loud and blow our ears out, so our family has always been about singing and dancing and just being creative," she said.
Her first big step towards becoming an artist was when she wrote her first song at the age of 13. It was a love song to her dog, in the hopes that the pup would show her some affection.
While that story didn't quite work out, it was one of many chapters in the story of Spear's life. The next one came soon after, and this part came with a revelation that set her course.
"I did a little open mic when I was 15 and I performed a song about my friend's parents' divorce, and this woman who I had never met came up to me and told me 'I am going through a divorce, and your song helped me,'" Spear recalled.
"I wasn't really at the point yet where I really understood that my words could translate to a lot of people yet, so I thought that was really cool, so I kept writing and got really serious about it when I was 16. I always said 'I want to be a singer,' but it wasn't until that interaction that it became an actual career goal instead of a childhood dream."
With a selfless purpose to pursue music now in her sights, many stories go into some sort of ferocious and tireless pursuit to reach their goal, but this isn't a typical story.
Our next story is one that brings our first two together. Spear wrote a song in ode of something — a neighbor this time — and that ode helped Spear to realize where she needed to go. Fortunately, she was rewarded for her appreciation of some invaluable help.
"My next-door neighbor is a producer, and I wrote a song for his daughter who I grew up with and is my best friend, and it was just a song on guitar. I played it for his daughter and him, and he said, 'let's go to the studio,'" Spear explained.
"I was absolutely amazed because I had no idea that it was even possible that drums could be added, and it could sound like something on the radio. That song was never released, but that was the first time I realized that a song that I wrote could be bigger than what I had expected."
Spear says that this was the moment that she realized that she could make something out of music.
However, there was a bit of an obstacle towards pursuing her full-time music career: school.
"I vowed to never leave LA, and I actually took a gap year because I was so convinced that I didn't want to go to college," Spear admitted. "But my parents told me even before my gap year was approved that I had one year, and then I was going."
With that in mind, Spear
"It has been a complete opposite of what I thought it would be, because LA is the musical capital of the world, and that's what I have always wanted to do, but it has been really cool. There is an up and coming music scene in North Carolina, and it's also really cool to come from a place like LA and implement some of the LA ideals to somewhere that is different."
When the summertime came though, she went back to her Culver City roots. Spear released a three-track EP in 2017 with a new producer, and even though it was never released, she got a more complete view of what she needed to do to be successful in the industry.
"It was then I started thinking about my brand," Spear explained. "I have to be consistent, so I have to be producing music that is similar to the song before but different enough because I want to build a fanbase. It went from me doing it because it made me happy to be doing it because I thought it could make others happy as well."
While much of the message in Spear's music is relatable to others, the words echo in her own heart as well.
"Sometimes I will write to deal with what I am going through, but when I do put songs out that I think is at the level where they can help other people, it is cool to receive messages like 'oh, this really helped me,'" Spear said.
Through and through, Spear writes music because she herself loves it.
"I would say it's a 60-40 thing because of the passion I have really driven this."
Spear also has a journal-style blog that she keeps on her website. She says it helps keep herself open and genuine.
"I have always thought that the more vulnerable I can be, the better because maybe that can translate to the listener or the person in the audience." Spear pointed out. "I feel now, especially in this day and age, there is an unwritten rule that you only portray your best self. I wanted there to be a space where I can just spit out some thoughts."
Nowadays, Spear is embracing her new life, playing shows around her college town of Elon. She most recently released her first full-length EP, Pineapple, in October. She is currently studying music production and recording arts with a minor in entrepreneurship.