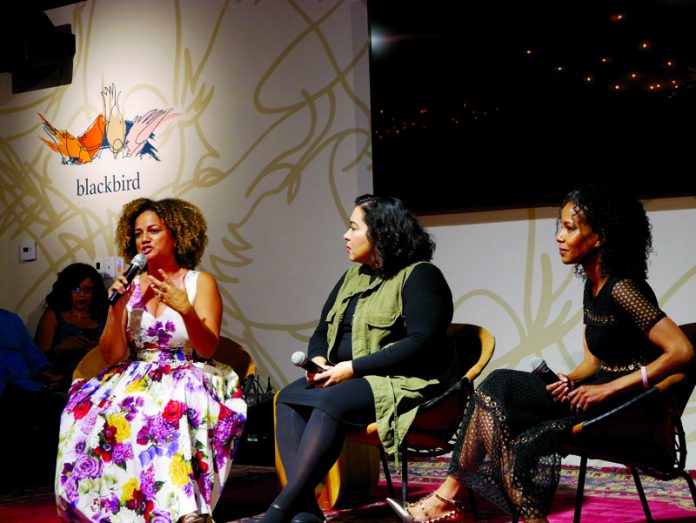 The tolerance that many people exhibit today in terms of race and gender is a huge step forward from even a decade ago, but there are still plenty of challenges that women, particularly those of color, would like to talk about with others.
While going to a coffee shop and striking up a conversation over work is just fine, there are certain things that these women just cannot free enough to open up about and relate to those who don't fall in that category. Things like how you relate to race and gender, how you interact in the workplace, feelings of racial discrimination, and other topics revolving around the core being of who they are and how they relate to the world need to be explored by these women to not only embrace themselves but also to take care of themselves.
This is the idea that Bridgid Coulter had when coming up with Blackbird House, located at 10600 Virginia Ave., Culver City. Coulter, who is married to actor Don Cheadle, has spent time in a variety of different professional venues, including acting and production as well as interior design work. She began to pursue the idea of a space for work and wellness more seriously following the 2016 Presidential Elections and dedicated countless hours towards creating the first private global coworking space designed by and for women of color.
"The movement towards humanity and how important that we know we are as people really made me want to be of service in a bigger way," Coulter remembers.
The concept for Blackbird really took off in April of 2017, according to Coulter. She was trying to relocate her design studio, but things were far more difficult than she remembered.
"The landscape of commercial space had changed dramatically from 10 years before," Coulter lamented.
Suddenly, Coulter found herself without a space to work, so she was forced into using a coworking space for a period of time. It was helpful to have a place where only a short-term commitment was necessary, but that wasn't what stood out to Coulter.
"What I loved was the amenities of coworking spaces. The amenities were amazing, the internet was high speed, you didn't have to worry about water, coffee or tea. It reminded me of (old-school) executive offices," Coulter admitted.
Inspired by the impact a coworking space can have on a person's health and mental wellness, Coulter set out to find a property that she could carve into the ideal space for her coworking facility.
"I researched about 1000 spaces, and I ended up visiting 30 over a several month period," Coulter said.
In that research, there was a particular trend that Coulter noticed: how she naturally gravitated towards properties owned by women of color.
Additionally, Coulter knew she wanted to find a space in Culver City, in part due to its central location and unique aesthetic.
"The city was honestly the drawing factor," Coulter admitted. "I love that there were so many buildings that were cool and industrial in comparison to traditional offices."
With the location nailed down, the next step was to create a space that lived up to Coulter's vision. With many unique amenities including a fitness room, podcast room, zen meditation loft, and kombucha on tap, Coulter used her design experience to the fullest to create the kind of wellness and workspace that she envisioned.
"Just the things that I would want in my space," Coulter answered when asked about the thought process behind the amenities there.
There are four different levels of membership that one can sign up for at Blackbird House. The entry-level tier, 'Bouquet,' is for evening and weekend use of Blackbird House, priced at $195 a month. The second tier is 'Ensemble' is $495 a month and includes 7 days a week access. The third tier priced at $695 is called 'Branch,' which will provide you with one of 40 personal desks and a locking storage cabinet, as well as conference room credits and printing credits. Finally, the upper tier, called "Glittering," will give you one of 8-10 private offices that can hold 2-14 people. The price for "Glittering" ranges from $2,000 to $8,000.
Blackbird House offers two types of discounts as well, one for non-profits and one for public educators. For Coulter, the latter hits particularly close to home.
"My sister-in-law is a teacher, and she goes home and works along doing homework, so I wanted to make a place where they could come work and grab a coffee." Coulter said.
While Blackbird House is definitely geared towards supporting women of color, inclusion is a huge part of Coulter's mission with space. While a majority of the members are women of color, allies of all shapes and sizes are welcome to join the space.
"What we want are people who are interested in the conversation of inclusion and diversity," Coulter said. "Only 10% of our members are men, but I am very proud of that 10%."
After several years of putting this vision together, Coulter and Blackbird House hosted their grand opening celebration last Saturday, Oct. 25. Coulter along with the members of the Blackbird House board was present, as well as an array of entertainment that embodied the wellness aspect of what Blackbird House brings to Culver City and to the world.
But this is just the beginning for Coulter. She hopes to use this first location as a "proof of concept" to build other Blackbird Houses around both California and the world.