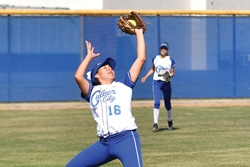 At the beginning of May seven Culver City varsity teams were headed to the prestigious CIF playoffs. Boys' and girls' lacrosse, boys and girls track and field, boys' volleyball, baseball and softball all made it to the big dance. Now the only teams remaining are baseball and softball. Both teams will be in action this week.
The baseball team played in a wild card game last Tuesday against Oxnard Pacific View at Culver City. If they win that game they will travel to 24-6 Righetti which is located in Santa Maria. They were the No. 1 team in the Pac-8 league. Culver City has an overall record of 12-14 but the Centaurs had a winning Ocean league record at 7-3, which was good enough for second place. "We are in a one game elimination just like the NCAA basketball tournament so we need to be ready to play," said head coach Rick Prieto.
The Centaurs are led by the pitching of Max Sterner and Eli Saucedo and the hitting of Matthew Rummelsburg, Daniel Aceves, Jacob Weiner, Sterner and Saucedo.
The girls' softball team will play their first round playoff game today, (Thursday) at home against Hawthorne Math and Science Academy at 3:15 p.m. Hawthorne MSA ended the regular season at 14-5. Culver City ended the regular season with a record of 13-11 and they finished in a tie for second place.
If they win their game on Thursday they will face the winner of Notre Dame Academy and Azusa on Tuesday, May 23. "We are taking it one game at a time," said head coach Javier Gabby Chacon. "Although we are a young team with eight freshmen on our roster, we still expect our players to play at a high level because we work so hard in practice. My assistant coaches have really helped me get this team ready for the playoffs. As long as we stay healthy we should do well in the playoffs."
The Centaurs are led by the pitching of Emily Piera and the leadership and hitting of senior Mariko Rooks.