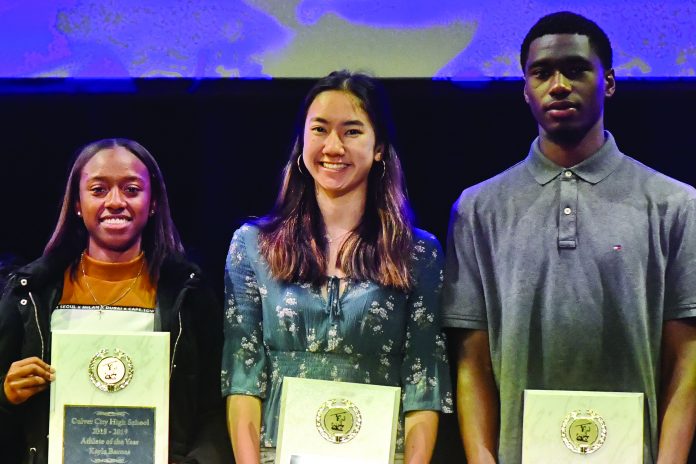 A few weeks ago Culver City high school named three deserving athletes their Athletes of the Year.  The Centaurs had a lot to choose from but these three were outstanding in their sports, Kayla Banes in girls' track and field, Megan Shimoda in girls volleyball and Jamal Glaspie in football and track and field.
All three stars received college scholarships to major universities. Barnes and Glaspie are going to Fresno State and Shimoda is headed to University of California Santa Barbara.
Barnes placed second in the CIF Finals in the 100 and 200 meters, Glaspie played on a CIF championship football team and Shimoda led her volleyball team to a record of 32-4 and her team made it to the CIF semifinals.
All three athletes had outstanding head coaches. Glaspie was coached by Jahmal Wright in football and track, Barnes was coached by Rayfield M. Beaton in track and Shimoda was coached by Tanner Siegal.  The head coaches get a lot of the credit but all of the Culver City sports programs have very capable assistant coaches.
All three of the athletes are seniors but Barnes may have been the most improved of the three. She placed second her heat at the prestigious Arcadia Invitational in April, she won the 100 and 200 meters along with running on two winning relay teams in the Ocean League Finals and she ended her high school career in the CIF Finals.
"She did everything she had to do to be in the position she is in," said Beaton. "She was able to humble herself and understand what she needed to and she did it. She stepped up when she had to. She reached her potential. She was one of the Athletes of the Year because she was able to find her best."