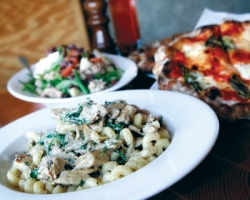 Pizza has become an art form, and Pitfire Artisan Pizza is creating masterpieces. A wood-fired brick oven is the centerpiece of the beautiful restaurant, which has been delighting the taste buds on the west end of Culver City for a year now. The space is open, airy and illuminated largely by natural light. Exposed beams in the ceiling, wood, metal and stone give the room an earthy feel. Outside, firewood is stacked by the patio.
            The company, which was created 14 years ago by a pair of chefs – Paul Hibler and David Sanfield, who grew out of the Alice Waters food philosophy movement – seeks to provide high-quality local and organic food. Gluten-free dough is available and the menu strives to alert patrons to potential allergenic ingredients, like nuts or wheat. The pepperoni, prosciutto, bacon and salami are purchased from Zoe's Meats, to ensure the highest quality, natural ingredients.
            "Products before profit," says manager Lawrence Rudolph. And he means it. Rudolph and fellow  manager, Sarah Hursley explain that a restaurant with four locations can often lose sight of that noble goal, but that Hibler and Sanfield truly believe that by providing the "best of every product," Pitfire Artisan Pizza has separated itself from other pizza establishments, and will continue to do so. And the veracity of their words can be tasted.
            "Judge us by our margherita pizza," says Rudolph. Their classic mozzarella cheese pizza features torn basil and a unique sauce that has been perfected over the years. Rudolph explains that tomato sauce should be fresh, and should not be cooked until it bakes in the wood-fired oven, thereby allowing the herbs to reach their fullest flavor.
            The burrata pie, a signature dish of the restaurant, provides proof positive of Pitfire's artisanship. In addition to burrata cheese, it is topped with wild arugula, caramelized onion and hazelnuts. It is handcrafted pizza at its finest.
            There are also seasonal favorites available, including the potato, bacon & radicchio pizza, which bursts with an array of flavors that complement each other perfectly, creating a culinary synergy. If spicy is what your taste buds crave, then the merguez sausage, spinach & feta pizza delivers just the right amount of heat, as the feta cheese and wilted spinach and act as the yin to the yang of the lamb sausage and red onion.
            But there's more to Pitfire than just pizza. The salads are works of art, as well. Try the winter caprese salad for its spectrum of textures and tastes, or the tuna nicoise for a fresh take on the classic French dish. And don't forget the pasta – chicken & mushroom cavatappi is practically addictive. Grilled chicken and forest mushrooms virtually melt in a porcini lemon cream with parmesan. And then there's the spinach linguine Bolognese, which is delicious and pairs well with red wine, whether by the glass or bottle.
            The wine list is ever-changing and features a variety of reds and whites. Microbrews and imports highlight a lengthy beer selection. There is also a wide array of vintage, cane-sugar sodas.
            Wednesday night through Sunday, a DJ works the turntable because, after all, great art is only enhanced by music.
Pitfire Artisan Pizza is at 12924 Washington Blvd. For more information, go to PitfirePizza.com.