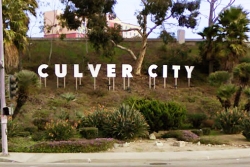 Assembly Bill 1323, sponsored by Assemblywoman Holly Mitchell (D- Culver City), was rejected by her Assembly colleagues late last month. The legislation, which began as a bill outlawing fracking, would have halted hydraulic fracturing until state regulators adopt new guidelines.
Currently, there are no regulations for the procedure.
It was similar to legislation co-authored by Mitchell and former Assemblywoman Betsy Butler (D-Marina del Rey) in 2010, Assembly Bill 972.
Hydraulic fracturing, commonly known as fracking, is an energy production technique used to obtain oil and natural gas in areas where those energy supplies are trapped in rock and sand formation.
Suzanne DeBenedettiss, a member of FrackFreeCulver City, a group that is seeking to ban the oil and gas extraction procedure, said the battle is not over, despite the failure of AB 1323.
"The short answer is, 'keep on keeping on," DeBenedettiss replied when asked what actions anti-fracking advocates should take after the defeat of Mitchell's bill.
Resident J.E. Brockman accused state lawmakers of putting money before safety by not moving Mitchell's bill forward.
"It has become clear that our Legislature is more concerned about the financial welfare of the oil industry than the health and safety of Californians," Brockman asserted.
"The time-honored 'Precautionary Principle' means prove fracking can be done safely in California before unloosing a process which could irrevocably destroy our environment and endanger citizens," Brockman continued.  "So it was disappointing to see such a lack of common sense in our legislature."
And Robert Zigulis, who has been an outspoken proponent of oil drilling, says he has recently changed his position on hydraulic fracturing after seeing the documentary "GasLand," which highlights the dangers of fracking.
"The final straw was when PXP (oil and gas company Plains Exploration and Production) refused to debate the anti-fracking groups about the dangers of fracking," said Zirgulis, who is running for a seat on the Culver City Unified School District Board of Education. "It lead me to believe they had something to hide and I could not support fracking in this case."
Energy in Depth is a research, education and public outreach campaign created by the Independent Petroleum Association of America designed to publicize the potential of "responsibly developing America's onshore energy resource base" -which includes oil and natural gas from shale.
Its field director, David Quast, thinks state legislators have taken the time to inform themselves about hydraulic fracturing and have separated what many in the oil and gas field say is fact from fiction.
"They've been talking to scientists and they've been talking to experts," said Quast. "The entire anti-hydraulic fracturing activist playbook is based on fear mongering and not facts."
Last month, Gov. Jerry Brown reiterated his position on being open to drilling in the Monterey Shale using fracking techniques.
At a news conference, Brown said his views will not be shaped by anything but sound scientific research.
"I stand on intelligent analysis of the issues," the governor told reporters. "This is not about just saying ideologically yea or nay, it is about looking at what could be a fabulous opportunity.
"Now the reason why I have some sympathy for oil drilling in California is because 95 percent of people use oil because it is important. And until we get them into electric cars or walking or riding a bike, we need oil." 
Another legislator who represents Culver City does back regulating hydraulic fracturing. "The supervisor has supported legislation that would put a moratorium on fracking until the state puts regulations in place," said Lisa Richardson, a spokeswoman for county Second District Supervisor Mark Ridley-Thomas.
Past bills targeting certain aspects of fracking have been unsuccessful. Last year three such proposals went down in defeat. Assembly Bill 591, sponsored by Assemblyman Bob Wieckowski (D-Fremont) last year would have required oil and gas firms to make public the names of the chemicals by posting them on Department of Oil, Gas and Geothermal Resources' website.
AB 591 would have also required the operator of an oil well to file an application before initiating drilling and would require additional information to be included in the application, including data regarding the chemicals, if any that the operator intends to bring on-site for purposes of injecting into the well.
And Senate Bill 1054 by state Sen. Fran Pavely (D- Malibu) would require well owners and operators to notify neighbors before undertaking drilling or fracking operations.
The bill was refused passage after three readings May 31 last year.
State regulators are considering new guidelines and standards for hydraulic fracturing. In the Department of Conservation's initial release last December, these proposals  will require certain data that drilling operators would have to submit prior to beginning hydraulic fracturing, which would be sent to the corresponding regional water quality boards or agencies with jurisdiction within 10 days of beginning hydraulic fracturing operations.
Guidelines in the proposed fracking regulations mandate the  collection of data that drilling operators would have to submit prior to beginning hydraulic fracturing, which would be sent to the corresponding regional water quality boards or agencies with jurisdiction within 10 days of beginning hydraulic fracturing operations.
Included in this data would be the operator's name and contact information, the name of the oil company and the number of the well, the estimated true vertical depth of the well and anticipated distance of the fracture, as well as the anticipated volume and pressures of the liquids that will be injected into the well.
Others states have tacked action to regulate or ban fracking.
New York and New Jersey have four and one year moratoriums, respectively, on the controversial oil extraction procedure. Vermont has outlawed fracking. And June 17, Illinois Gov. Patrick Quinn signed into law what is being called the nation's strictest regulations pertaining to hydraulic fracturing.
Under the federal Safe Drinking Water Act's Underwater Injection Control Program, hydraulic fracturing activities are currently exempt from all regulation unless diesel fuel is used. It is typically regulated at the state level.
Pullqote: "The entire anti-hydraulic fracturing activist playbook is based on fear mongering and not facts."
David Quast