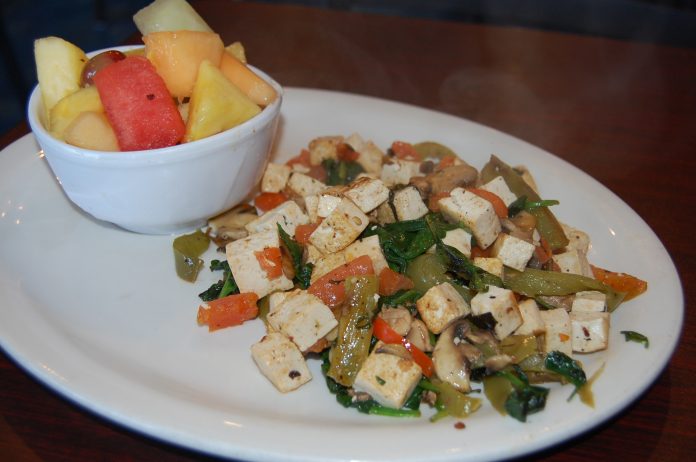 According to Allegra's online biography, "Mario & Allegra Perez met when they began working together in an Italian restaurant in Santa Monica in 2000. In 2008, they started their first restaurant, Tortuga Bay, which is in Inglewood and features authentic dishes from Mario's hometown of Guadalajara, Mexico. In 2019, Mario & Allegra decided to recreate a similar type of restaurant in which they met: California-Italian cuisine for the neighborhood and families to gather and enjoy locally-sourced meals."
That blend of Californian and Italian cuisine, with maybe some Mexican flourishes here and there, is what makes this place so very special. They proudly serve healthy alternatives, hearty comfort foods, and vegetarian and vegan options, which pretty much means that everyone feels welcome straight away.
We dropped in during the week before Christmas. That meant that we were still trying to eat healthy so that we could have some treats during the holiday and not feel too guilty. Allegra, as it turns out, was the perfect place for such a culinary mission.
With its heated outdoor patio area, and its immaculate indoor dining, Allegra is a pleasant experience from the first step. The walls are already decorated with lovely art, but the addition of the Christmas ornaments really amped up the holly, jolly vibe. When the staff asks and we choose to eat indoors, they warmly show us to a table and present us with a menu, although we had already looked online and knew exactly what we wanted.
We went with the Vegan Scramble, and chose a fruit bowl rather than potatoes. On the surface, the scramble shouldn't have been exciting – essentially it's tofu and vegetables. But Allegra is able to tie it all together into something delicious.
Tofu is a tricky ingredient to work with. Honestly, it's a source of protein but it's not a tasty item. What it's very adept at is taking on the taste of whatever it's been cooked with. It's like a flavor sponge. So here, the juices from the fresh tomatoes and bell peppers in particular, not to mention the perfect seasoning, all makes its way into the "flesh" of the tofu.
Everything works so perfectly together, including the spinach and mushrooms. The serving is generous – we couldn't eat it in one sitting. And the fruit – a mix of melon varieties, grapes and pineapple – was fresh and invigorating. The whole meal was healthy, but it didn't feel like we were missing out on anything at all. And we kept the weight off before Christmas.
Of course, we stacked some on during Christmas, but that's another story.
Allegra California Cafe is located at 4437 Sepulveda Blvd., Culver City. Call 424-500-2700 or visit allegracaliforniacafe.com.