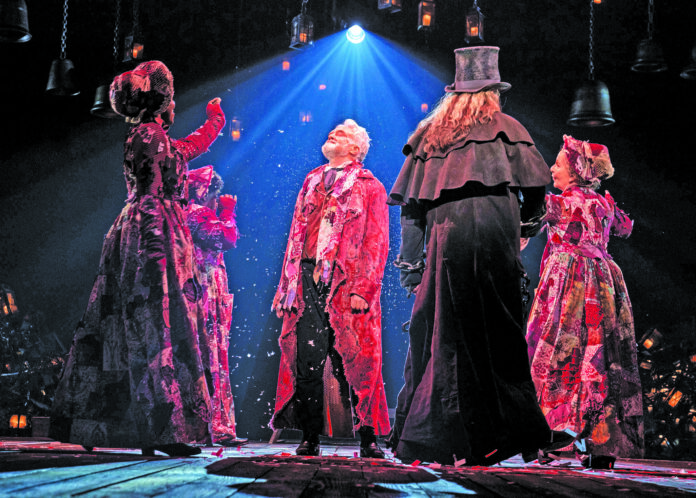 After 628 days of darkness, Center Theatre Group welcomed audiences back inside the Ahmanson on December 1 in grand style with the Old Vic's groundbreaking five-time Tony winning reinvention of 'A Christmas Carol' led by Emmy Award-winning actor Bradley Whitford as a more modern and less threatening Ebenezer Scrooge. Directed by Thomas Caruso, the festive production is brimming with Christmas spirit, featuring dazzling staging, moving storytelling, and 12 of the most cherished Christmas carols, including "Joy to the World," "Silent Night," and "It Came Upon the Midnight Clear," and "A Christmas Carol."
Audiences are welcomed into this timeless – and timely – tale of isolation and redemption thanks to the magical lighting design by Tony Award winner Hugh Vanstone, with a plethora of hanging lanterns overhead, twinkling like the stars themselves. The very open scenic design by Tony Award winner Rob Howell is greatly enhanced by door frames which rise from the stage floor, encasing Scrooge in his bedroom like the emotional jail imprisoning his soul. Vanstone's foggy lighting adding to the mysterious nature of Scrooge's journeys through time thanks to his four ghostly visitors who lead him through his life in an attempt to get Scrooge to realize the error of his ways so that at least his golden years may be lived filled with love and joy.
His journeys begin after Chris Hoch materializes out of the fog as Marley's chain-laden ghost, warning Scrooge of three spirits soon to arrive. Attention-grabbing performances abound thanks to Tony and Emmy Award nominee Kate Burton as the Ghost of Christmas Past, Grammy and SAG Award nominee Alex Newell as the Ghost of Christmas Present/Mrs. Fezziwig, and newcomer Glory Yepassis-Zembrou as Little Fan/Ghost of Christmas Future. These three remarkably talented storytellers take us along with Scrooge on his journey to examine his childhood traumas, lost love (Sarah Hunt as Belle), and the ways in which kindness could have saved the life of Tiny Tim (adorable Cade Robertson on the night I attended) and earned Scrooge the respect and love of his own family.
Amazing technical wizardry abounds in the sound design by Tony Award winner Simon Baker; music, orchestrations, and arrangements by Tony Award winner Christopher Nightingale; music direction by Remy Kurs; music supervision by Paul Staroba; music coordination by Howard Joines; and movement by Lizzi Gee. But it is the falling snow that will transform the experience for those lucky enough to feel the magic as the cold droplets hit and then melt on your face.
Thanks to the entire ensemble's gorgeous handheld bellringing skill, on display several times during the show, a truly memorable theatrical experience occurred at the very end of the show on opening night when Bradley Whitford offered a touching tribute to the recently departed Stephen Sondheim, whose extraordinary vision of what theatre could be has changed the face of all theatre around the world. His touching tribute led into a heartfelt rendition of "Silent Night" with the joyful Whitford and Robertson ringing the final two notes from within their center stage spotlight amid the entire bell-ringing cast.
I cannot imagine any greater theatrical experience this holiday season other than this production of 'A Christmas Carol' with performances continuing through January 1, 2022 at the Ahmanson Theatre. Tickets start at $40, available through CenterTheatreGroup.org, Audience Services at (213) 972-4400 or in person at the Center Theatre Group Box Office at the Ahmanson Theatre at The Music Center, 135 N. Grand Avenue in Downtown L.A. 90012.
Please note: Center Theatre Group requires all audience members to provide proof of vaccination and to wear masks at all times unless they are actively eating and drinking in designated areas. Unvaccinated guests, including children ages 6-12 or those with a medical or religious reason, must provide proof of a negative PCR COVID-19 test taken no more than 72 hours prior to attending an indoor performance. All guests must also present a government issued ID.