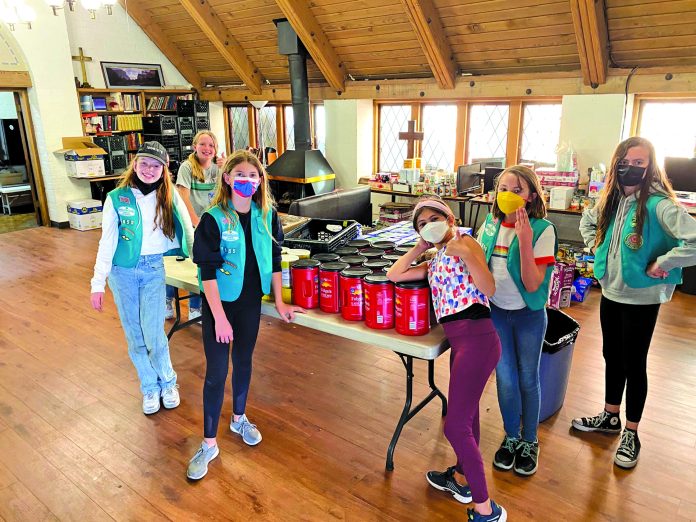 With large-scale social problems such as homelessness, substance abuse, and hunger having an increasingly larger impact on society by the day, it's easy for anyone to see that and think that the situation is hopeless and that one person or one group can't even begin to make a dent in something so pervasive.
Culver City Girl Scout Troop 1655 would beg to differ. Thanks to the efforts of the eight-girl squad, Grace Diner, which has been feeding the hungry for more than 10 years, including during the two years of pandemic lockdowns, received a generous donation from the scout troop of $4,000 in food and other items, raised completely through donations from Facebook friends, community members, family members, and fundraising efforts such as hiking up a 5,000-foot mountain at Lake Arrowhead.
The scout troop raised the money as part of their Bronze Award Project.
"There is a program in Girl Scouts called the Bronze Award Project that teaches girls how to organize, how to identify a problem in their community, how to connect with adults in their community to help and how to keep that project going," said Rebecca Anderson, Bronze Award Advisor for Troop 1655. "So they've learned to cooperate and how to connect when they see something that they want to fix and it kind of grows their skills in leadership and organizing. They've learned a lot about marketing, they've learned a lot about bookkeeping."
Part of the bronze award is having the girls do research and brainstorm all the things that are wrong in their community and then figure ways in which those things can be addressed.
For example, members of the scout troop interviewed people from the Culver City Committee on Homelessness to discover the biggest needs of those who are living on the streets.
"We decided to choose Grace Diner because we wanted to find a problem in our community that we saw every day and everyday after school we would see all the people lined up outside of the church trying to get food and we thought, what if we could help with that," troop member Fiona McDonough.
McDonough, 11, said that they used the money they raised to buy pantry items such as lemonade and coffee, as well as other essentials such as ziplock sandwich bags, containers, sleeping bags and tents.
"Our main goal was to help them not have to shop and not have to fundraise because they already do so much so the girls thought they could help raise awareness about the organization, help them fi ll the pantry and just save them some time and work," Anderson said.
As a result of their experience in helping a local charity like Grace Diner, several members of the scout troop expressed interest in pursuing involvement in student government once they reach middle school and beyond.
Many said they will continue to engage in fundraising efforts throughout middle and high school. Ada Griffin, 11, said that the experience of helping Grace Diner influenced how she now thinks of the world.
"When we were younger we thought the world was great and nothing was going on but when you really learn about this stuff it inspires you to try and help people and try and do what's right," Griffin said.
McDonough echoed Griffin's sentiments when she reflected on her experience in helping Grace Diner.
"A lot of us learned how to start a project and how to talk to adults about it and how to get people to help you," McDonough said. "Girl Scouts taught us how easy it is to make a difference and if more people just did it the world would be awesome."
The mission of the Girl Scouts is to build girls of courage, confidence, and character, who make the world a better place. Through programs from coast to coast, Girl Scouts of all backgrounds and discover their strengths and rise to meet new challenges, whether that means climbing to the top of a tree or the top of their class. Backed by trusted adult volunteers, mentors, and millions of alums, Girl Scouts make changes that affect the issues most important to them.
The Girl Scouts began in March 1912 in Savannah, Georgia when founder Juliette Gordon Low took the first group of 18 girl scouts out into the wilderness to allow them to explore the world around them through camping, hiking, basketball, and learning to tell time by the stars.
Since its founding more than 100 years ago, the Girl Scouts has grown from the small group of 18 led by Low to an organization of more than two million members and 50 million Girl Scout alums including singers Mariah Carey and Taylor Swift as well as astronaut Sally Ride.