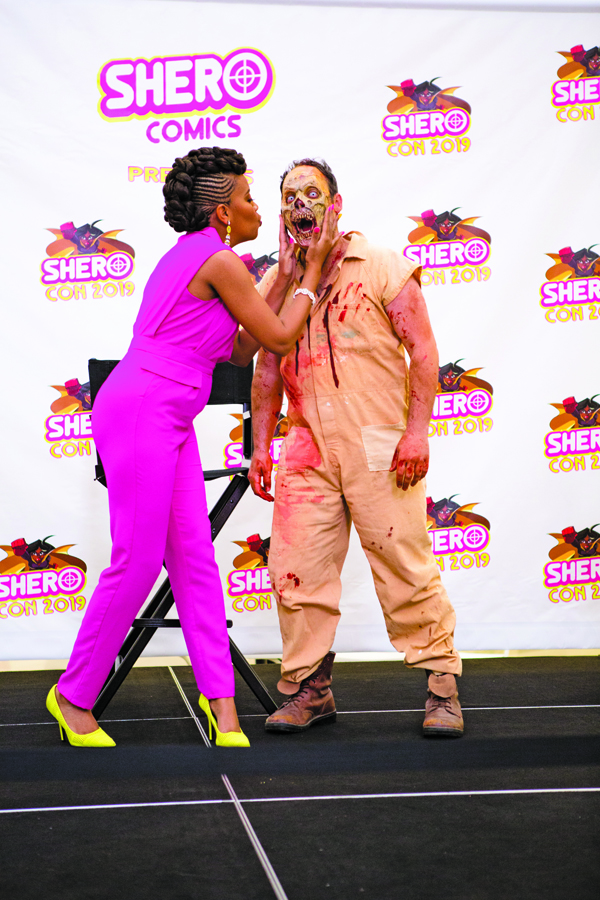 Shequeta Smith knew she had a calling in life, and she knew that calling had purpose. She knew that her ideas were progressive, noble, and bound for success.
But even she couldn't imagine the monumental rise of SheroCon, her event held to celebrate women in arts, comics in particular. The second annual SheroCon is taking place this Saturday, March 7 at the Westfield Culver City Mall, 6000 Sepulveda Blvd., Culver City, from noon to 6 p.m.
Smith is originally from Salsbury, NC, a small town outside of Charlotte, and it was there where she got her first taste of comics, despite the limited options in her small town.
"I used to buy Archie comics from the grocery store because that's all we had in our small town," Smith recalled. "On Sundays, my grandma would give me the funny pages. She would take the rest of the Sunday and read it, so it was something I was always following behind and was interested in. We just didn't have access to the big comics where I was from."
Smith went to NC State University, and discovered that she wanted to get into screenwriting. She wrote a screenplay about a model who finds out she is HIV positive.
This spurred her on to begin working on screenwriting. She moved to Los Angeles three years after graduating, where she began working on several short films.
2008 saw the release of Iron Man and the advent of the iconic Marvel Cinematic Universe, Smith was inspired to turn an orginal character of hers named Rayven Choi into a graphic novel, in part spurred on by the lack of female representation in comics.
"I went to a couple of comic shops looking for a black woman in a comic book or on the cover of a comic book, and they couldn't provide me with anything," Smith explained.
But her heart was still in screenwriting, and while she focused on female issues and representation during this time, it wasn't until 2014 when Smith began working on the graphic novel, and made sure to do it entirely in secret.
"People mean well, but when you tell people that you are doing something, they'll have a lot of questions that might downplay what you are doing. Things like 'oh, who is going to read that?'"
"It's not like they are being negative, but those things can really chip away at your self esteem or your confidence when you are trying to do something new. You don't need those voices in the back of your head doubting you."
With the release of the Rayven Choi novel came the birth of SheroComics, Smith's comic publishing label that is the main face behind SheroCon.
As for the convention itself, everything happened very fast for Smith. While tinkering around with and proposing SheroCon as an idea, it very suddenly became a much more grandiose event that she expected.
She wanted to do something for women's history month, and originally saw it "in a comic shop with five girls," but decided to pitch it to the malls in her area to see what they thought.
"So I called and told them that we wanted to do something for women's history month, and they were like 'cool, can you do that?'"
Suddenly, this small idea suddenly turned into a comic convention at Westfield Culver City, and it was met with resounding success.
"I orignally just wanted to do a little pop-up where a few girls could hang out and sell some things, and the mall wanted it to be bigger."
"They asked me 'well, do you want a stage? We have two stages.'"
Almost 3,000 people showed up to enjoy the inaugural SheroCon. Along with the stages, there were 18 girls in the 'Shero Alley,' who were vendors and artists showing off their wares.
Of course, with great success comes expectations, and it didn't take long for Smith to experience that reality first hand.
"At 5:05 last year, people were already coming up to me and asking 'when is the next one going to be.'"
For Smith, who mainly relies on interns for assistance, hopes to continue to add new features and make the event even larger. She is hoping to put together a make up stage, face painting, a cosplay contest, and there will be a mystery celebrity that will be revealed at the event.
Additionally, there will be a table allocated for high school girls to show off their artwork, including four from Culver City High School.
While the event has already grown far faster than Smith could ever imagine, she knows that there is more work to do. She has found people interested in sponsoring the event, which will make the 2021 iteration of SheroCon even bigger.
For more information, visit http://sherocon.com