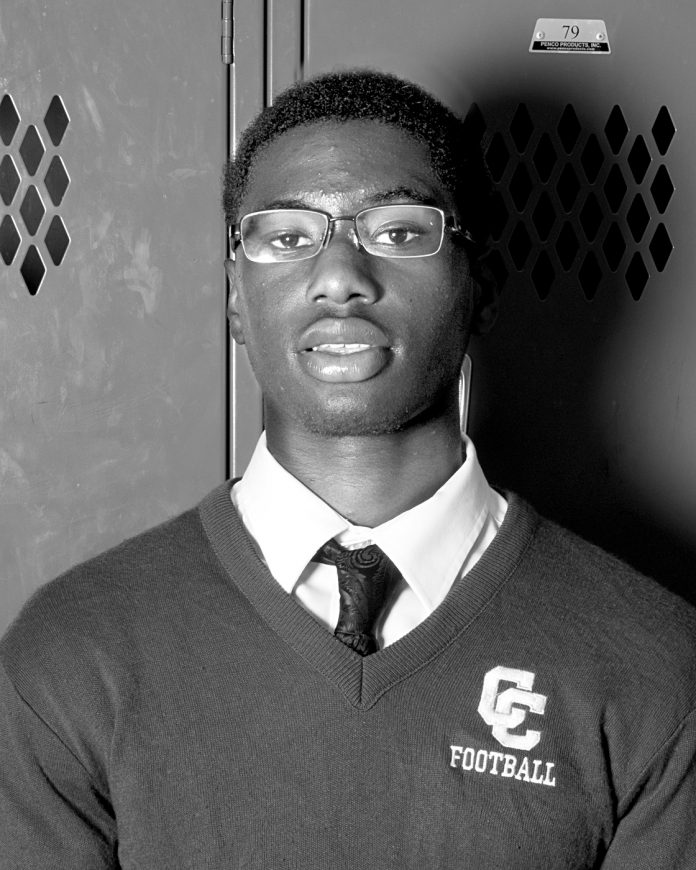 Your Culver City Centaurs have had a tremendous summer participating in passing leagues all over Southern California with great results. This is happening, to a great measure, because Culver has 5 outstanding athletes who have garnered Division 1 scholarship offers. These highly skilled individuals are defensive backs and receivers.
All five of these men had tremendous seasons last year, and when the scouts came visiting in the spring, they rewarded them for their efforts. Safety/corner/receiver Dominick Tatum, 6' 2 1/2" 175, received 9 Division 1 offers from Montana State, Hawaii, Bowling Green, UNLV, San Jose, Wyoming, Nevada, BYU and Fresno State. He gave Nevada a verbal commitment but UCLA and Colorado have told him they will be watching his performance in the first 3 games of the season, and if he does well, they may make him an offer he could not refuse.
Since Tatum was a January transfer from Bishop Alemany, he was asked, how he viewed Culver City and how he thought he'd do this year. "I view Culver City as a team that has worked together and gelled together so we will succeed. I think we will win a ring, " Tatum said.
The next young man to get a lot of offers was wide receiver/safety Jamal Glaspie, 6'2 190. He caught 48 balls last season for the Centaurs and also caught the eyes of many scouts. However, when the scouts came visiting in the spring and watched him practice, he did not get any scholarship offers, and this really surprised the coaching staff. In early June, he went to the USC camp, where numerous college coaches attended and, according to sources, there were more than 1,000 athletes. At the camp, Glaspie received 7 Division 1 offers, including Fresno State, Nevada, UNLV, Hawaii, San Jose, Wyoming and Colorado State, all Big West Conference schools.
When asked how he felt when he did not get any scholarship offers after spring he stated,  "I felt more humble, and I thought I was overlooked. It made me work harder, and they finally saw me as a D1 prospect (after the USC camp) and I just stay grounded and focused."  He said that he really has been communicating with Fresno State and really likes the coaches and the program, but he has yet to commit to them.
Kevin McGuire, 5'9" 175, had 62 catches as a sophomore and 49 as a junior. After a scintillating sophomore year, McGuire had a setback when he was "sandwiched" between two Culver City tacklers in practice prior to the season opener.
He injured both knees and knew that if he went to get an MRI that the test would reveal the damage and that he could be out for the entire season. He decided to take a chance, play through the pain, and not get the injury completely diagnosed until after the season was over. When he finally went to get the MRI, he found that he had torn the ligament in one knee and stretched the ligament in the other. He decided to get surgery to repair the torn ligament and hope for the best with the recruiting process. With the recent changes in recruiting, most coaches will not offer you a scholarship without seeing you perform in person. Because Kevin was rehabbing at the time, the scouts could not see him and there was much doubt whether he would garner a scholarship offer. All the coaches and his teammates were pulling for him because he is a very likable young man, and the coach at the University of Idaho decided to take a chance on him and to offer him a scholarship based solely on his film. The Culver coaching staff and Kevin were relieved and very pleased. After talking to the some of the coaches at Idaho, some current and former players, and researching the school online, he quickly accepted their offer. When asked how he felt when he got the offer, he replied, "I felt like I deserved a D1 scholarship and hoped I would get one. It was a relief but I thought I would get more."
Another Culver City athlete who had scholarship offers was former Serra corner/slot Allen Smith, 5'8 1/2" 165. Smith, who was a January transfer, is pound for pound one of the toughest players on the team. He does not back down to any receiver and tries to manhandle them at the line of scrimmage. Most scouts claimed that if he was 5'10", he would have had multiple PAC 12 offers. Smith was offered by Wyoming and UC Davis and San Jose has shown serious interest.
Smith forms a dynamic duo at a corner with junior Khary Crump, the other "mirror" corner. Crump is 6' 170, and has recently been offered scholarships to PAC 12 schools Oregon and Arizona and Tennessee has shown serious interest. When asked what it felt like to get his first offer, he humbly replied,
"What I found is that I had to work hard on my skills and techniques to get better and put on weight and run track to get faster, to overall improvement. That ultimately showed me I could hang with the 'big dogs' and play D1 football and maybe in the NFL"
The scouts are still looking at several Culver City players for whom that may make offers in the fall and those players are left tackle, Amir Hodge, right tackle Kofi Karikari, middle linebacker Cortez Wright, dynamic slot Tyler Luckett, quick running back Joshua Ford and 6'1 1/2" corner Andrew Brow