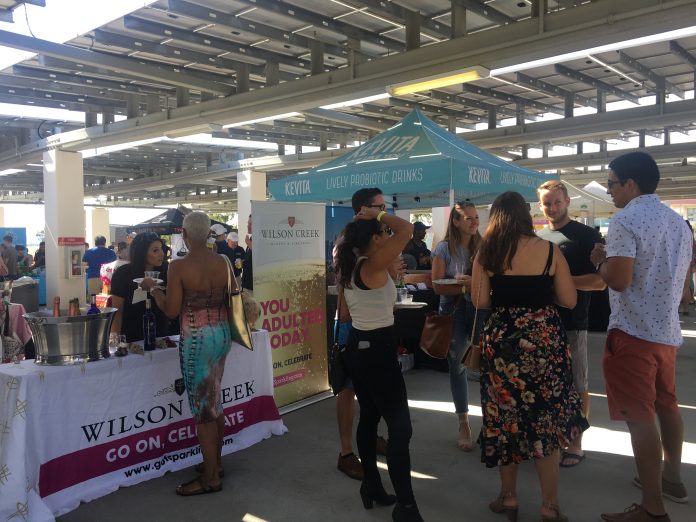 Culver City will host the 2nd Los Angeles Westside Food and Wine Festival Sunday, Oct. 14 from 4 p.m. to 7 p.m. at the Courtyard by Marriott Los Angeles Westside, Culver City.  VIP ticket holders will be allowed to enter the event at 3 p.m.
The festival will feature food from more than 20 of West Los Angeles' most popular restaurants, food trucks, and caterers.
In addition to the food, patrons will also be able to participate in wine, craft beer, and spirit tastings. Non-alcoholic beverages will also be available as well as live music, a DJ, strolling magic, vendors, and giveaways.
This year marks the first time that those under 21 years of age will be allowed to attend the festival but they will be restricted from the areas where alcohol is tasted and poured.
All proceeds from the festival will go toward the benefit of Westside Food Bank, whose mission is to end hunger in communities by providing access to free nutritious food through food acquisition and distribution. Westside Food Bank currently provides a wide variety of nutritious food including fresh produce, high protein foods, and pantry staples to over 70 agencies with food assistance programs in West Los Angeles County, reaching more than 108,000 people each year, half of whom are children.
All of the festival's wine selections will be provided by various beverage companies such as Obvious Wines, San Antonio Winery, Riboli Wines, Smog City Brewing, Essential Water, Youngs Market Wines, Embajador Tequila, ZYR Vodka, Kevita Kombucha, Vina Sympatica Sparkling Wines, Naked Juice, Vita Coconut Water, Topa Chico Sparkling Water, Taja  Cold-Filtered Coconut Water, UPTIME Energy Drink, Detoxwater, and Grass Fed Coffee.
This year, both Culver City Honda and Culver City Toyota are this year's Westside Food & Wine Festival Gold Sponsors. Additional festival sponsorship includes Renewal by Anderson, Wescom, Costco, Staples and Trader Joe's, Culver City Chamber of Commerce, T-Mobile, and LA Art Party. Media sponsors include Yelp, Culver City News, LA Weekly, and The Argonaut.
Tickets are $75 and $95 for VIP; children under 10 are free with paying adult (one child per adult required). No one under 21 years of age will be allowed into the alcohol drinking and pouring area.
The Courtyard by Marriott Los Angeles Westside is located at 6333 Bristol Pkwy, Culver City.
For more information on the 2nd Los Angeles Westside Food and Wine Festival, please visit their website at https://westsidefoodandwinefallfestival.eventbrite.com.
For information on the Westside Food Bank or on how to make a donation, please visit http://wsfb.org/.