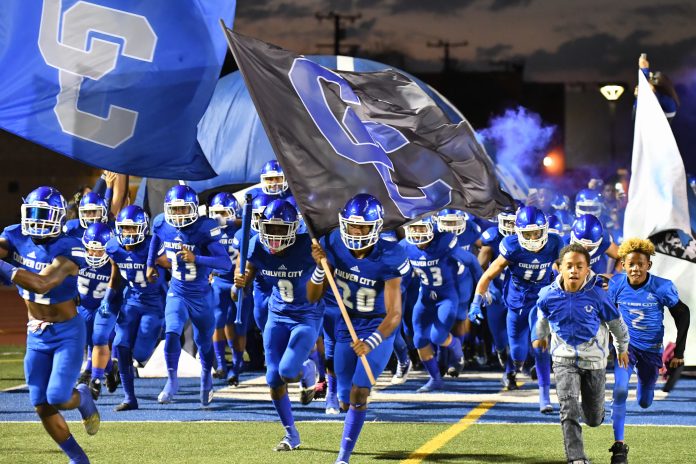 The Culver City Centaur football program opened fall camp on Wednesday, and this week they will concentrate on conditioning & going over basics in their offense and defense! Head coach and Culver alum Jahmal Wright want the public to know that anyone can still join the team and that none of the three teams will cut anybody. If anybody is interested, come to the field house, or go to the office and get more information.
The following week the Cents will put on pads, and they will have their traditional blue/white game on Saturday. The JV team will scrimmage against the freshman, and then the varsity members will take the field and split up the team and scrimmage against themselves. Since the team doesn't have as much depth as they did last year, this will be a more controlled scrimmage and may be slightly shorter in length. However, the boys will go out there and hit hard to show that they can handle any opposition this year.
Last year, Culver City won the CIF Championship, which was the first since the great 1978 team. With the talent they have come back, they feel that they have a solid chance of doing it again.
A few major important changes have recently happened that needs to be understood. First of all, the teams that comprise the South Bay Association voted to drop the freshman football program as LA City did and combine it into a frosh/soph program. There would also be a varsity team.
Culver was one of only a few schools that voted against this proposal because we still can field three solid teams. Athletic director, Tom Salter, has worked hard to try to have the Cents play three games each week.  However, in the league schedule, a few teams like Hawthorne, Beverly Hills, and possibly Lawndale will only have frosh/soph teams and we may possibly combine our programs together for those games only. El Segundo and Santa Monica may also be able to field three teams, but as of this writing, that hasn't been determined.
Although the freshman numbers have been down somewhat the last few years, Culver's coaches and administration understands how important it is to have three competitive programs to keep the varsity team strong. Many teams along the Coast are having this problem, but most of the Inland Schools can still field three teams.
The member schools of the Southbay Association made some changes and next year  Culver City will be in the tougher Bay league. That means that there will be no more cupcakes during league play, but Culver can certainly compete against anybody in the Bay League and could be the favorite to win the league in two years.
The CIF recently determined that the Centaurs will move from Division VII to Division V. Culver should still be considered one of the favorites in this division.
The Centaurs will have a very competitive preseason, and Lawndale & Culver will be favored to win the league championship again. No team in Ocean league history has ever won four league championships in a row (except Culver City, who have accomplished that twice), and one of the Centaur goals this year is to stop Lawndale from winning their fourth consecutive title!
Culver City will be loaded with Division I talent as there are six receivers who eventually will get scholarships, three of which have already been offered. In fact, the Cents should have one of the best wide receiving crews not only in Southern California but in the nation! This is one of the reasons why Culver won three passing tournaments and only lost one game when all of their receivers were present. The D1 receivers include seniors Chris Miller, Tanner Duve, and Khary Crump. The juniors will be Makai Cope, Emari Pait, and newcomer Legend Waring.
Culver City will return one of the best QB's in Southern California in junior Zevi Eckhaus, who was All-Ocean League,  All-CIF, and All-State. He passed for nearly 3500 yards last year, 60%, and only nine pics. His 50 TDs was one of the best in the state, and he has a chance to break JT Daniels of Mater Dei(now the USC starting quarterback) 155 career TD's to be Number one in California state history. If he stays healthy and Culver makes two more deep runs in the playoffs, he's got a shot to do it.
Culver will also start one of the fastest running backs in Southern California in Mekhi Evans – Bey, who won the Division 2 400M champion and was third in the 200M race.
The offensive line has good height & is led by two Division I prospects in returning seniors David Naranjo, 6' 3", at left tackle and Blake Kneebone, 6' 4", at left guard. The newcomers will be 250-pound senior center Isaac Padilla, and two other Division 1 prospects in Jr. Dylan Nichols standing at 6 6" and weighing 310 lbs. And for the first time ever in Culver City history, they will start a freshman, Mason Mannyweather, a right guard standing at 6'3" and weighing 285 lbs. who could also be highly recruited!
The defensive line should be strong and will be manned by returning senior Richard Farias, junior Adrian Simon, and some of the aforementioned offensive linemen will also rotate in.
Unfortunately, Culver recently lost two of their starting senior linebackers. They found out that Keaton Asma could not play because of a medical issue and Arami Bryant left the school. However, Culver returns a strong middle linebacker in Isaiah Williams and got a recent transfer in former Culver City resident, Max Crosner, who played and started at a very strong Phoenix-area high school football program and looks to be a solid hitter and playmaker.
The defensive backfield will feature several Division I athletes who are also playing receiver and were previously mentioned.
The Cents will be strong on special teams and the kicking duties will be again manned by senior Matt Lopez, who may also do the punting this year.
Last year Culver City was upset in the California State Regional Finals by Lincoln of San Diego with the help of some very questionable calls by the referees. But this year, Culver City feels that if they stay healthy, they could win another CIF Championship and a State Championship!