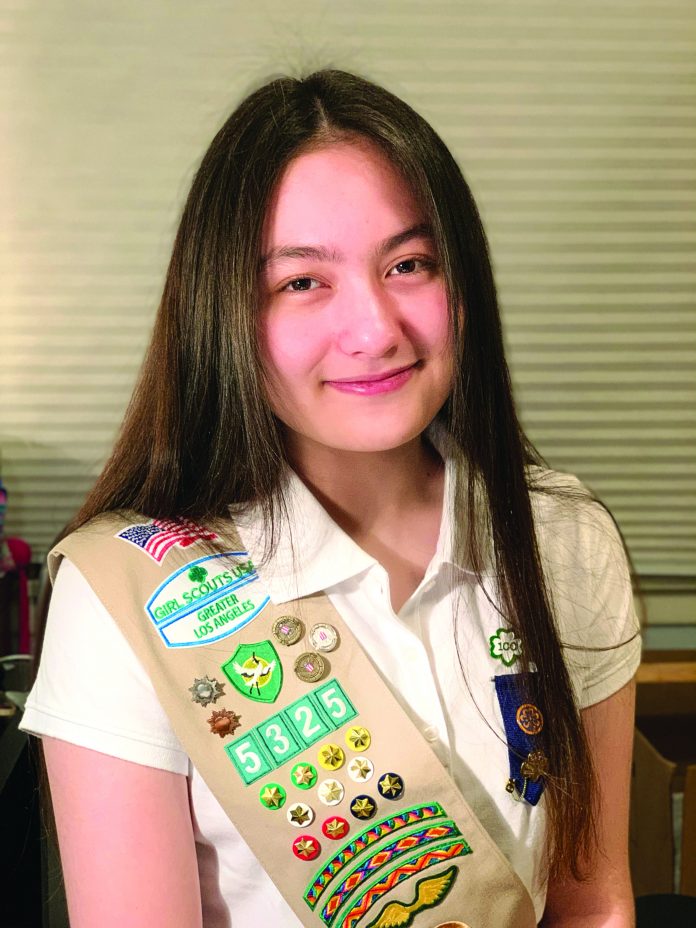 In the Girl Scouts organization, the Gold Award is "the mark of the truly remarkable — proof that not only can she make a difference, but that she already has," as noted on the group's national website.
For one local girl, performing the remarkable was inspired by an event that occurred years ago — a half-world away.
Nicole Parker said she awoke on Feb. 13, 2021 to the news that Fukushima, Japan had been rocked by a 7.1 magnitude earthquake.
"I immediately texted my friend  in Fukushima, who thankfully said he and everyone around him were safe," Parker, a Culver City High School senior, said. 
This quake served as a reminder of Japan's delicate but volatile history with Mother Nature.
Parker noted the coincidental timing of last month's temblor with the horrific disasters that occurred a decade ago in the Tohoku region of Japan's Honshu island. 
"The timing was eerie and another harsh blow to the region," Parker said.
That decade-old natural and nuclear disaster occurred on March 11, 2011 and was marked by a 9.0 magnitude earthquake, which triggered a massive tsunami, and was compounded by a nuclear power plant meltdown.
"That day was unforgettable," she said. "It felt like we were involved in the disaster, too, as I watched my teachers cry, worried about loved ones in Japan."
At that time, Parker was a Japanese immersion student at El Marino Language School in Culver City. The impact left a deep impression on her.
Parker said she was involved with a life-altering fundraising effort as a youth, collecting items from the community and sending them to Japan.
"I couldn't have imagined this experience would circle back eight years later with an opportunity to go to Japan to further a connection and create relationships directly with the victims", she said.
The 2011 Japan devastation resulted in an estimated 20,000 people declared dead or missing and close to 500,000 people were forced to evacuate, as reported on the World Vision site and other media.
"For me, this fateful day created a purpose, despite living halfway around the world, forever intertwining me with the region and its people," Parker said.
She has been a Girl Scout in Troop 5325 since the 2nd grade. Her mentor all these years has been Tatiana Takahashi, who was a student teacher at El Marino and is now assistant principal at Culver City Middle School .
In 2019, Parker fulfilled a childhood ambition when she traveled to Japan and witnessed firsthand the effects of the triple disaster.
"As a U.S. high school delegate representing Southern California, I saw the March 11 aftermath in Fukushima up close," she said. "The extensive rebuilding effort was evident. I learned of their new sustainable energy solutions, such as solar and wind, while also learning about the challenges of the ongoing nuclear waste clean-up."
Parker said she felt the overwhelming loss through the Japanese people.
"In particular, Soma High School students had one wish: to spread the message that Fukushima and its residents aren't dangerous," she said. "I took this ask to heart and knew I needed to help them in fulfilling their wish. They feel a heavy burden of how they are perceived in Japan and around the world because of the radiation fallout."
SHARING 'THEIR' MESSAGE
When Parker returned home, she was determined to share her experiences and the message of Soma High students.
That was the inspiration behind her Girl Scout Gold Award Project, of which Takahashi served as the project adviser.
Parker's project was unique and highly intricate in operation.
"I created a workshop to educate U.S. middle schoolers about what happened that fateful day in Japan and focus on the discrimination issues residents face because of their radiation exposure," she said.
"Using Zoom, we had thoughtful group discussions about discrimination and ways to combat it," Parker said. "By creating a virtual treasure hunt, I took the students to tourist destinations to show that Fukushima is still a beautiful place. 
"Collaborating with my Soma High School friends has been an ongoing motivation throughout the project," she said. "I translated narrative video clips they sent about their personal experiences of the disaster and showed them during my workshops."
She said that these personal accounts bring the event closer to home. 
Takahashi was impressed at Parker's resolve and passion to bridge gaps and help the healing process.
"For Nicole to go from learning about different prefectures and historical events in Japan in middle school to dig into her cultural roots and pursue this project is something that makes me so proud of our future generation," Takahashi said. 
One activity Parker created was for the students to write messages of support to the Soma High School students.
Another was to make an origami heart where U.S. students are encouraged to draw symbols showing how America and Japan are connected.
"Students keep this heart as a reminder of the need for unity between countries," she said.
After the presentation, Parker said that a survey was passed among participating American students to reflect what they had learned. 
The feedback was encouraging.
"Students said I made the world seem like a smaller place," Parker said. "They could relate to the kids in Japan and realize that their own homes in California are also vulnerable to earthquakes." 
Takahashi also took notice of the response Parker received from a project that is personal and simultaneously global.
"Some of the comments were that (the Zoom students) didn't realize that this lesson made them see things through a different lens, that they would change their actions to do better and that they would research it further," Takahashi said. "What Nicole was able to provide was for our students to listen, learn and do better."
Parker said others appreciated learning useful techniques on how to stand-up to discrimination, especially in the current environment where racism and hate crimes are on the rise against Asians and other minority groups. 
"I'm grateful for the support of community partners Japan America Society of Southern California, Tomodachi, Culver City Middle School, Girl Scout Troop 5325 and my classmates," Parker said.
She acknowledged the many people she met throughout her journey to Japan.
"Their resilience and dedication to make the world a safer and more environmentally friendly place have motivated me towards a future in environmental engineering," Parker said. "It has been rewarding to inspire others to look beyond their local communities and become active global citizens."
She added that the recent Fukushima earthquake served as a reminder that "we all need to be vigilant of issues happening both at home and abroad.
"The need for global awareness and collaboration has no bounds," Parker said.