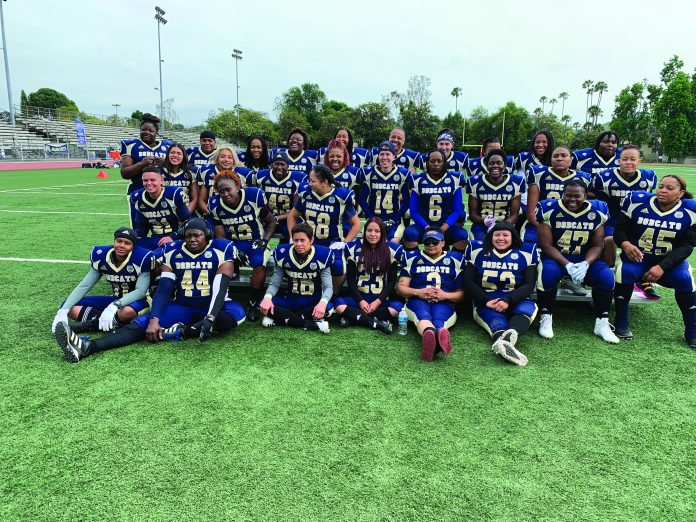 By Christian May-Suzuki
It's no secret that the traditional gender roles of the previous generation are melting away, and women are taking on more and more opportunities that are normally reserved for men. One of those opportunities that have been invaluable to the women of today is the ability to play tackle football. Women simply had no way into football for a long time because the aggressive nature of the game was considered far beyond what a woman should be in the past.
For the LA Bobcats, it started with an aspiration to solve a different, yet equally daunting problem—finding a way to tackle while reducing the risk for concussions in football. The team was originally formed as the Carson Bobcats four years ago by founder Bobby Hosea Jr., and Kris Bannon and Demetrea Hardiman came in as co-owners to provide financial support.
After spending three seasons in the Independent Women's Football League (IWFL), the team was able to secure a spot in the Women's National Football Conference (WNFC) as the LA Bobcats, which brought with it a variety of nice perks and benefits, including approximately $600,000 worth of gear from a partnership the league has with Adidas. The team currently plays their home games at the Jackie Robinson Field at the Rancho Cienega Recreation Center, 5001 President Barack Obama Blvd., just under a mile and a half from where the newly named President Barack Obama Blvd. leaves Culver City.
Because football teams require such large rosters, there are opportunities for women of all ages from all around Southern California. The Bobcats have had players come from as far as San Diego and as old as their mid-60's to experience genuine women's tackle football. Even Bannon, as an owner, laced up the cleats for the Bobcats.
"I've played [football] for eight years," Bannon told the News. "I was supposed to retire this year, but I got cornered into playing."
The league doesn't shy away from the nitty and gritty of professional football, mainly playing in accordance with NFL rules. The women who come to play for the Bobcats are looking for the rush that comes with the real thing, to the point where Bannon admits it is a bit difficult finding women on the team who want to play on the "feeder" flag football team that the Bobcats are putting together in large part because of the lack of contact.
Jennie McNulty, who lives in Culver City, played football for 14 years and currently serves as the voice for the Bobcats broadcast. She says that her time playing with the Bobcats and football in general shaped who she was as a person.
"Sports teach you teamwork, and sportsmanship and playing fair," McNulty remarked. "They give you confidence. They teach you how to get up and learn from mistakes and move on. They teach you if you want something, train for it and try – if you don't get it this time there's always next time. And they keep you physically in shape."
For older women like McNulty, the experience is valuable simply because it isn't something that was encouraged or even found in their childhoods.
But even for some of the younger players, like running back Charla Robertson—who works in Culver City—the chance to play a sport that has been exclusive to boys for an overwhelming majority of its history is the most invaluable experience of them all.
"It was my first time in a game, and I had rookie written all over me," Robertson recalled. "I made a few rookies mistakes, and even though I was completely aware of the little mistakes I was making, as I was running off the field, I was just thinking, 'oh my god, I'm playing football.'"
On top of having a diverse roster of players, the Bobcats coaching staff, while somewhat undermanned, is a large group with distinct viewpoints and backgrounds. The Bobcats have taken extra steps with these coaches, including hiring a "life coach" to help with some of the specific medical and self-care needs that women have.
This system has brought success for the team. They made the 2019 WNFC playoffs following a 4-2 season capped off by a 39-0 thumping of the Las Vegas Silver Stars. The Bobcats will be hosting the Utah Falcons, who are the number one team in the Bobcats' Pacific Conference, at San Bernardino Valley College, 701 S. Mt. Vernon Ave., San Bernardino