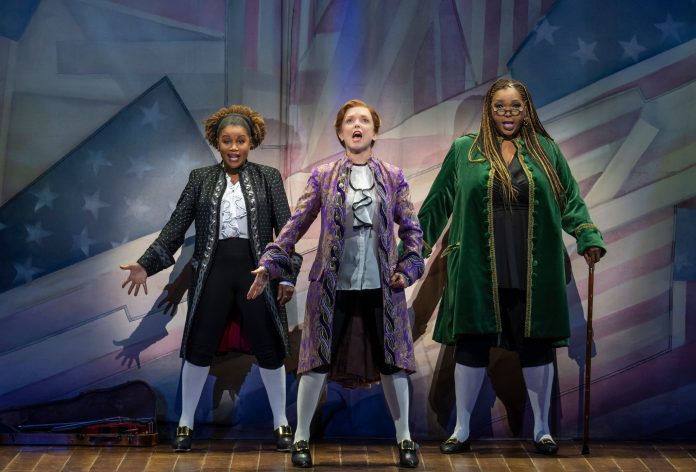 The national tour of the Tony Award-winning Best Musical 1776has kicked off in Los Angeles at the Ahmanson Theatre through May 7, with the multiracial cast of female, transgender, and nonbinary actors breathing new life into the creation of the Declaration of Independence, performed by those never mentioned in it. And the result is an epic show of passion and debate featuring the music and lyrics by Sherman Edwards and book by Peter Stone, based on a concept by Sherman Edwards.
I really enjoyed the inclusive cast who worked well together as an ensemble, bringing each well-known character to life while effectively pointing out what was missing from the original document due to the founders' belief in "Independence first. Equality later." The cast is led by Gisela Adisa as John Adams, Nancy Anderson as Thomas Jefferson, and Liz Mikel as Benjamin Franklin, who share the importance of their historical characters' contributions to birthing "The Egg" of a new nation. Other standouts in the cast include Connor Lyon as Martha Jefferson whose lilting rendition of "He Plays the Violin" perfectly expresses the joy of young love; Kassandra Haddock as Edward Rutledge from South Carolina whose rendition of "Molasses to Rum" speaks volumes as to why the founding fathers agreed to not abolish slavery when they had the chance; Joanna Glushak as Pennsylvania conservative John Dickinson whose "Cool, Cool, Considerate Men" speaks directly to the many delays before ratification; Shawna Hamic as Richard Henry Lee who led the ensemble during the rollicking "The Lees of Old Virginia"; and Brooke Simpson as the Courier whose heartbreaking "Momma, Look Sharp" brings into focus the many young soldiers giving their lives on the battlefield under the leadership of George Washington, joined by those mourning their loss. 
Tony Award-winning director Diane Paulus and MTV Music Video Award-winning choreographer Jeffrey L. Page direct the production, with Music Supervisor/Music Director Ryan Cantwell, Original Music Supervisor David Chase, Orchestrator John Clancy and Vocal Designer AnnMarie Milazzo rounding out the team. Technical wizardry abounds thanks to the multi-award-winning production team, including Scenic Designer Scott Pask, Costume Designer Emilio Sosa, Lighting Designer Jennifer Schriever, Sound Designer Jonathan Deans, and Projection Designer David Bengali.
Tickets for 1776 start at $40, available through CenterTheatreGroup.org, Audience Services at (213) 972-4400 or in person at the Center Theatre Group Box Offices (at the Ahmanson Theatre) at The Music Center, 135 N. Grand Avenue in Downtown L.A. 90012. Performances run Tuesday through Friday at 8 p.m., Saturday at 2 p.m. and 8 p.m., and Sunday at 1 p.m. and 6:30 p.m.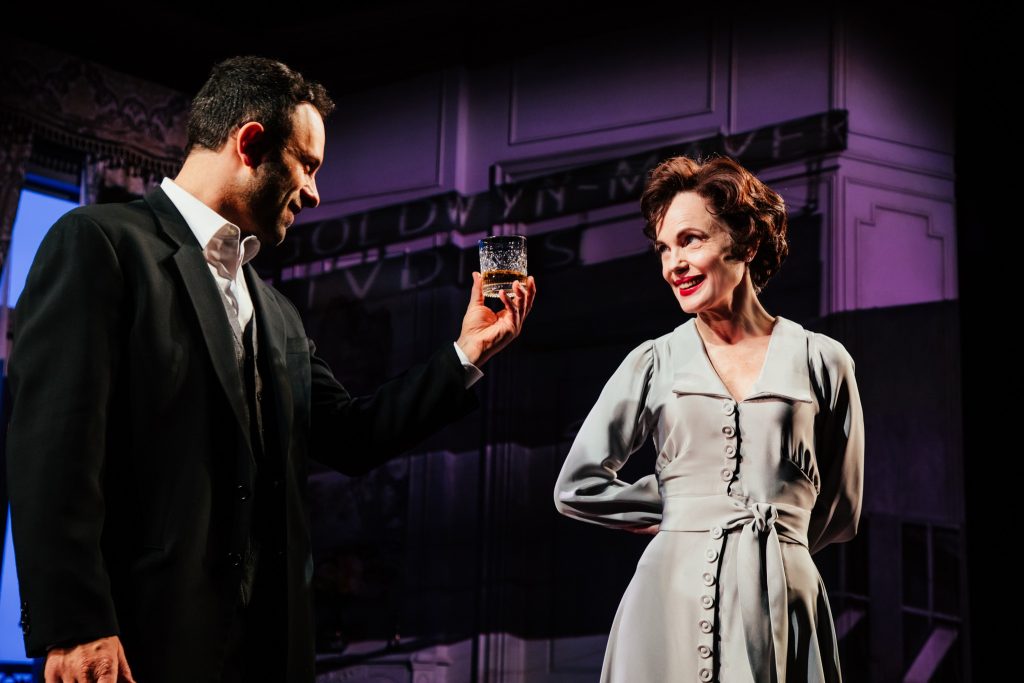 Geffen Playhouse is presenting the U.S. premiere of AVA: THE SECRET CONVERSATIONS, written by and featuring Academy Award, Golden Globe and Emmy Award-nominated Elizabeth McGovern as Ava Gardner, and Aaron Costa Ganis as Peter Evans. Directed by Tony Award-nominated Moritz von Stuelpnagel, the cast includes Ryan W. Garcia as Ed Victor. Scenic Designer David Meyer has created Gardner's London flat in the 80s, with Costume Designer Toni-Leslie James adding in the right mixture of sass and sex to McGovern's wardrobe. Technical kudos to Lighting Designer Amith Chandrashaker, Sound Designer Cricket S. Myers, and Projection Designer Alex Basco Koch for adding their artistic vision to the production.
Based on the book The Secret Conversations by Peter Evans & Ava Gardner, the creation of which is at the center of the play, during which we are invited inside legendary Hollywood icon Ava Gardner's London flat where she confesses to her ghost writer Peter Evans that to stay afloat financially, "I either write the book or sell the jewels. I'm kinda sentimental about the jewels." And so they begin work on her tell-all biography that will shock Tinseltown. But as Peter attempts to glean the juicy details about her life story, her marriages to Mickey Rooney, Artie Shaw, and Frank Sinatra, and her turbulent relationship to Howard Hughes, an altogether different and unexpected journey unfolds in this theatrical glimpse into the private life of Hollywood's original femme fatale.
I enjoyed the performances but found the writing a bit confusing when switching between the two writing the memories and acting them out – until Ava called Evans by name, be it Peter, Mickey, Artie, Frank or Howard. Beautiful scenic design and costumes, but did Ava really walk with such bad posture, always with a cigarette in one hand and a cocktail in the other? And for someone who confesses she does not like "foul-mouthed women," Ava certainly knew how to be one to the hilt.
Produced in Association with Karl Sydow and with the Support of the Ava Gardner Trust, AVA: THE SECRET CONVERSATIONS continues through May 7 in the Gil Cates Theater at the Geffen Playhouse, 10886 Le Conte Avenue, Los Angeles 90024, Tuesday-Friday: 7 p.m., Saturday: 2 and 7 p.m., Sunday: 1 and 6 p.m. Tickets start at $30, available by phone at 310.208.2028 or online at www.geffenplayhouse.org. Rush tickets for each day's performance are made available to the general public one hour before showtime at the box office. $35 General/$15 Student. Currently, children under six years of age will not be admitted.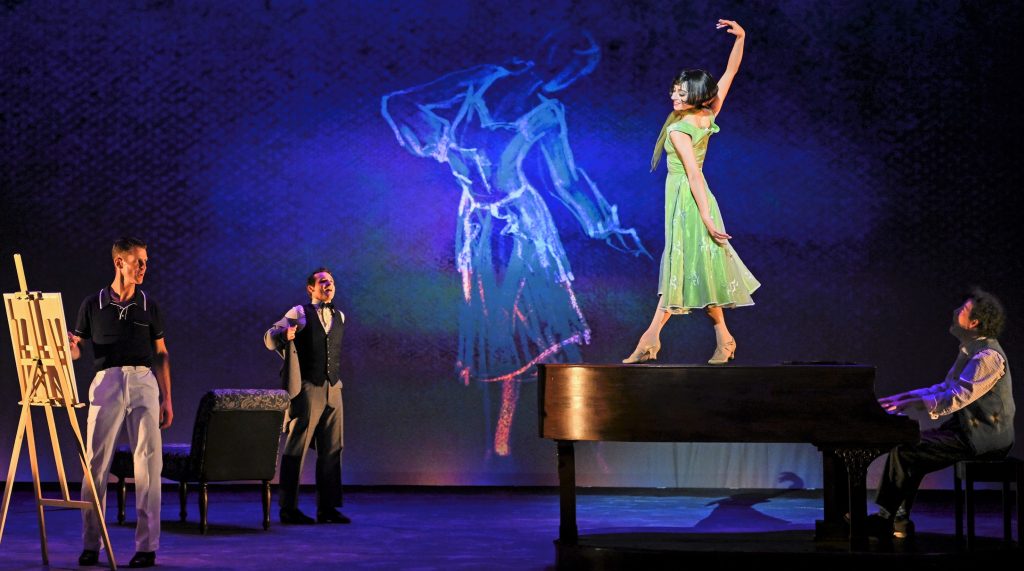 Want to be whisked away to Paris and fall in love? The City of Light comes to life in post-World War II with tap, jazz, ballet, and romance in Musical Theatre West's production of AN AMERICAN IN PARIS, based on the hit 1951 movie starring Gene Kelly and Leslie Caron. This updated take on the classic musical combines the elegance of the original Broadway musical with the magic of the movie, featuring George Gershwin and Ira Gershwin's soaring melodies and memorable lyrics including "'S Wonderful," "Shall We Dance?" and "I Got Rhythm."
Filled with all the energy and spirit you'd expect, Lise and Jerry's (Sareen Tchekmedyian and Luke Hawkins) story invites the audience to step back in time to see how love conquers all when three friends (Jerry, Adam and Henri) all fall for the same woman. Michael Bullard as Henri shines during his rendition of "I'll Build a Stairway to Paradise" while Louis Pardo as Adam pulls at your heartstrings during his solo "But Not For Me." The emotional dances, especially the "Paris Ballet," express the emotional musicality of the story, and combine with the fan-favorite score to enhance the magic spell that pulls you into this love story for the ages.
Music director David Lamoureux conducts the live orchestra, playing the non-stop score to perfection. Tech credits add to the artistry of the production, including Bradley Allen Lock's costume design, Jean-Yves Tessier's colorful lighting design, and David Arsenault's scenic design which includes set pieces stylistically moved on and off stage by the ensemble. Michael Salvatore Commendatore's projection design brings Parisian landmarks to the stage, and sound design by Julie Ferrin perfectly mixes the voices with the music. This reimagined rendition by award-winning Director and Choreographer Jeffry Denman includes a revolving stage, and should not be missed by fans of musical theatre and dance during its first visit to the West Coast.
AN AMERICAN IN PARIS runs through April 30 at the Carpenter Performing Arts Center on the California State University, Long Beach campus at 6200 E. Atherton Street, Long Beach 90815. Tickets start at $20, available by calling 562-856-1999 or online. $15 student rush tickets are available at the door 1-hour prior to showtime, with ID. An ASL-interpreted performance will take place on April 21. More information, a full line-up of performances, tickets, and additional details can be found at https://musical.org/an-american-in-paris-2/