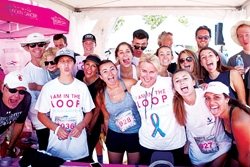 Culver City kids will have a chance to meet their favorite local author, Tami Fitzkoff, at the 15TH annual Kickin' Cancer!® 5K Run / Walk / Stroll on Oct. 2.  It's the Lynne Cohen Foundation's flagship event to end women's cancers through prevention, and as a parent and woman, this event hits home for Tami.
The Expo opens at 6:30 a.m. and I 5K Start at 8 a.m. | Kiddie Fun Run starts at 9:30 a.m., and  | Event closes at 11 a.m., at 11620 San Vicente Blvd.
Los Angeles.
The Kickin' Cancer!® 5K and Family Fun Day highlights include a non-competitive 5K Walk/Run and Stroller Run; a Kiddie Fun Run; Pre-Run warmups by Burn60; a Family Expo with giveaways, fitness activities and entertainment; a Kids' Corner including a bounce house, T-shirt coloring contest and prizes; individual and team fundraising awards for the top finishers; and a Kickin' Cancer!® Tribute Wall to honor and remember all those touched by cancer.
One in eight women will be diagnosed with breast cancer in her lifetime, and there will be 21,290 new cases of ovarian cancer, the deadliest gynecologic cancer, in the U.S. this year alone. Local Culver City mom and new author, Tami Fitzkoff, is using her talent for storytelling to raise her voice and help the cause. As a special guest, she will deliver her message of independence and empowerment to Kickin' Cancer! Kiddie Fun Run participants, because kids care too.
Fitzkoff's first book, 'Be The Grapes,' is reassures kids that it's okay to be an independent spirit, and that life gets really awesome when we stay true to ourselves. In both her written work and philanthropy, Tami says she "celebrates the choices we make from our hearts." The choice to support families facing ovarian and breast cancers is one made from each Kickin' Cancer! participant's heart.
Neighbors, friends, runners, and women currently facing cancer in Los Angeles describe Kickin' Cancer!® as "inspirational and personal." This blend of intimacy and passion fuels all those who hit the pavement for the cause. From the 5K Walk/Run, to the Stroller Run, to the Kiddie Fun Run, to the workouts and warmups by Burn 60, to the Fit Family Expo, there's something for everyone. As a result, racers and families alike join together to take meaningful steps for women's health.
Amy Cohen Epstein, Founder and Executive Director of the Lynne Cohen Foundation, says "I founded the Lynne Cohen Foundation with my sisters when I was just 21 years old after losing my mom, Lynne, to ovarian cancer. Prevention is our cure, and the Kickin' Cancer!® 5K helps fund Preventive Care Clinics across the country. We aim to protect families like mine from losing their mothers, daughters, and sisters. We are proud of this community and of the impact it makes each year. With over 3 million dollars raised by 5K participants to date, we can't wait to see what the next 15 years will hold for our community, our patients, and our fight against women's cancers."
Every dollar raised at the Kickin' Cancer!® 5K funds a national network of Lynne Cohen Preventive Care Clinics. These clinics are highly specialized, innovative women's care facilities that unite research, screening, and clinical care for women who are at high risk for breast and ovarian cancers. Patients receive comprehensive cross-disciplinary care, and have access to some of the latest clinical trials, genetic testing, and, if needed, psychosocial counseling. The resulting environment is human-centered and intensely collaborative.
Personalized and preventive medicine is the way of the future. Dr. Lynda Roman, the Director of Gynecologic Oncology at USC, puts it this way, "Lynne Cohen Preventive Care Clinics are unique. There are no other funded clinics that function quite like this."
While the benefits of research might take years to touch the lives of patients, by funding these Preventive Care Clinics for women at risk, Kickin' Cancer!® 5K participants, donors, and fundraisers impact women's lives both today and tomorrow.
Tami Fitzkoff is in good company as a special guest. Two-time Emmy Winner and FOX 11 News Anchor, Marla Tellez, will co-host the event with Amy Cohen Epstein. In addition to being personally connected to the fight against breast cancer, Marla brings her passion for strengthening community, promoting health, and empowering women. You might recognize her from the morning news and Good Day LA, or from her role in the Season 3 premiere of 'Breaking Bad.'
She is an avid runner, and is a powerful voice for the cause. Marla summed it up when she announced, "I am 'in the loop' and serious about Kickin' Cancer! We must know our bodies, our normal, and our risk!"
Kickin' Cancer! supports women and families at risk for breast and ovarian cancers, and raises the endorphins and healthy living quotient for all participants. This year is a major milestone, as runners, patients, and physicians alike gather to celebrate 15 years of impact, prevention, education, and community. Join the fun at www.kickincancer.com.