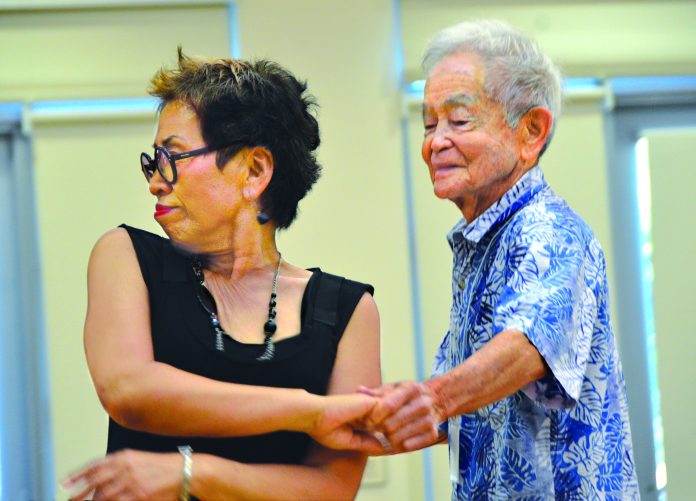 By Gary Kohatsu
Stay tuned, as Patti Page or maybe Jo Stafford, sings a familiar song from the golden era of popular music. With a satin pitch, the song wafts from speakers across an open dance floor, as instructor Patricia Ruane smiles at her dozen or so students.
"Shall we dance."
Welcome to the Thursday afternoon Ballroom Dance Class offered at the Culver City Senior Center. Ruane, who teaches this and other dance classes at the center for about 10 years, guides her dancers through a series of prescribed movements.
Some students are like swans, flowing with assured elegance. Other students are ducks, waddling to keep in step with their partners.
No matter, all students are welcome and will in time be as smooth and rhythmic as Astaire and Rogers; if only in their dreams.
"I believe most of our students take ballroom dancing for social reasons," Ruane said. "We have had people take it for several reasons, including getting over the loss of a loved one, for exercise, etc."
She teaches 16 of the most popular dances, including the (American) waltz, the foxtrot, American tango, the quickstep, and the Viennese waltz.
"The easiest dance to learn is the waltz," Ruane said. "The most difficult is the quickstep."
Her students range in ages, from 50 to 90-plus. They come in all ethnic packages, from different countries, and diverse religions.  Once they step into Ruane's class, however, they become a single body.
"In a difficult world, all worries leave as you dance," Ruane said. "You take a break from life. I've really enjoyed my years dancing, and it has helped me through some hard times."
Ruane started her dance lessons as a student of "the Dance Doctor," John Cassese, in Santa Monica back in 1995. She had retired from the Beverly Hills Post Office, and was recovering from a bout with cancer.
With a newfound passion for dance, Ruane took to this physical expression as, shall we say, a duck to water. By the new millennium, she was teaching others.
"I always like to share what I know," she said. "I have to tell others everything (I know)."
Her students practice year-round, but at certain times of the year, they can showcase their skills in a performance before an audience at the Center. And in between class lessons and performances, all dance students can participate in a public dance held at the Senior Center each Saturday, from 1 to 3:30 p.m.
Four different bands bring the music, and Ruane's dance students bring the waltz. Or the foxtrot. But most of all, they bring spirit and a sense of adventure.
"I think Ballroom dancing will always find an audience," Ruane said. "There are a lot of studios, dance venues and dance competitions throughout the United States, and many other countries. Also, ballroom dancing is taught in colleges."
And with a 1-2-3, the beat goes on, as well as the dance steps.