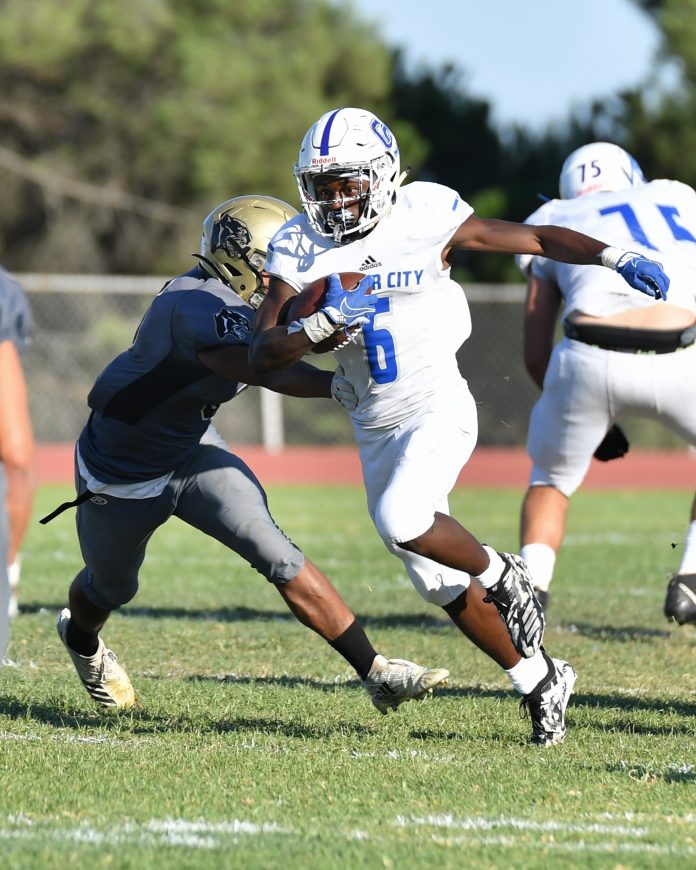 The No. 3 ranked Division 5 Culver City high school football team will take their high scoring show on the road once again when they battle a good Warren team Friday night at Downey's Warren High School at 7 p.m. on Friday. This will mark the third game in a row that the Centaurs will be on the road.
The first two Culver City games they scored 56 points against West Torrance two weeks ago and 60 against Peninsula last Friday.  Very few teams on the Centaurs schedule can match Culver City's athletic talent, but Warren may be one of them according to Culver City head coach Jahmal Wright.
"Warren is going to be a formidable opponent," said Wright after a practice last Monday. "They are better than the last two opponents we have played so far.  We are excited to see Warren as a measuring stick to see where we actually stand." Culver City and Warren have started the season 2-0.
Last year, Culver City beat Warren 43-28, so Wright knows they will be ready for the Centaurs on Friday night. "They match up with us athletically a lot better than our first two opponents," said Wright. "We don't have the speed and athletic advantage we had against our first two opponents. There will be less room for errors."
Although the Centaurs are 2-0, they have dropped two spots since the preseason rankings came out. Before the season started, they were No. 1, last week they were No. 2 and this week they are No. 3.
Like most coaches, Wright does not worry about the rankings, just the results. "The ranking doesn't bother me. We don't pay attention to any of that stuff. We have no control over rankings. Basically we are our own toughest critics. We just want to be ranked No. 1 at the end of the season in the last Division V championship game. That's all that matters to us."
Against Peninsula, the Centaurs improved in all three phases of the game, offense, defense, and special teams. "I think we accomplished all three of three of those things," said Wright.  "As long as we are improving I am happy. We accomplished what we set out to do against Peninsula," said Wright.  "Our goal was to improve as a team. Every week we want to get better."
Not only did the Centaurs achieved some of their goals, they actually exceeded expectations in one category: turnovers. Culver City had zero turnovers against Peninsula. Having zero turnovers is huge in any football game.
"We were able to start the game off on the right foot last week," said Wright. "Having zero turnovers really helped us. When we start the game off on the right foot, we are tough to beat.  Against Peninsula, special teams scored and we were able to score field goals. We were clicking on all three cylinders, special teams, offense, and defense."
Like so many of the Culver City football teams in the past, the Centaurs are built to run. "We don't want to ever take that for granted but that's our calling card," said Wright.  "We like to be known as a team that produces athletes with speed."
Players of the game last week on offense were quarterback Zevi Eckhaus and receiver Chris Miller and on defense, cornerback Khary Crump and lineman Richard Farias had outstanding games according to Wright.
The girls' 2-5 volleyball team will host a volleyball tournament this weekend and they start Ocean league play against Santa Monica on the road on September 17 and they have a home league match when they face Lawndale on Thursday, September 19. Both matches will start at 3:15 p.m.  The boys' water polo team will play a home game on Tuesday, September 17, at 3 p.m. at Vets Park