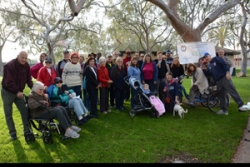 Committed Walk With A Doc attendees enjoyed a different twist during the last walk of the year on Saturday when they were led and hosted by Culver City Historian Julie Lugo Cerra.
Lugo Cerra led the group and noted a variety of interesting and historical aspects of the route taken. Like all walks, Saturday's outing started at Veterans' Park at 9 a.m. with pre-walk warmup and stretching beginning at 8:40 a.m. under the guidance of Culver Palms Healthy Lifestyles Coun-selor Brandon Webb.
The walk ended with a tour of the Culver City Historical Archives, where Lugo Cerra shared more of the City'a history, its founder and different bits of information regarding several rel-ics that the Historical Society pre-serves. In addition to celebrating the 12th walk of the year, the group gathered to send-off of coordinator Grace Elliott.
Elliott and her family will spend a year working in Sydney, Australia. Saturday's walk approached Lindberg Park, where the group turned east toward Dr. Paul Carlson Memorial Park and visited historic sites along the way. Elliot, Dr. Jeffrey Penso and Councilman Jeffrey Cooper began the walks earlier this year and have now become a monthly gathering.