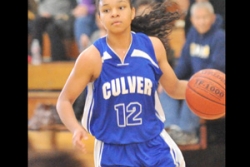 During their first 16 games of the season the Culver City girls' basketball team has been searching for a team leader.  Last season the Centaurs had two leaders guide them to a third-straight Ocean League title and a CIF Championship. In 2015 the lady Centaurs have found that leader: her name is Kailey Tooke.
Last week Tooke led the Centaurs to two Ocean League victories that put Culver City in first place. Culver City coach Julian Anderson is happy his junior star has stepped into the leadership circle.
"She now has the confidence to get the ball and do something with it," Anderson said.  "More impressive is the fact that she is actually clapping for the ball, asking for the ball, demanding the ball and wanting the basketball. I like to see that first, then everything else will take care of itself."
The Centaurs, who are currently 9-9, are thrilled to get back on the winning track after losing seven out of eight games last month.
"It feels good to start building their confidence back up to a higher level," said Anderson.  "It's good to see them get their rhythm back and see them having fun again. We are getting stops that we need to get and we are scoring points."
The Centaurs have won an incredible 32 Ocean League games in a row during a four-year span, but losing all of those non-league games last month keeps Anderson grounded.
"I am not one of those coaches that had success my entire career so I have been on both sides of the street," Anderson said. "Losing just gets me back to my roots when I started coaching.  This just gets me back to the basics, working hard and teaching fundamentals. I love coaching and developing talent and watching kids grow. That brings me back to life."
The girls' basketball team will travel to Hawthorne on Friday and Beverly Hills next Wednesday.  Both games will start at 6 p.m.
Boys' Hoops
The boys' basketball team is currently 7-11 and has loss its last five games. Two of the team's biggest problems this season are the lack of size and falling into shooting slumps. It's been difficult for the boys to win games when the physical size and shooting percentage are not present.
"When our shots are not falling sometimes that affects our defense," said head coach Adam Eskridge.  "That's part of the growth process of this young group of players. When things don't go your way you can't get upset.  You have to stay focused and keep playing hard."
The young Centaurs are also having trouble playing a complete game.
"Our last four games, excluding the Lawndale game, we have played one bad quarter in all of those games," Eskridge said. "It's that one bad quarter that's killing us. We need to be more consistent."
The boys' basketball team will travel to Hawthorne on Friday and Beverly Hills next Wednesday.  Both games will start at 7:30 p.m.
Soccer News
The boys' soccer team is 4-7-1, and is currently trying to break a three-game losing streak. They will play road games on Friday at Hawthorne and next Wednesday at Beverly Hills.  Both games start at 6 p.m.
"We just have to stay consistent and play the same way every game," Coach Louie Espeleta said. "We also need to learn how to overcome adversity and we have a lot of injuries. We are down to 14 players out of 22. In soccer you need all of your players. Hopefully we can get most of our players back within the next few weeks."
The girls' soccer team is also having their share of problems.  After starting the season on a high note their record has fallen to 6-5-2 and 0-2 in the Ocean league. On Friday the team will host Hawthorne at 3 p.m. and play Beverly Hills at home next Wednesday at 3 p.m.