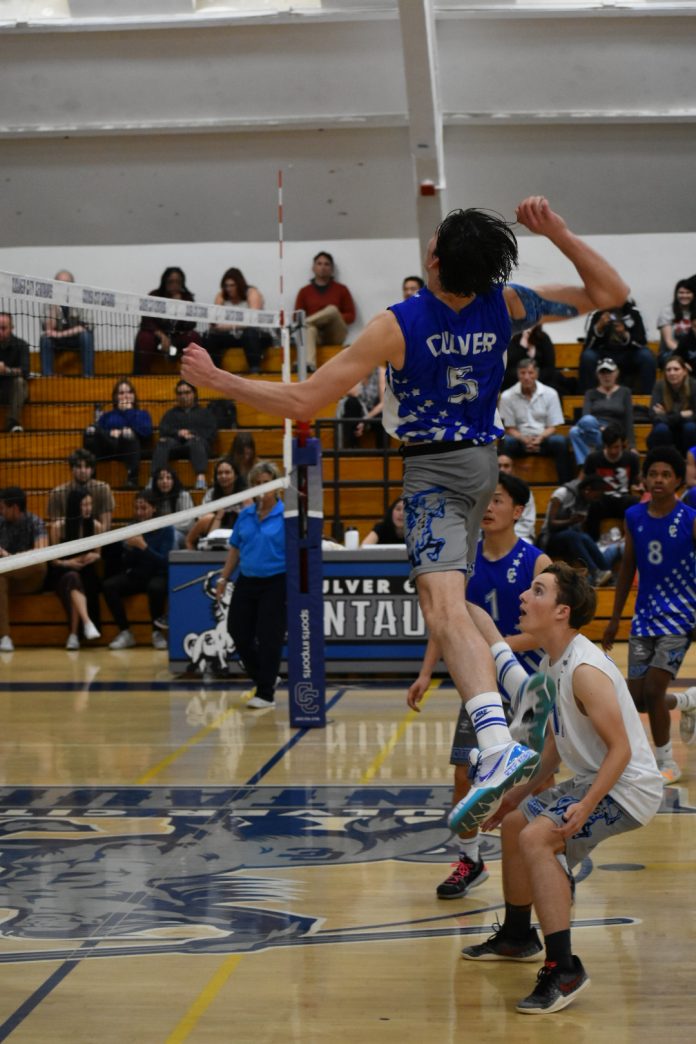 Destiny comes in different forms. For Culver City volleyball player Brandon Horn-Bostel his destiny was to be a volleyball player and his story started many years ago when his grandfather attended Culver High School and played sports. Then it was his mother's turn to continue the athletic excellence at Culver City. Now Brandon completed the third-generation cycle at Culver City high school.
Horn-Bostel accepted a scholarship offer from Charleston University in West Virginia a few months ago to play the sport he learned to love, volleyball. That was not always the case. Although his mother and older sister were volleyball stars, he did not catch the volleyball fever until he was in high school. 
"I was late to the game compared to a lot of volleyball players that make it to the college level," said Horn-Bostel during a telephone interview.
"Brandon came to Culver City when he was in the 10th grade and I actually coached his older sister in club volleyball when he was about five or six years old," said Culver City high school boys head volleyball coach Joe Manzo. 
"At that time, he was a basketball player, not a volleyball player. When he came to Culver City, he wanted to be with his friends so he started playing volleyball."
"Getting to play at Culver City gave me the opportunity to play different positions and it helped my skills overall," said Horn-Bostel.
According to Manzo, it was during his sophomore year that he realized he had an opportunity to get a scholarship. 
"Things that he was doing really stood out," said Manzo. "His direction and motivation were outstanding. How he supported his teammates and helped everybody." 
"He was always a leader, a challenger and a competitor. That's when I knew he had the talent to play at the next level."
At 6'4' and 170 pounds, Horn-Bostel grew to have the perfect body for volleyball. "He has been a delightful player to have," said Manzo. "He is a strong worker with a great attitude."
Horn-Bostel mother, Stacey, put him in this position. She was a star volleyball player at Culver City high school. She was the captain of the team, an all-league player who was a very popular athlete, according to Manzo. 
"I was with my mother in Charleston when the coach offered me the scholarship," said HornBostel. 
"She has been very involved with my volleyball journey. When the offer was made, we glanced at each other and we both had the look of excitement. We were both taken by surprise and we were both very happy because we knew that this was something that I have been working towards for a very long time and I felt this huge sense of accomplishment."
Getting an athletic scholarship is a combination of many people all working together. Parents, teachers, counselors, athletic directors and coaches all must believe in the student athlete. In last 20 years another avenue has emerged to help young athletes. That is travel teams and club sports. 
Through his mother's contacts, Horn-Bostel was able to play for one of the top volleyball club teams in Southern California run by long time high school volleyball coach Michael Boehle. 
"It's a small world," said Boehle. "My father and Brandon's grandfather, Steve went to Culver City high school together and they were both very good athletes and I knew Brandon's mother.
 "Brandon showed up to our gym a few years ago and I did not recognize him and then I saw his mother and she said that's Brandon. We gave him a shot and saw that he had a lot of potential. The best thing about him was he worked his tail off. He humbled a lot of kids that had been in our program for three and four years. The thing that really caught my eye was he sweated more than any kid I have ever seen."
Horn-Bostel is ready to take the next step this year after he graduates from Culver City. "One of the top things on my list is to really help the volleyball program at Charleston grow. It's an up and coming program and I am really looking forward to working hard with the team."