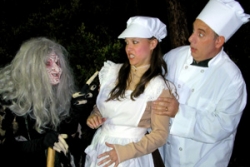 American composer and lyricist Stephen Sondheim is known for his immense contributions to musical theatre for more than 50 years. He is the winner of an Academy Award, eight Tony Awards (more than any other composer) including the Special Tony Award for Lifetime Achievement in the Theatre, eight Grammy Awards, a Pulitzer Prize, and the Laurence Olivier Award.
Sondheim fans are in for a treat this holiday season with two Sondheim shows playing within just a few miles of each other: Kentwood Players at the Westchester Playhouse is presenting "Into the Woods" and Chromolume at the Attic Theatre is pre- senting "Putting it Together" with both productions opening on Nov. 14.
The Kentwood Players production of Sondheim's "Into the Woods" is directed by Shawn K. Summerer, with musical direction by Catherine Rahm. Performance dates are Nov. 14-Dec. 20 on Fridays and Saturdays at 8 p.m., Sundays at 2 p.m. and with two Thursday night performances at 8 p.m. on December 11 and 18.
The original Broadway production won the 1988 New York Drama Critics' Circle Award and the Drama Desk Award for Best Musical, and the original cast recording won a Grammy Award. The show was nominated for 10 Tony Awards, and won three: Best Score (Stephen Sondheim), Best Book (James Lapine) and Best Actress in a Musical (Joanna Gleason).
"Into the Woods" is tied together by an original story involving a childless baker and his wife and their quest to begin a family, their dealings with a Witch who has placed a curse on them, and their interaction with other storybook characters dur- ing their journey. Join Cinderella, Little Red Ridinghood, Rapunzel, Jack the Giant Slayer, and many other famous storybook char- acters as they each venture into the foreboding woods in search of magical items, love, money, or simply a purpose in life. This classic mash-up of Grimm's fairy tales teaches all of us the true conse- quences of what it means to "get your wish."
Featured in the cast are: Mat- thew Artson, Heather Barnett, Samantha Barrios, Jenna Bergman, Elizabeth Bouton, Erika Brauer, Patricia Butler, Amy Coles, Terry Delegeane, Harold Dershimer, Brad Halvorsen, Brandie June, Carly Linehan, Ben Lupejkis, Roy Okida, Kim Peterson, Catherine Rahm, Alicia Reyn- olds and Jon Sparks.
I spoke with director Shawn K. Summerer about his vision for the production. "The first act of this wonderful musical taps into all the best childhood emotions and we get to relive these classic stories in fun new ways, once again seeing people's wishes come true. But, that feeling is exactly why the second act of this show is so effective. The dichotomy between the world where all your dreams come true (Act One) and one in which everything you do has consequences and repercussions (Act Two) is where the heart of "Into the Woods" lies. So, as you watch, I urge you to listen to the lyrics, especially in the second act. Every character learns important lessons about life, relationships, and growing up. If we have done our job, you should walk out of the theater with a new perspective on life as well."
Tickets for "Into the Woods" are $25 with a $2 discount for seniors and students. To purchase tickets, persons interested can call (310) 645-5156 or purchase online at www.kentwoodplayers. org. The show is appropriate for all ages, but children under 16 must be accompanied by an adult in the theater. The Westchester Playhouse is located at 8301 Hindry Ave. in Los Angeles.
The Chromolume production of Sondheim's 1992 musical revue "Putting it Together" is directed by Cate Capshaw with musical direction by Richard Berent. Celebrating Sondheim's incomparable career, the show takes place at a Hollywood movie premiere party in the home of a producer/director (Kurt Andrew Hansen) and his trophy wife leading lady (Kristin Towers-Rowles). A composer (Chris Kerrigan) and his date, a wanna-be starlet (Rachel Hirshee), along with an up-and-coming screenwriter (Michael Irizarry), spend the evening reflecting on the illusions and desires of relationships "in the biz" in Hollywood. The musical, devised by Sondheim and Julia McKenzie, showcases Sondheim songs from many of his musicals, drawing its title from a song in "Sunday in the Park with George."
"Chromolume" is the name of a fictional color and light machine in the same Sondheim musical, "Sunday in the Park with George." As tribute to the composer, each year one of his musicals is produced at the venue. Last year's production, "Musicals of Musicals, the Musical" included several Sondheim songs and was directed by Kristin Towers-Rowles, the granddaughter of MGM movie legend Kathryn Grayson. This year, Kristin stars in "Putting it Together."
I spoke with the directors during a music rehearsal, and the cast harmonies were amaz- ing. Cate Capshaw just directed the critically-acclaimed "You're a Good Man Charlie Brown" at Chromolume and is very excited to add "Putting it Together" to her directing resume. "I'm a Sondheim devotee, loving all his songs and this is a compilation of the best of the best into one show. When casting the show and deciding on the best voices and types of personalities, we went with a very eclectic group which most people would not expect to see in this show. I look forward to surprising everyone!"
Musical director Richard Berent considers himself a Sondheim expert, crediting the composer for changing his life. "Right after I got out of college, I discovered the beauty of Sondheim's music and it knocked me over. The career path I had been taking utterly shifted when I was hired to be the Assistant Musical Director of 'A Little Night Music' in Ann Arbor, Michigan. After experiencing the wonder of his music, I became a real Sondheim musical theater geek and decided to model my own compositions after his intelligence, sophistication, great skill and craft."
"Putting it Together" performance take place from Nov.14- Dec. 21 on Friday and Saturday at 8 p.m., Sunday at 2 p.m. Tickets are $28 adults, $25 seniors and full-time students with ID, $23 children 12 and under. For tickets, persons interested can call (323) 510-2688 or purchase online at http://chromolumeinc.com. Chromolume Theatre at the Attic is located at 5429 W. Washington Blvd. in Los Angeles.