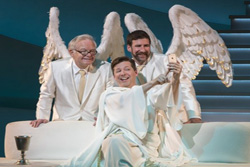 In the hit Broadway play "An Act of God" at the Center Theatre Group / Ahmanson Theatre, Emmy winner Sean Hayes stars as an incredibly modern deity who shares his new Ten Commandments with the people of Los Angeles after descending from heaven. That is, until a technical glitch disrupts his entrance, thus setting up an evening of laughs galore. Written by God, the play was transcribed by 13-time Emmy Award winner David Javerbaum and directed by two-time Tony Award winner Joe Mantello, who keeps the 9-minute show rolling along at a breakneck pace.
The sinfully funny and critically acclaimed new play features God and His devoted angels who work together to answer some of the deepest questions that have plagued mankind since Creation. He's finally arrived to set the record straight – and He's not holding back.
After introducing his Wingmen, angels Gabriel (James Gleason, who references an original Guttenberg Bible when God requests quotes) and Michael (David Josefsberg, who ventures into the audience to allow audience members to ask questions), God takes his seat on the white sofa center stage and begins sharing his new Ten Commandments.
Along the way, we are treated to how God really thinks about us "using his name in vain" or at the most inappropriate times, causing him to always have to pay attention to things he should not have to watch repeatedly. The graphic nature of many comments were absolutely hysterical and not worth spoiling by sharing them here.
Sean Hayes takes on playing the Creator of the Universe as if it was the most natural role created for him. God even makes fun of the real Hayes, telling the audience how he decided to choose his body in which to visit us because "Everybody loves Sean Hayes, you know that actor on Will and Grace."  He's like the everyman that God wishes he'd created, a person who accepts and makes fun of everyone equally. Of his two Wingmen, Josefsberg's Michael plays the more active role, frolicking in the audience and challenging God to the point of actually losing a wing. Josefsberg and Hayes have a great time bouncing their lines off each other, often making me wonder how much was scripted or improvised given the amount of laughter between them. Hayes even stopped the show when latecomers arrived or a cell phone went off to chastise the offending parties, resulting in much applause from the audience.
Another star of the show is the amazing scenic design by Tony Award winner Scott Pask, brilliantly lit by Tony Award winner Hugh Vanstone with projection design by Drama Desk Award winner Peter Nigrini and sound design by Drama Desk Award winner Fitz Patton. From the moment the stage curtain gets sucked up into the vortex to heaven which exists up a long staircase through concentric circles, the whirlpool constantly changes color to affect the mood of each scene. It's an overwhelming artistic vision of color, topped off by the marble slate of the new Ten Commandments with Apple-like rolling clouds above.
And it's no wonder since Steve Jobs is now working with God on creating Universe 2.0 where humans will learn "Thou Shalt Believe in Thyself," God's new 10th and most important commandment.
Tickets for "An Act of God" are available by calling 213-972-4400 or online at www.CenterTheatreGroup.org, or visiting the Center Theatre Group box office at the Ahmanson Theatre. Ticket prices start at $25. The Ahmanson Theatre is located at the Music Center, 135 N. Grand Ave. in Downtown Los Angeles
. Performances continue through March 13.