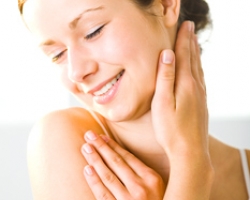 After springing forward this week, the sun is a little brighter, the weather is a little warmer and skirts are a little shorter. Chances are that skin care has been neglected after a winter full of long sleeves and longer nights.
Jodi Shays, owner of Culver City's Queen Bee Waxing Salon and Spa, has been beautifying the bodies throughout greater Los Angeles for more than a decade. She and her staff offered helpful ideas to transition bundled-up bodies into beach-ready ones.
A good rule of thumb for normal skin is to schedule treatments as the seasons change, four times a year, Shays says. For people with problem skin, shorten the increments to every four to six weeks. In transitioning from winter to spring, she advises, "Think about it like shedding layers of clothes. You should also shed layers of skin. Exfoliating masks, microdermabrasions or a home oatmeal mask will start revealing glowing skin."
Queen Bee facial specialist, Dawn Palomino concurs, "For a facial you might want a hydrating mask. A good facialist will customize your facial and often use a skin spatula to take off the dry layers of skin."
However, external skin care can only help in a limited capacity. Shays declares that she can "tell if you're a smoker by the lines on your face." And she says she can spot a heavy drinker by a yellow coloring in the eyes.
"Your skin is your biggest organ – feed it," Shays says, recommending water, fruits, veggies and Omega-3 fatty acids. Palomino added that dairy products, sugars and medications could also cause problems for some people's skin. "Eat all those things that they say have antioxidants and please take off your makeup nightly – that's huge," she says.
Many people are fixated on their faces when it comes to skin care, but there's plenty more to it than that. Instead of heading to the tanning salon, which ages and damages the skin, a spray tan can be an alternative quick fix. Liz Pino, the spa's expert spray tanner, has bronzed the bodies of a vast celebrity clientele, after developing her skill spray-painting cars. She says the results don't have to be those orange tones that tanners dread. "A customized spray tan with just the right amount of DHA [dihydroxyactone] will look natural. The results can last up to two weeks as long as you don't exfoliate excessively on your body, and pat your skin dry out of showers and use a good lotion."
To top off any spring look, the latest in nail care will leave digits shiny for twice as long as any regular manicure. Shellac is a new treatment replacing gels and acrylics around town. Jennifer Hoeng Solelo, a manicurist at the spa who has been caring for nails for more than five years, says she loves it when clients see the results. "It's a polish that behaves like a gel. And while gels and acrylics can be damaging to your nails, there's no downside to shellac." She adds, however, that it is recommended to have shellac taken off by a professional.
Shays says she has observed that people who take care of their skin tend to feel healthier. "Take a look in the mirror and there's definitely a psychological effect, which then extends to the rest of your day."