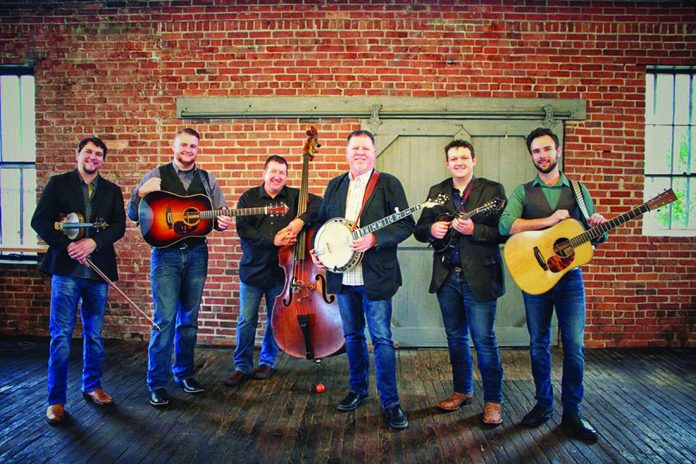 When people have a talent that goes beyond the norm, they wish to find people that can understand that ability, those who have a similar level of talent.On Saturday, March 14, Culver City residents have an opportunity to see that tendency in action with the Bluegrass sounds of Sideline, who will be performing at Boulevard Music starting at 8 p.m. at 4316 Sepulveda Blvd.
Sideline, based in Raleigh, N.C., is described in Boulevard Music's promo as a "pedigreed six-piece powerhouse whose style has set the pace in Bluegrass for over two decades."
The group will be making a return visit Saturday, with the performance showing from 8 to 10 p.m. Tickets are $20. Call 310-398-2583.
The group's founders, Steve Dilling, Skip Cherryholmes and Jason Moore, can each claim a bit of historical significance as members of highly awarded groups, multiple Grand Ole Opry appearances and years of national and international touring, their press clippings say.
Sideline was the recipient of the 2019 Song of the Year Award at the 30th Annual International Bluegrass Music Association (IBMA) Awards. The IBMA Awards Ceremony was held in Raleigh, North Carolina at the Duke Energy Performing Arts Center. Awards were voted on by the professional members of the IBMA.
Band members say that the group started as a "side project for the seasoned players," and were joined by talents of Jacob Greer, guitar; Zack Arnold, mandolin; and Jamie Harper, fiddle and began to record and release albums in earnest.
"We have several influences from different genres of music," Dilling said. "We listen to all different kinds of music and try to get ideas to incorporate into our style of music."
Sideline members, who say they never have bad gigs, are in praise of Culver City's Boulevard Music.
"We have played Boulevard Music a few times before," Dilling said. "It is one of my favorite stops when we tour out west. Gary (Mandell) is great to work with.
Sideline has released three national projects and currently records for the highly awarded Mountain Home Music Company based near Asheville, N.C.
Reflecting the North Carolina group's roots and experiences, "Breaks to the Edge," the group's fifth studio album, includes stories of traveling troubadours as told in their No. 1 Bluegrass Today release, "Return To Windy Mountain." Traditional tunes are interspersed with the more progressive No. 1 Bluegrass Today re-make of Steve Wariner's "Crash Course In The Blues," and classic Southern Gospel is celebrated with "I'll Live Again" and Sideline's sublime four-part harmony. Barnburners, mournful love songs, Blues-flavored odes and more can be found on the new project.
Band members say the group also has "music available on all outlets that stream or download music." Examples include Apple Music, iTunes, Pandora and Spotify.
The band, recorded or live, "moves dynamically from well-chosen, hard-hitting neo-traditional covers of classic songs to new material," as press material notes.
Saturday's concert will be exciting and interpersonal, members say.
"(The audience) can expect a fun, high-energy show from us, that you can bring your family out to enjoy," Dilling said. "One of the great things about playing Boulevard Music is that it is an intimate setting and we have great interaction with the audience."
Sideline will mix the rest of 2020 between touring and recording.
"We have a great 2020 tour schedule, with a trip up to the Canadian Yukon highlighting this tour," Dilling said. "Plans are to go back in the studio to start on the new recording in the fall of 2020."
All shows start at 8 p.m. and doors open at 7:30 p.m. unless indicated otherwise. People who already have their tickets (purchased them in advance) get in first when doors open at 7:30 p.m. After the people who already have their tickets are admitted, any remaining tickets will go on sale.