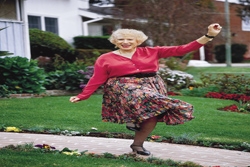 Julia G. Weiss Mullen Browner, a lifelong resident of Culver City, died on Saturday, March 5, 2016. She was 90. She is survived by sons Steven, Bruce and Robert, daughter Joanne, sister Johanna Robbins, and four grandchildren, Maxwell, Benjamin, Samuel and Zoe.
Born to Gisella and Frederick Weiss in 1925, the fourth of eight children, Julia grew up in a small home on Buckingham Road, Los Angeles. She attended Dorsey High School and UCLA, and then married Navy serviceman Calvin Mullen in 1945, a pharmacist who passed away in 1976.
During their 31 years together, Julia and Calvin raised four children, all of whom attended Culver City schools. The family belonged first to Temple Akiba, Culver City, and then to Temple Emanuel, Beverly Hills, where both Julia and Calvin participated actively. She worked as a bookkeeper and travel agent and helped manage Cal's Rx Pharmacy in North Hollywood.
When Calvin succumbed to a five-year battle with colon cancer, Julia befriended and offered emotional support to other families who had endured a protracted battle with the disease. Similarly, she reached out to Russian immigrants in Los Angeles, helping them during their period of adjustment when first arriving in the United States.
Julia loved playing Scrabble and Mahjong with friends and was well-known for her annual July 4th front lawn parties and Passover and Sukkot celebrations. She worked energetically on behalf of the Democratic Party, was a telephone fundraiser for Super Sunday of United Jewish Fund, and participated in activities associated with B'nai B'rith and Beit T'shuvah of Culver City. She also sold savings bonds for the State of Israel.
In 1999, Julia married Joseph Browner, brother-in-law to the renown surrealist Man Ray. The couple attended and supported many Man Ray museum events and helped promote the artist's work. Browner passed away at the age of 84 in 2006.
An avid gardener, Julia also played piano, enjoyed folk dancing, and traveled extensively in Israel, the United Kingdom, Hungary, China and France.
Julia Goldy Mullen Browner was buried in the same grave as her beloved Calvin on March 7, 2016, at Hillside Memorial Park.