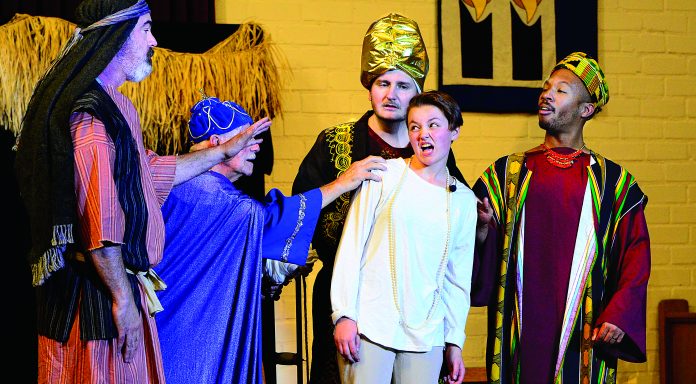 As the December night brought a seasonal chill, Grace Lutheran Church in Culver City opened its doors on Dec. 18 with a warm reception to Mission Opera. The non-profit, professional opera company from the San Fernando Valley, came to present its production of "Amahl and the Night Visitors."
"Amahl," the classic holiday folk tale by Gian Carlo Menotti, is the first American opera composed specifically for NBC-TV when in 1951 it was performed to viewers across the country for Christmas Eve.
Mission's cast of professional singers on this night was highlighted by a rising star in her own right, 17-year-old "Skylar Lehr-Bryant," who was making her debut in an adult opera. She performed the role of the mother. Skylar is also a longtime student of Grace Church music director, Mary Lou Basaraba.
Equally amazing was the title character Amahl, usually performed by a male child, but here was undertaken by Hannah Rose Stubbs, 14. She has an impressive resume, including performing in the opera "Venus and Adonis" at age 7.
The three Kings and the Page were handled by seasoned professionals, including Dr. Joshua R. Wentz, Mission Opera's artistic director and president. He stood tall as King Melchoir. Wentz is a baritone who among other accomplishments, has performed in nine countries and numerous states in the U.S. He helped launch Mission in 2019.
Dick Hughes and Brandon Coprich were entertaining as Kings Kaspar and Balthazar. Hughes, a tenor of high regard, hails from South Wales. Coprich might be recognizable to many as he performed musically last season on "America's Got Talent," and has trained extensively with Wentz.
Not to be overlooked is the character of The Page, who escorts the three kings on their journey to greet the Christ child. Gary Shertz performed this role with a mix of reserve and energy.
Mission's one-hour presentation of "Amahl and the Night Visitors" proved to be a treat for the Grace audience. While a church is not a conventional setting for a full-fledged opera, the intimate venue has its advantages. Performers would sweep in and out of the opera through the audience of more than 50 attendees.
Director Wentz and his opera team used the religious setting to high advantage and showed their command of the story, having performed "Amahl" on numerous occasions and stages.
"In my opinion, this opera leaves the audience with hope for a better future and a hope unknown," Wentz said. "May (Amahl and the Night Visitors) put you in a better spirit of hope and love today and the whole season long."
This holiday treat was the second in Basaraba's Opera at Grace series. Her third opera, Puccini's "La Boheme" is planned for 1:30 p.m. Sunday, Jan. 26. Guild Opera Company will visit Grace Church as part of its touring production of 'La Boheme." The opera has chosen Guild Opera Arts Education for Children as its charity of support.
Grace Church also presents its MidDay at Grace music concerts on the second Thursday of the month. The next concert is Jan. 9 at noon and features violinist/performance artist, Emer Kinsella. The church is at 4427 Overland Ave., Culver City.