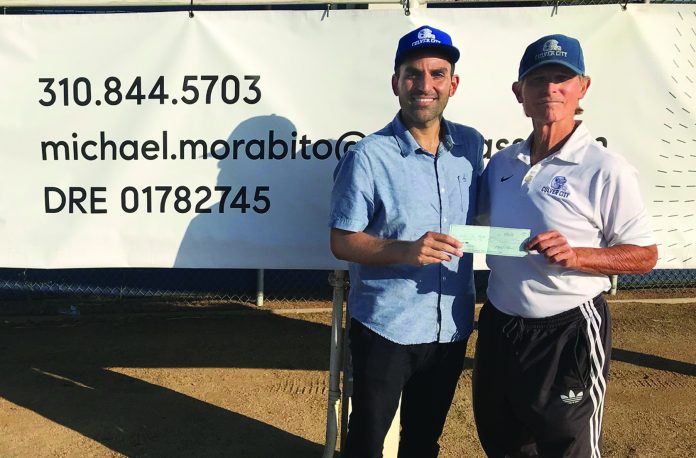 By Greg Goodyear and Larry Weiner
In 2017, Culver City realtor Michael Morabito donated $5,000 to the Culver City High School football program.  In the spirit of giving, he matched that donation in a gesture appreciated by the 2018 CIF Division 7 Champion Culver City Centaurs.
Morabito, originally from Villanova, a town near Philadelphia, came to Los Angeles in 2006.  He had done internships on Wall Street during his time as a student at Villanova University.  His father was an options trader, so Morabito took a job at Merrill Lynch for a couple of years, but he found this work, "too much of a grind!"
When his dad, now a real estate developer in Venice Beach, encouraged him to come to L,A., he jumped at the chance to live the Southern California lifestyle and the opportunity to be involved in the creative real estate industry here in southern California.
While working to get his real estate license, he took a salaried position at CBRE Group Inc., a national real estate giant, and did research for them.  This reminded him of the corporate structure he disliked.  When visiting his uncle's properties, he realized it would be more exciting, and more lucrative if sold real estate.  He then joined Amalfi Real Estate in the Palisades and worked as a "gofer," and his first job for them involved washing real estate signs.
Later he worked open houses for them and learned the ins and outs of the real estate business, and after a time, he moved over to Sotheby's to work for a few years.
He became interested in Culver City through some of his clients.
Morabito said that he loved the vibrant downtown area and the small-town feel, and the great schools.  He also loved the restaurants and shops, the mix of people, the sense of community, and the great fire and police departments.  It reminded him of Villanova.
He and his wife Sarah married in 2010 and have two daughters, 4 and 3, and a son, who is almost 2.
Morabito now works for Compass, a real estate company on the cutting edge of technology.  What drives him is his desire to give back to the community. He played sports growing up, and when he was asked why he wanted to make such a large donation to the Centaur football program, he said he wanted to invest in, and give back to the community and sports, because so many life lessons can be learned through sports and these life lessons will contribute to the growth of this vibrant city, he said.
The CIF Champs also had other major sponsors: See's Candy (oldest sponsor), Heart Realty (Heather and Art Coombs-Perez also with Compass), Culver City Honda, Grey Block Pizza, Culver City Volvo (Sal Gonzales), Culver City Toyota, Nissani Brothers (Hooman and Ryan), Michelle Maher Ford (Insurance, Centaur Alum), Culver City Police Department, Culver City Health Center, At Home Nursing Care, Ford's Plumbing (Robert Ford, Centaur Alum) Goldrich and Kest, David Bass and Associates (Centaur Alum), Culver City Education Foundation, Home Instead Senior Care, Bob Little (Ed Little auto repair), Julio Leyva (realtor), all of whom donated $500 or more, and other sponsors whose advertisements can be viewed in the programs sold at the home games during the season.