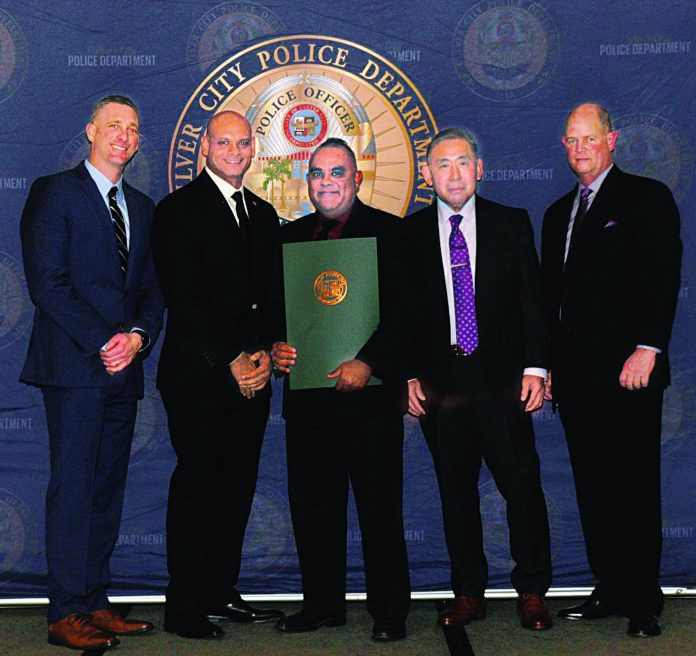 By Mike Cohen
Sgt. Dan Sukal Jr. mentored Explorers, taught Citizen's Academy during a distinguished career
Sgt. Dan Sukal Jr., who trained at the police academy alongside his father, will retire from the Culver City Police Dept. on Dec. 27 after more than 30 years of service, starting as a Community Service Officer at age 16.
Sukal, 52, may go into the ministry or teach, his father, Dan Sr., said.
Born in Fiji, Sukal and his family immigrated to the United States in 1972 and settled in Mar Vista.
The Venice High School band drum major and volleyball player later attended Santa Monica College, and Cal State Northridge, majoring in health sciences.
Sukal started as a Culver City Community Service Officer and worked in dispatch in his late teens and early 20s, before becoming a Culver City Police Recruit in 1989.
He trained at the L.A. Sheriff's Academy alongside his dad, who was an Inglewood Police Dept. recruit, marking the first time a father and son attended the academy in the same class.  Dan Sr., a 38-year resident of the Rancho Higuera neighborhood of Culver City, worked for the Inglewood Police Dept., Metro, and LA County Sheriff Dept. Sukal's three cousins and a brother-in-law also served as deputies or officers.
Sworn in as a Culver City Police Officer in 1990 by Chief Ted Cooke, Sukal has worked in patrol, crime impact, motors, detectives, field training, range, terrorism, and personnel and training.
He was a mentor to men and women, ages 14-20, in the department's Explorer program, which offered the young adults a glimpse of police work.  Under his leadership, the Explorers excelled in competitions and advanced to roles of enforcement.  He also taught in the Citizen's Police Academy.  He started the Culver City Police Officers bible study.
Sgt. Gary Irwin parried a few affectionate jabs at his longtime patrol partner in a speech at the recent department holiday party.
"Dan often would spin his flashlight like a baton," said Irwin, joking about Sukal's role as the Venice High Gondolier drum major.
Despite what may have been said, "we never had to cut out areas of Dan's protective vest for it to fit correctly after he made Sergeant," noted Irvin, hinting that his partner had added several pounds to his frame during his later years on the force.
Irwin said he and his partner had the "good cop/bad cop act down to a T" during their field investigations.
"I'm sure you know which one of us played which part. Dan would never let me be the bad cop no matter how much I wanted to," said Irwin with a smile.
Sukal married Cristina Fonseca, a Community Service Officer, in 1993, moved to Torrance and raised Christopher, Gabriella, Jack, Seth, and Luke.