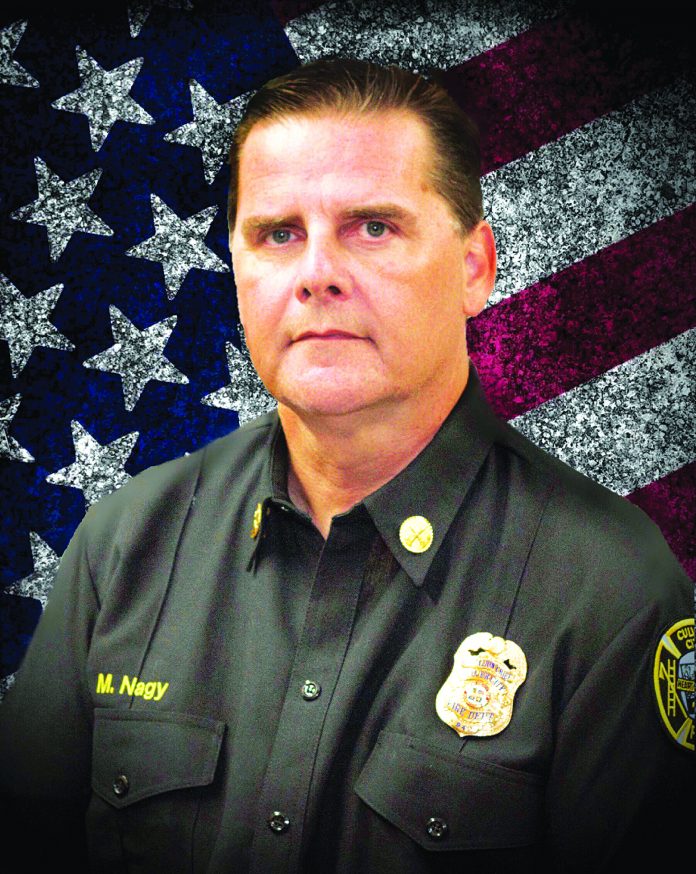 Michael Nagy— a loving husband, brother, uncle, friend, veteran, and firefighter—passed away on Tuesday, Sept. 18, 2018, with his wife of 12 years by his side. Nagy was a Battalion Chief with the Culver City Fire Department and last served as Fire Marshal. He was 52.
Mike was born on Dec. 22, 1965, in Hollywood, Calif., to Oscar and Sandra Nagy. He was a graduate of Loyola High School in Los Angeles, a United States Air Force veteran and an alumnus of the University of Redlands.
He is survived by his wife, Susan Preletz; sister, Nina (Nagy) Galanti, her husband Dan and nieces Catherine, Elizabeth; in-laws Dave and Carol Preletz, brother-in-law Mark Preletz, sister-in-law Karen Frank, her husband Steve and daughter Emily; and his beloved dog, Sophie. He is preceded in death by his parents, Oscar and Sandra.
Known for his great sense of humor and endless generosity, Nagy also had a sensitive spirit. He was a respected leader for the City of Culver City. During his 33 years of service, he served in the Air Force as a firefighter and then became a dedicated first responder with the Culver City Fire Department.
Nagy rose through the ranks as a firefighter, paramedic, engineer, captain, battalion chief, and fire marshal.
Mike will be profoundly missed by so many family members, fellow firefighters, friends, and neighbors. "Life without him is unthinkable, and yet we will continue to honor him with the hope of one day living up to his legacy of light, humor, generosity, and love."
A memorial service will be held at 10 a.m. on Friday, Sept. 28, 2018, at the American Martyrs Church, 700 15th St., Manhattan Beach, Calif,  90266. In lieu of flowers, please consider a memorial gift to advance pancreatic cancer research at UCLA's Jonsson Comprehensive Cancer Center. Donations may be directed to the Jonsson Cancer Center Foundation, Attn: Melissa Brody; 8-950 Factor Bldg, Box 951780, Los Angeles, CA  90095-1780. Please note that your gift is in memory of Mike Nagy; or visit www.cancer.ucla.edu/MikeNagy.