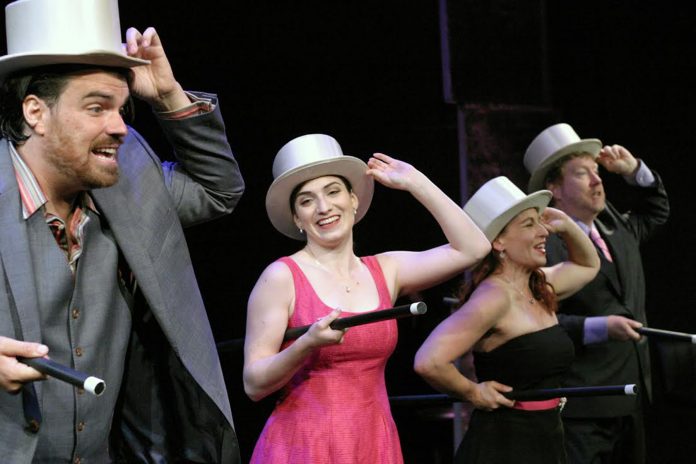 The sophistication, wit, insight, heart, and genius of Broadway's most innovative and influential composer-lyricist are at the center of SIDE BY SIDE BY SONDHEIM, a true musical treat directed by Dan Fishbach, musical direction by Richard Berent, and choreography by Imani G. Alexander. This entertaining show at the Odyssey Theatre features a dazzling array of songs from landmark shows that revolutionized the art of musical theater with their masterful craft and astounding creativity, including Company, Follies, A Little Night Music, A Funny Thing Happened on the Way to the Forum, Anyone Can Whistle and Pacific Overtures – as well as songs from the classics Sondheim wrote with musical theater giants Leonard Bernstein, Mary Rodgers, Richard Rodgers and Jule Styne, such as West Side Story, Gypsy and Do I Hear a Waltz?
Created as a one-time benefit show by David Kernan while he was performing in the original London production of A Little Night Music, SIDE BY SIDE BY SONDHEIM was seen by producer Cameron Mackintosh who agreed to move it to London's Mermaid Theatre. Sondheim agreed to come over and work with the cast and ended up essentially directing the production. Hal Prince produced the 1977 Broadway version which received Tony nominations for the show and all four actors, and Sondheim fans continue to stage productions continuously around the world.
There are only four triple-threat actors in the cast, three of whom sing all the most difficult of Broadway melodies during the two-hour production, with the fourth acting as the Narrator who offers background on every tune.  I really enjoyed all the information about Sondheim, such as his early childhood friendship with his neighbor Oscar Hammerstein and how each song came into being.  The 28 songs are arranged by Sondheim's favorite subject matter: The Battle of the Sexes, Love, Marriage, and Heartbreak.
The Odyssey production stars incredibly energetic entertainers Sarah Busic, Chris Kerrigan, Rachel McLaughlin, with Mark D. Kaufmann as the Narrator (understudy is Mark J. Freeman).  The lively ensemble is a joy to watch during each and every number, their interaction and wondrous harmonies always shining brilliantly, especially when highlighting the humor or pathos in the melodies. These songs are not the easiest to sing, as any actor ever in a Sondheim musical can tell you, but you would never know it while watching this ensemble.  And for the life of me, how did McLaughlan breathe during "Getting Married Today," sung rap-style at an almost non-stop pace?
Set designer Alex Kolmanovsky and lighting designer William Adashek are to be commended for not distracting from the performers by creating an open-area set highlighted by clear panels turned every color of the rainbow as part of the arch above the stage as well as similar-style silver square boxes which were easily moved by cast members to create platforms to stand on, climb over, and sit upon during each number.  Costume designer Kim DeShazo kept color-coordinated costumes classy and sparkly in Act 1, then more casual with rose pink and gray ensembles in Act 2, adding in clever song accessories, especially during "You Gotta Have a Gimmick"a comical tribute to Vaudeville in Gypsy.
It's a shame this fantastic musical revue was written before Sondheim created his hit musicals Sweeney Todd, Merrily We Roll Along, Sunday in the Park with George, Into the Woods and Assassins so they could have been added into the mix. And given the quality of these entertainers, along with the incredible creative team, I bet many in the audience, including myself, wish they could have added many memorable songs from these 1979-1990 popular Sondheim musicals into this fitting tribute. SIDE BY SIDE BY SONDHEIM continues on Fri/Sat at 8pm, Sun at 2pm (with additional 8pm shows on some Wed/Thurs evenings) through September 16, 2018 at The Odyssey Theatre, 2055 S. Sepulveda Blvd., West Los Angeles, 90025. Tickets are $32-$37, with "Tix for $10" on Friday, July 27; Wednesday, Aug. 8; Friday, Sept. 6. Discounts available for seniors, students, and patrons under 30. For reservations and information, call (310) 477-2055 or go to OdysseyTheatre.com.
Chris Kerrigan, Sarah Busic, Rachel McLaughlan, and Mark D. Kaufmann dazzle audiences in SIDE BY SIDE BY SONDHEIM.
Photo by Enci Box